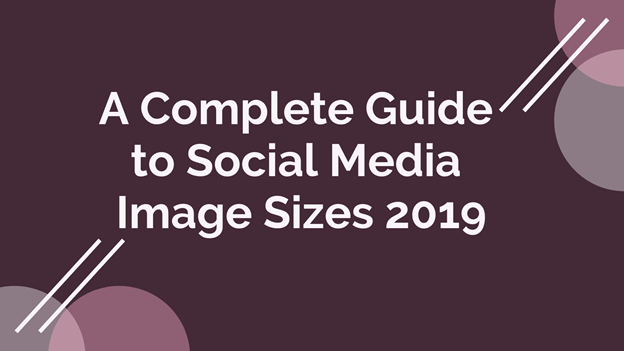 A Complete Guide to Social Media Image Sizes 2019
The 2019 Social Media Image Sizes Guide" below explains to you ..to Instagram and Facebook image sizes, we have the complete guide.
You can see a lot of them in social media platforms such as Facebook, Instagram, LinkedIn, and Twitter. It can do a lot of things. They play an important part in disseminating information, sending a message, promoting a brand, and establishing a relationship with the audience.
But when viewers cannot appreciate it freely because of size issues, it defeats the purpose of the picture, regardless of how good it was made or taken. And in turn, this can destroy the campaigns and brand promotion efforts of a business.
Besides, it's easy to scroll past an unappealing image. When you can't view the whole picture because it's not compatible with the platform, there's no reason to stay on that site. Just find another one that offers a better viewing experience.
It's a waste of creativity and resources. But most businesses still fall for this mistake.
This is why we should also be mindful about the current standards in social media images such as headers, profile pictures, banners, and regular posts. Social media platforms change image size standards now and then.
It's imperative to keep up with the news in this particular matter, especially when you're handling social media marketing strategies. Because what has worked before might compromise your pages now, or even for the years to come.
Competition, competition, and competition. The social media world is flooded with hungry competitors. You can find a lot of businesses offering the same products or services. Each particular niche is full of competitive business ventures, which can always steal your traffic when you let your guard down.
The first impression is everything. Captivate your prospective customers with your stunning photos and outstanding creativity. Show them that your site is better than anybody else's.
So, to help you do that, here are some guidelines on how you can improve your social media images based on the current standard dimensions.
1.   Facebook
Hail to the King! Facebook is one of the most-used social media platforms. It's your best bet if you want to reach a broader range of audience. It's where you can find almost anything. From news to entertainment… anything under the sun.
You can see different pictures in different sizes in the newsfeed. But when you go to individual pages, that's where the problem begins. Decapitated profile pictures, half banners, and over-sized event photos might appear. Yikes!
Here is a guide on how designers can improve Facebook photos based on the specific type of post
Profile Picture
– 180px W by 180px L
Scales to:
Desktop – 170px W by 170px L
Smartphones – 128px W by 128px L
Thumbnail – 32px W by 32px L
Cover photo
– 1920px W by 1080px L
– 16:9 Aspect Ratio
Scales to:
470px W by 174px L for Feed
Image Shares
1200px W by 630px L
40:21 aspect ratio
Max width of 470px Shows in Feed
Max width of 504px Page
Scales up to 1:1
Stories
1080px W by 1920px L
9:16 aspect ratio
2.   Instagram
Don't overlook this social media platform just because it's built with social media images. Instagram image dimension requirements also change once in a while. While it's still applying the 1:1 ratio for its photos, you can still get an issue with some types of posts.
Here are the usual standard parameters for Instagram pictures:
Square Image – 1080px W by 1080px L
Vertical Image – 1080px W by 1350px L
Horizontal Image – 1080px W by 566px L
Profile Picture
110px W by 110px L
1:1 aspect ratio
Stories
1080px W by 1920px L
9:16 aspect ratio
4gb file size limit
Note: these are the same dimensions used in Snapchat stories
3.   Twitter
Twitter is not just about hashtags and threads. If you want to get noticed by millions of Twitter users, you have to step up your game by including images in your posts. But always make sure that the pictures you are posting meet the standard image parameters of the platform.
For images to appear expanded, follow these dimensions:
Minimum – 440px W by 220px L
Maximum – 1024px W by 512px L
5mb maximum
Profile photo
Cover Photos
1500px W by 500px L
3:1 aspect ratio
Link Previews
800px W by 418px L
91:1 aspect ratio
4.   Pinterest
In a social media platform where it's primary purpose is to share social media images, size is a significant factor that should be observed religiously.
Here's the parameter guide for designers to create a compatible image for Pinterest.
Profile Picture
165px W by 165px L
1:1 aspect ratio
Pinterest Pins
Square
600px W by 600px L
1:1 aspect ratio
Standard
600px W by 900px L
1:1.5 aspect ratio
Tall
600px W by 1260px L
1:2.1 aspect ratio
Pinterest Boards
Large thumbnail
222px W by 150px L
37:25 aspect ratio
Small thumbnail
55px W by 55px L
1:1 aspect ratio
5.   LinkedIn
Get jobs and hire people. But you cannot do that without a nice-looking profile. Publishing good social media images is an important factor to get noticed by the netizens. In the case of the corporate LinkedIn environment, picture dimensions should comply with the existing parameters.
Profile Photos
Personal Profile
200px W x 200px L (or longer)
1:1 aspect ratio
10mb maximum
Business Profile
300px W by 300px L (or longer)
1:1 aspect ratio
4mb maximum
Cover Photos
Personal Profile
1584px W by 396px L
129:8 aspect ratio
4mb maximum
Business Profile
1536px W by 768px L
2:1 aspect ratio
4mb maximum
Images
Desktop
1200px W by 1200px L
1:1 aspect ratio
Mobile
1200px W by 628px L
300:157 aspect ratio
6.   YouTube
This one is much more crucial. Among all the social media platforms in this article, YouTube is probably the most profitable. It is a well-established social media site with trillions of users. Many businesses are promoting their brand on YouTube because it's a powerful medium to reach a broader reach of demographics.
Therefore, pictures are also important to be optimized. Here are the image dimensions you should follow to produce better image quality.
Channel Cover Images
1440px W by 2560px L
maximum 4 MB
Channel Icon
Video Thumbnail
720px W by 1280px L
TV Screens
2560px W by 1440px L
Computer Desktop
423px W by 2560px L
Mobile Devices
423px W by 1546px L
Tablet Devices
423px W by 1855px L
Competition in social media platforms is always stiff. Everyone is aiming to be on top. But one can only do that if they focus on every detail of the game.
Creating social media images is a great way to promote your brand and increase awareness. A good photo can go viral in just one day. You can increase the conversion rate in unprecedented numbers. Images can engage users and encourage conversations among prospective customers.
But you cannot do that when your social media images have faulty dimensions. So, do it right; and do it with accuracy.