How Social Media Helps in Business Marketing?
Why Social Media Is Important for Business Marketing
The impact of social media has grown by leaps and bounds in the last ten years. People spend more time on social media liking pictures and shares than they actually do with their friends in reality. It's all consuming and addictive to a point that there is no coming back.
While everyone uses social media for uploading their pictures and videos, it can be a much more useful tool than that. For businesses especially, social media can play a huge role in the marketing of their services and products. According to LYFE Marketing, 97% of marketers use social media to get more reach among their consumers.
Now, let us see in what ways social media can help in the promotion of your business!
Social media helps you to reach more people
There is no doubt about the fact that social media can help you reach more people than you can imagine. According to The WordStream Blog, around 50 billion businesses take the help of Facebook Pages to promote themselves. There are potential customers all around social media platforms like Facebook, Instagram and Twitter. You can start by adding the friends in your list to your page. As you keep posting relevant pictures and articles on that page, more people who are interested in your business would join. Also, you can sponsor your posts with a minimum amount to make it go even far.
2. Social media makes people know more about your brand
Those businesses that are not on social media can be promoted only through print media, television and via hoardings. That kind of promotion, although beneficial, shall not be followed by people 24*7, unlike social media. In the current scenario, there is a strong possibility that many people know about a number of businesses through social media first. Once they start following your business page, on say Facebook, they will get to know so much more about brand. And if they like what they see, they will definitely get in touch with you for your products and services.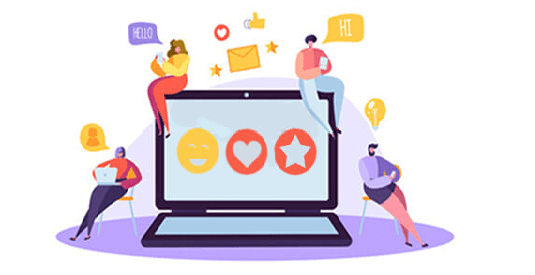 3.Social Media Marketing is budget friendly
Marketing done through social media can be free or at most, can be done with minimum investment. Unlike advertisements in papers and television, it doesn't require huge amounts of money. When one starts a social media page for his/her business, one can begin with no promotion content. The posts certainly won't reach their maximum potential, but if done correctly with proper SEO, those will reach a considerable number of people. Once people start appreciating and liking your content, you can sponsor your posts with a small sum. Very soon, your posts will start reaching thousands of people and its popularity will go up. So, in a way, with a small budget, you will be able to market your business in the best way possible.
4. Social media is the best way to connect with the youth
Most of the teenagers and people in their 20s spend much of their time on social media. According to The WordStream Blog, 81% of millennial users check Twitter at least once in a day. They are constantly going through various profiles and pages checking their content. If your page produces content that is pertinent and presented in an attractive manner, it is sure to catch the attention of the youth. So, in a way social media marketing helps you and your business to connect with the youth and hold their attention.
5. Social media has different platforms to target different audiences
Social media has various platforms such as Facebook, Twitter, Instagram, SnapChat etc. Now, depending on the kind of business you have, you can choose to promote it more on a particular platform. For instance, if you are a fashion influencer, the best place for you to promote yourself is on Instagram. Instagram is mostly used by young girls who are into anything related to fashion and beauty. So, by having a business profile on Instagram, you would easily be able to reach that demographic and you could also acquire Instagram followers that will be your prospective customers. While if you have a viral content website, Facebook would be the best place to promote it because all the viral content topics are always trending there.
Buy Instagram followers cheap 10k
6. Social media lets you know more about your audience
Having a social media page gives you the opportunity to interact with your audiences. Whenever you post something on that page, they like and comment on those posts. Through their comments, you get to know more about their choices and likings. You get to know what they feel about your products and services. Also, from time-to-time, you can post certain questions on your page, for instance, you can give them choices, like which one they would prefer, and they can take their pick. Having known their choices and preferences, it becomes much easier for you to plan your future course of action.

7. Social media turns visitors into customers
Social media can turn the visitors on your page into loyal customers. People tend to follow a lot of recommendations on social media these days. If your page has good ratings and reviews, it would definitely hold the interest of your visitors. Once they go through your page and check all of your posts and if they like those, they would definitely contact you for your services. Thus, in this way, social media would help in bringing more customers for you and your business.
8. Better Customer Service with social media
Social media pages can give your customers the best customer care experience. For instance, if they have any grievance against your company, all they would have to do is go and post their complaint on your page and it would be taken care of in the shortest possible time. Similarly, if they are happy with your products, they would be able to leave that message as well. The Custom Care Service, in the form of your page becomes available for them 24*7. Thus, having a social media page helps to improve your relations with your customers.