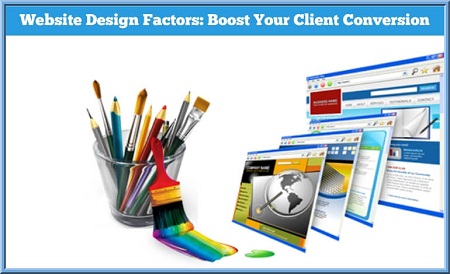 Website Design Tips to Boost Client Conversion in 2019
By
11 Web Design Principles that Will Boost Your Conversion Rate
In today's highly competitive environment, client conversions are the top priority for any business entity. Strategies for optimizing online client conversions are the elementary parameters of a successful business. Hence, website design holds a critical position for most web-based businesses. While a majority of the web designers optimize the end users' ease of using the platform, they miss out on the elements that are responsible for attracting and engaging more visitors. Here is a list of factors that can boost the client conversion rate for your website.
Responsive Design
Responsive designs have always dominated the client conversion parameters. This is because, at present, all search engine algorithms are designed to give preference to a more responsive design. A website that is difficult to navigate and use will have a higher bounce rate and hence fewer conversions. A responsive design means the website structure is more streamlined and offers a seamless experience to its users.
Live Chat Support
It has already been established that most shoppers use their mobile phones or tablets to shop. Hence, the website design should be optimized for mobile. Most of the users, however, abandon their cart at the time of checkout. When it comes to entering sensitive information on the website, they feel more secure in doing so on the desktop. This factor can be overcome by employing a more interactive design for the visitors, which includes chatbots. Chatbots can help in answering the query of online visitors in real time and assist in shopping too.
Optimized Content
The audience today is more aware and learned. Any purchase is made after referring to several online blogs and informational websites. You can have a purely informational blog for your visitors to refer to and further you can embed a 'call to action' for your product on that blog.
In 2018, we saw a huge increase in the mobile-first websites trends; 2019 will see a surge in the number of people accessing the web on 4k devices and smartwatches. Hence, completely determining the next wave of device change might be difficult, but the content is here to stay.
For instance, eCommerce merchandise sites have created a magazine-style content section that showcases a catalog of their products with a call-to-action button. This way, customers can gain knowledge about a specific product and many others in the process. This is a sure-shot way to boost client conversions.
Micro Interactions
Of late, the website design community has embraced the trend of micro-interactions. This trend has long been overdue. Micro-interactions are the visual responses that the visitors can see or experience when they perform an interaction on the website. Micro-interactions facilitate a two-way interaction between the visitor and the business. It assists the visitor on the website.
Multi-Step Forms Design
As per a leading web designing company in Delhi, this trend has already been caught on by a few brands and businesses online. These have a higher rate of conversion as they tend to increase the immersive interaction of the visitor. There are several tools available that lend analytics and tell you exactly which segment of the forms is enhancing or diverting engagement. With that information, you can improvise or make changes to it.
Integration with Conversational UIs
The year 2018 was about Amazon Echo and Google Assistant. Hence, creating content that can be effortlessly integrated with the conversational user interface can be of great advantage. Besides Google and Amazon, Facebook, Apple, and Microsoft are working on their own conversational UI. In order to be discoverable, it is ideal to be integrated with these platforms.
New Search Engines
The top SEO service provider is seeing more businesses wanting SEO optimization for other platforms. Gone are the days when people would just Google everything. YouTube has been declared as the world's second largest search engine, which means the way people search businesses and products has changed. Google may turn more passive and suggestive in search results in the future. These platforms are continuously evolving and there is a need to be optimized for platforms that are relevant to your business. For instance, if your business is app-based, you have to make sure it is app search optimized and you have higher rates of download.
Conclusion
People have developed a more sophisticated mindset in the past few years. Not to forget, there are hundreds of other businesses that have access to optimizing strategies and to make your business stand out you need to have a more specific goal in mind. You can adopt all these strategies, but sans well-defined objectives, it will fall flat. You can integrate the digital marketing strategies with the web designing tricks to create more innovative ways of increasing engagement and hence driving conversions.
Author bio:
Micheal Anderson is a proficient web designer with Techmagnate. He is working on the WordPress and Magento platform for web design services. Being a blogger, he likes to share his articles on UI/UX design, Plugins development, web customization etc.