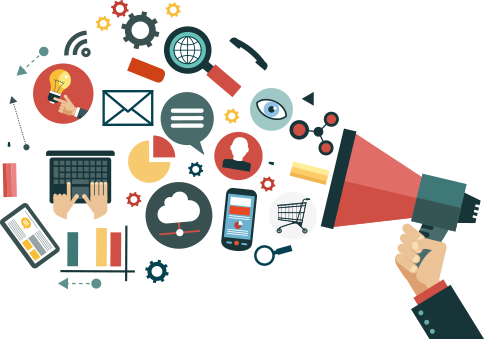 Digital Marketing Company In Tirupati
Digital marketing has become the trendiest marketing strategy lately. In this era of digitalization, digitalized marketing will help your business expand by leaps and bound. Digital marketing is a modern and advanced marketing strategy that utilizes digital technologies like the internet. It is online-based marketing conducted with the help of hardware devices like computers, laptops, mobile phones, tabs, etc. In Tirupati, there are many Digital Marketing Services in Tirupati or Digital Marketing Company in Tirupati. In Tirupati, Honey Web Solutions is one of the best Digital Marketing Companies.
Honey Web Solutions is a creative digital marketing agency in Tirupati India. It is an ROI-based digital marketing company that provides services for Social Media, SEO, website development and, branding.
Strategies involved in digital marketing
Digital marketing assets can be anything. It could be your website, logo, icons, brand acronyms, video ads, infographics, company photos, blog posts, online tools, reviews, social media pages and, many more. Most of these assets fall under the strategies given below. Here are some top digital marketing strategies which will help you take off your business to the next level.
• PPC Advertising
Pay-per-click advertising or PPC is a type of digital marketing in which you pay for every user who clicks an ad. are Few examples of PPC are, Facebook ads, Google ads or, paid social media advertising .
• Paid Search Advertising
It is a text ad that you see in Google, Yahoo and, Bing Search Engine Results Pages (SERPS). This helps you to target potential customers.
• SEO
Search Engine Optimization will make your content more reachable. All you need to do is make your content SEO keyword-friendly.
• Paid Promotions or Social Media Advertising
You have to pay to social media sites like Facebook, Instagram, Twitter, Linked In or, Pinterest to put your ads on these platforms. Social media advertising can help influencers to get featured. This will help your business reach more people.
• Social Media Marketing
You can use social media platforms to make ads from your social media handles.
• CRO
Conversion Rate Optimization or CRO is a way, through which you can improve your online user experience. As obtained through website traffic, this can be practiced through chats, calls, leads, etc. .
• Content Marketing
It can be done through blog posts, infographics, videos, etc. This will help create brand awareness.
• Native Marketing
Native advertisement means the list of suggested articles, where you find yourself at the bottom of the article .
• Email Marketing
You send catchy emails and updates to existing and potential customers and keep them engaged in your business.
• Affiliate Marketing
In this marketing, you have to pay the other person or business to promote your products/services.
Digital marketing for B2C Companies and B2B companies
Some businesses might over-benefit from digital marketing and some might not. Let us see how does it work on B2C and B2B companies.
Business-to-consumer or B2C companies are those who provide everyday affordable consumer products. Digital marketing helps them benefit them highly even though these are not huge investment companies. These companies can expand their business through simple digital marketing strategies such as SEO, social media marketing, or paid promotions.
B2B or business-to-business companies are big investment companies. As the name suggests the marketing is about one business to another. For example, big business firms purchase another big business. Digital marketing strategies like PPC advertising, CRO, or Affiliate marketing could be done for this type of company.
Top digital marketing trends for 2022
Although all the digital marketing strategies continuing in trend in 2022, more extraordinary trends have already hit the market. Doing the same thing but uniquely is always attractive and beneficial. Here are the top and unique digital marketing trends for 2021.
• Goodwill driven gestures
Buying things are not any more interesting to people. The Pandemic made us realize how important it is to be there for each other during the hour of need. When you do digital marketing be it SEO, social media marketing, PPC or paid promotions make sure you highlight the part that your brand will give this percent from each sold product for charity, for women empowerment projects, for homeless people, etc. Make sure to highlight the goodwill gesture in your advertisement. You will attract more by including goodwill acts in your brand. Morally also it is a very kind act. So your brand will have strong moral values which your customers are going to admire.
• Influencer contents
Pay influencers to advertise your content. It is human nature and tendency to buy things that our favorite celebs or media persona use. Therefore, people are likely to buy products that their favorite influencers use.
• Live streaming
Live stream views hiked up by 50% since lockdown periods. So we can well imagine how nice social media marketing or paid promotions can be done through live streaming itself. You can also pay influencers to live stream about your brand products.
• Make sustainability part of your digital marketing campaign
People are concerned about the environment and every brand also should be concerned. Brands selling sustainable products are gaining popularity. Avoid doing plastic packing. Try making offers like on buying any product of your brand one tree will be planted.
• User-generated content
Try bringing user-generated content, this will enhance the customer experience. User-generated content means something which people find relatable, enjoyable and, easy. It will help in building communities and strengthening the brand-customer relationship.
• Get involved in trends
Try to involve your brand in relevant social media trends be it meme trends or social awareness trends. But make sure not to get involved in controversial and discriminative trends. Brands with voice are more popular than silent brands. For example, brands who voiced in black live matters completely took over the brands with beauty standards like fairness. Fashion brands including plus-size models, trans women models, gays are taking over brands that follow and preach typical beauty standards.
Some critical roles in digital marketing
A successful digital marketing campaign is not an outcome of the effort of one single person. It requires a great organized team to do good digital marketing. Different job roles requires different expertise. Below mentioned are some critical job roles in Digital Marketing.
The project manager is like the leader of the digital marketing group who will assign the works to team members involved in the project. He/she also act as the communicator on behalf of the digital marketing team to the organization
The strategist is the one who traces genuine customers, finds strategic keywords, maps out the customer journey, ensures the marketing activities align with the main business goal, measures and optimizes content. He/she also is like the editor who checks and, ensures that everything is sticking according to the plan.
You need a good content writer with excellent writing skills who will write blogs, website content, automated email copy, and sell sheets. You can also assign the work to freelance content writers.
Every piece of your brand content should be visually attractive consisting of striking designs and photos. A good graphic designer can also do this.
The SEO specialist will help you find the top trending keywords which will help your content make it on top on the first search result page. SEO is like the core of the digital marketing campaign as the most number of people can reach you only through SEO keyword-based content.
To upload, monitor, update, test and optimize the ads in Google, Facebook and, other social media platforms you need to have a good PPC Manager.
Front-end developers create CTAs, builds landing pages, implements structured data, designing forms and pop-ups.
Email marketing specialist
An integral part of the digital marketing team is someone who would send regular interesting and engaging emails to customers and potential customers and also manage automated emails .
A good social media manager who will curate social media posts and activities of your brand is very much necessary in Digital marketing
Standard processes of a good SEO company
A good SEO company starts by Audit. They conduct technical and content Audits to create good content. Then it looks into Technical SEO like index status, crawl budget, crawl errors, internal links, sitemaps, site/page speed, redirects, broken links, HTTPS. and AMP. This will make the content error-free. Then Keyword research is done using SEO tools. Location demographics are being conducted to get the precise location for the localization of the business. Then the content strategy is planned which includes Foundational content, FAQ content, Authoritative content and, user experience content. Then the content is written aiming to keep it on top rank.
Packages offered by a good digital marketing company
A good digital marketing company makes packages for each strategy. Packages start minimum at $2500 per month for six months for each strategy package. The booster package costs about $3500per month for 6 months and the premium package will cost about $5000 per month for six months. The kinds of packages are Technical audit, on-page optimization, local SEO optimization, Google ads, Online Reputation Management, Content Marketing and Link Acquisition, video marketing and, blog optimization.
Digital marketing services Tirupati
Since digital marketing is a very important strategy to expand your business by leaps and bounds, you need to contact a good digital marketing service provider or company to get the work done. In Tirupati, there might many digital marketing companies in Tirupati but not all of them are good. Make sure to contact the best digital marketing company Tirupati.
Honey Web Solutions provides excellent digital marketing services Tirupati. It follows all the above-mentioned digital marketing strategies as its team consists of all the required experts from the project manager down to the social media manager.