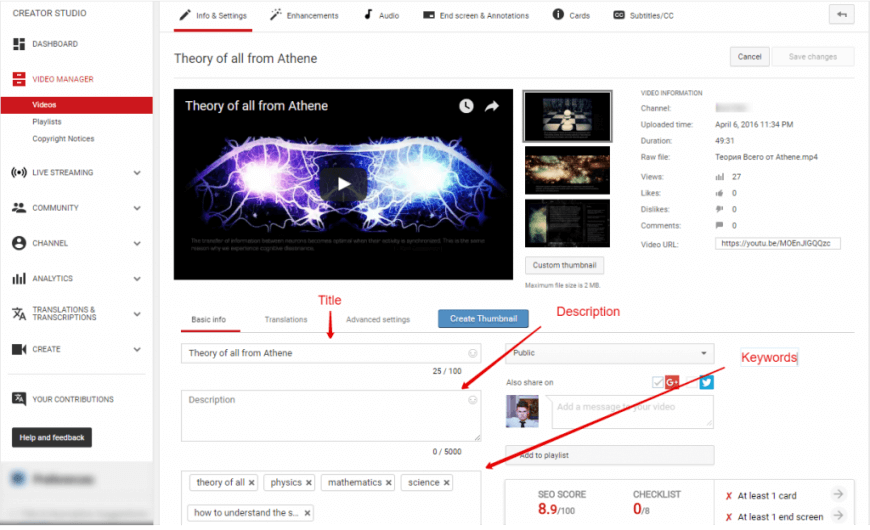 YouTube Keyword Tool and Tags Generator
By
How To Get The Best YouTube Tags, Keywords And Video Ideas With Kparser Generator, The Most Comfortable Youtube Keyword Tool Alternative In The World?
Creating a great video isn't enough to get a lot of views on YouTube. You also should understand how search algorithms rank videos for users. Hardly, anyone knows an exact formula of search ranking. Nevertheless, we can use some obvious things in SEO, use some conclusions from our experience and test hypotheses.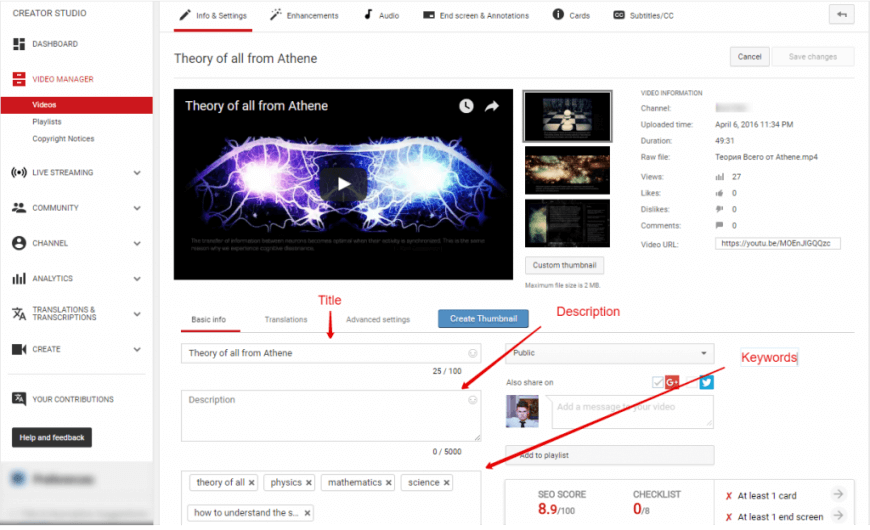 So, we hope you know that points in the bottom are very desirable for great result in video optimization.
Search for keywords.  If you want to attract viewers who are looking for information on YouTube for specific queries, you need to find the most relevant and frequency-related search queries for which the video will be promoted.
Create a title. The headline should include the most frequent keyword on which the video is promoted. Better when it is short, it accurately conveys the content of the video and causes the desire to press it.
Create a description.      A good description starts with 500 characters. In the description, briefly describe the content of the video, what interesting questions it answers, why it will be useful to the user. Be sure to include some keywords for which you are promoting the video. If there is an opportunity, add time-shits – quick links to different time slots of the video. For this, in the description, you simply write the length of the video in the format 00:00. After publication, this designation automatically turns into a link to this segment of the video.
Add tags.   Tags help the search engine understand what your video is about. Add tags based on the search queries that you found during the keyword search phrase. Next, we'll show an example of how to choose the right tag list.
Add cards.    Cards are designed to help increase the time spent on your channel by the viewer or take him to your site. Use them, in order to take the user to the relevant video or immediately convert it to a lead or client.
Add a final screen.    This is a screensaver that users will see after the end of the video. Its functions are the same as for cards.
Add an intro picture. This is a picture that the user sees while watching the video lists in his tape or sees the recommended video. It should attract the attention of the user and motivate him to click on the video. Here the logic is similar to the influence of the percentage of clickability in Google's SERP.
Add video to a playlist. Add the video to one of the existing playlists or add a new one, if necessary.
User hearts for the comments. When you click the heart to the comment, the user that left the comment receives a notification to the e-mail. Thus, you increase the likelihood that he will continue the discussion started under the video.
Answers to comments. To promote the video, it is very important how much the users interact with the video (like, comment). The responses to comments motivate viewers to write more under the video and, accordingly, to rank YouTube higher, get in blocks of recommended videos. YouTube has long since evolved from video hosting to a global discussion forum. Consider this when creating a video and describing it. Add triggers, questions that will motivate users to join the discussion.
Share the video in social networks and e-mail. Let know about video subscribers from other sources. These viewers are already loyal to the company and they will be the best first audience.
After publishing the video, it's important to get as many views, comments, and likes as you can in 24 hours. The main ways to get views in order from less expensive to more expensive:
views from channel subscribers;
views from users of social networks (facebook, twitter, vk, LinkedIn);
views as a result of organic shares;
views from e-mail readers;
views from recommended videos;
views from YouTube search results.
Tags for video are important especially. A short comparison of the vidIQ score for video with tags and without them confirm it.
So, we've uploaded a video and added the title, description. But without YouTube tags, we have "0" SEO score in vidIQ extension. What does it mean?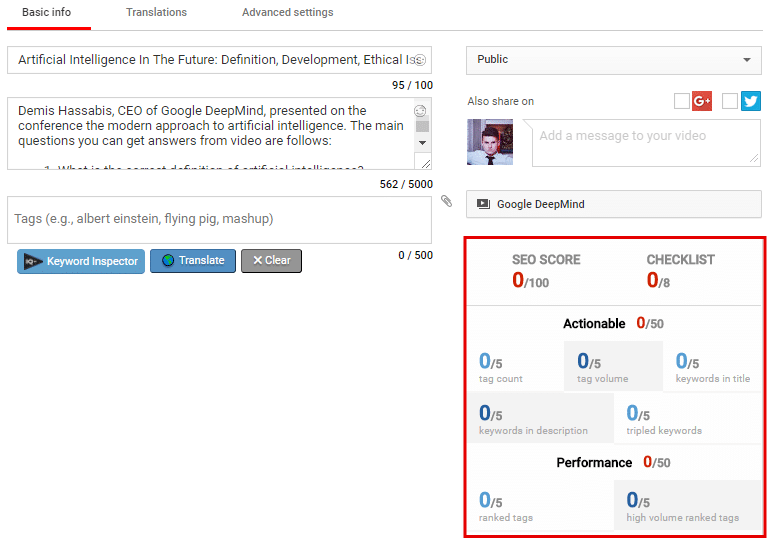 We should add tags for YouTube videos for such reasons:
Tags help search engines to understand what your video is about.
Tags also help you understand by which YouTube keywords your video will be ranked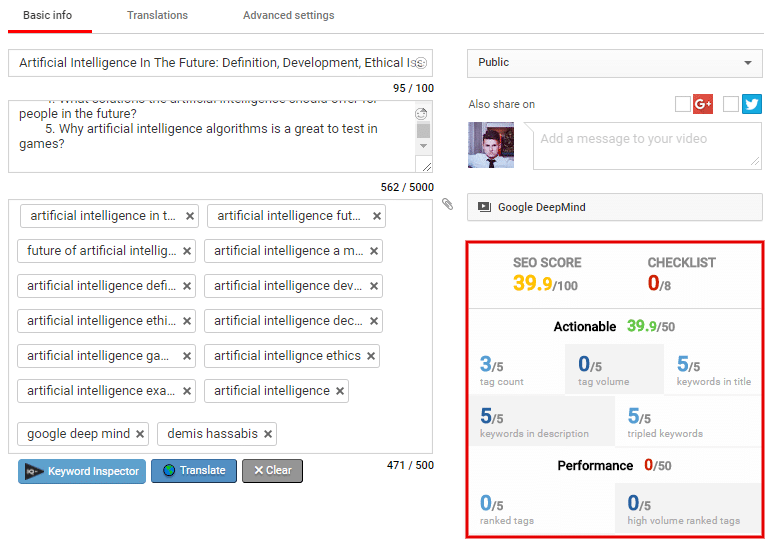 Pay attention, that we create video title and description only after keyword research and understanding which tags we will use.
How can I use long tail keywords for correct SEO optimization on YouTube?
The main difference between long tail keywords and simple keywords are followed:
Search volume.
Competition level.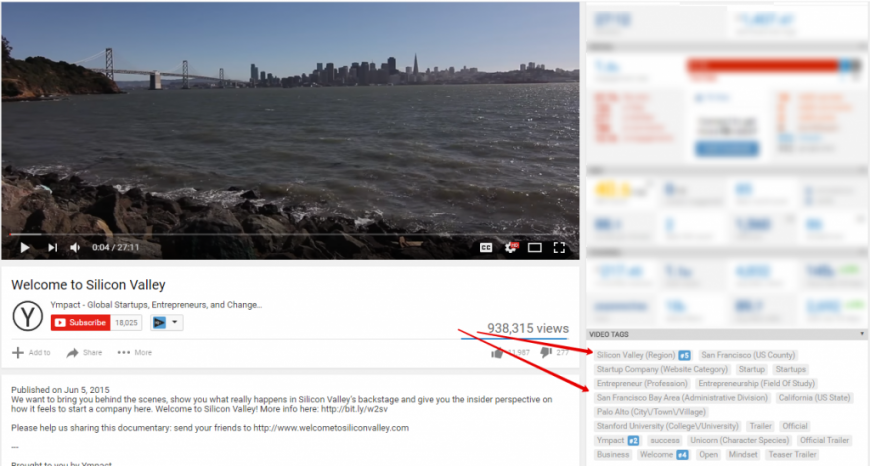 There is an directly proportionality in most cases. The more search volume is the more competition level. So, if you'll use long tail keywords in the  title, description and YouTube tags you have a big chance to get into the top by appropriate query very fast. It's better to grab a small part of traffic at first. And with viral effect, bit by bit, your video can go to the top in keywords with big competition and search volume. That's why, correct long tail keywords can increase your video SEO accuracy in a moment. As example, look at the screen of vidIQ extension above. This tool has function of rank checker for all YouTube tags you add to own video.
We guess, that there are two key points we should keep in implementing YouTube SEO strategy.
Unknown channel, user can get a lot of unpaid traffic only with ideal keywords optimization and using long tail suggestions.
Famous, popular and regularly visited channel can get a lot of unpaid traffic without using long tail keywords. In this case, it's even better to test tagging with high volume and competitive keywords. But these keywords still should be relevant to users intent.
We aren't talking about viral effect now, because it's another question, which is more concerned to your content and its triggers, than to technical optimization.
How to check tags on YouTube videos?
This is a most popular question for cases when you want to analyze competitors keywords strategy. So, you can see them with two main ways:
With using any extension (look at the screen above).
With viewing page source (look at the screen below).
Sometimes, YouTube users add hashtags without any logic, in other cases, they have a comprehensive technology of research, adding and testing tags. The point you should remember, that correct technology can change depends of your goals, number of subscribers, engagement rate etc.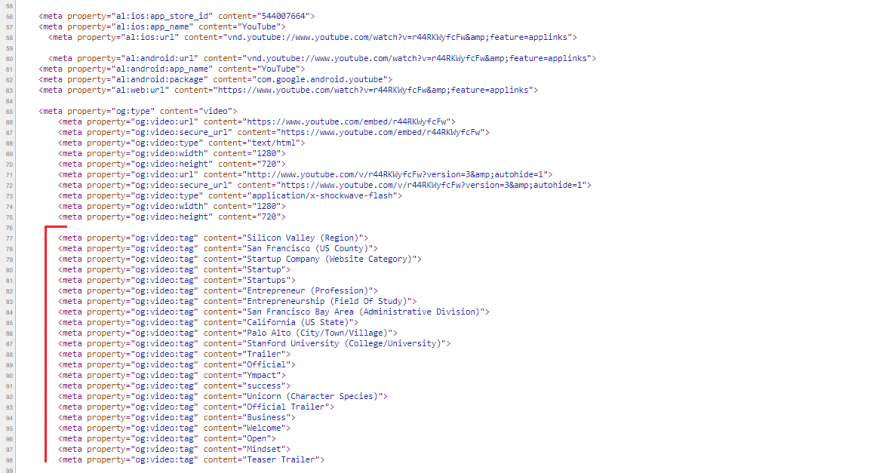 How to check YouTube SEO content optimization by specific URL?
So, you published video with good title, description and tags. Is that enough? No. Perfect optimization process ends with checking video description for such critical issues as uniqueness and keyword stuffing.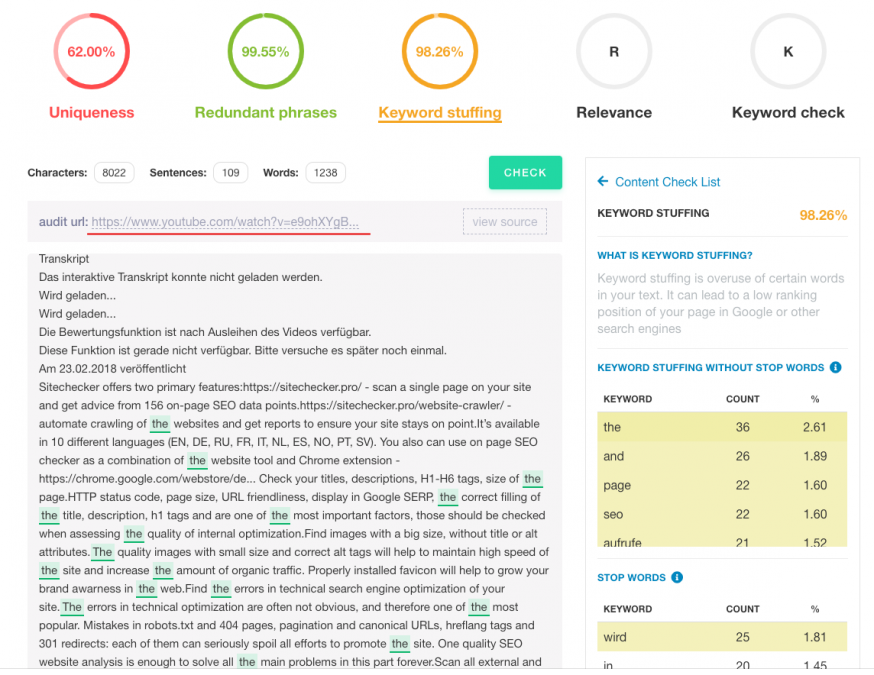 And in this case our SEO content checker will help you. Just paste your YouTube video URL and click "Check". Tool will highlight dangerous errors and give tips how to fix them.