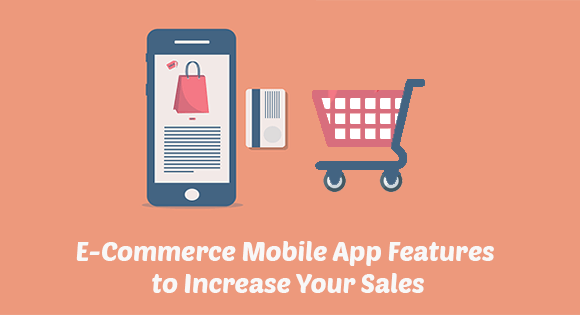 10 Must Have eCommerce Mobile App Features to Increase your Sales
10 Essentials for Successful eCommerce Mobile App Development
Mobile apps have become an integral part of modern-day life. The use of apps is so massive, and more are being added each day. With the tight competition continuing to be tighter by the minute, it is essential that you come up with creative strategies that can help you earn decent downloads.
Some apps are lucky enough to go viral, making them earn unimaginable downloads within very short periods of time. There are also some apps that have been there for quite a while, and they continue to earn downloads to this day. But for the rest, creativity and strategy are needed.
A sector that can benefit a lot from having a mobile app is e-commerce. But in order to make it big, there must be something about the app that can really make it stand out. This involves having the following features:
1. Personalization
Personalization in e-commerce refers to your ability as a business to provide offers that are specific to the user. This entails coming up with technical capabilities that will allow you to understand a user, and then matching his or her demographic profile, as well as interests, with the right product or service offering. By doing so, you will have more chances of closing a sale with your users. It is always best to push forward products and services that your users are more likely to avail.
2. Simple Navigation
Your e-commerce app should be easy to navigate to. Having complicated navigation within your app would cause your users to stop making use of it. It should be very simple to use and there should be no challenges in going through various areas of your app. The main purpose of an e-commerce app is to allow users to more easily go through your product gallery and to easily check out as well. So it is necessary that you work on simplifying the navigation within the app.
3. Great Product Images
Your app should also make use of high-quality images of your product offerings. Products with bad images will tend to have low sales as your customers will find it unappealing, and would rather go find other products instead. This is especially true as your customers would have no other sensory experience with your products except through your images. You should then make sure that the photos are good enough to help your customers appreciate what you offer.
4. Advanced Search Options
With a lot of products in your collection, it can get quite challenging to go around each of them. It would then help to have a search functionality for your app. This will be especially helpful for customers who know what they want and would opt not to go through all of your products in the related category.
You should be able to provide a functional search capability where users will be able to filter using various criterions such as price range, brand, and rating. You should also make sure to label your products correctly in order for your search to return accurate product offerings.
5. Tracking and Analytics
In order to help you come up with effective sales, marketing, and social media strategies, you should maximize the use of your app and its ability to host your analytics. You should be able to track your customers' behavior within your app. In the same way that you track the profile and behavior of your customers in order to personalize your offers for them, you should be able to utilize this intelligence to come up with other strategies that aim to help you close more transactions with your customers.
6. Feedback and Reviews
Reviews are very important for e-commerce. First-time customers find this very helpful as it allows them to have more information about the product they're looking at buying. This information will then help them decide whether or not to buy.
You should make it easy for users to rate items they have purchased, and you should come up with strategies that can help your customers provide their feedback.
As a matter of business ethics, do not curate the feedback you receive. Instead, show your users how you handle both positive and negative reviews. If you are confident with your products anyway, it would not be a problem. But should the case happen, make sure to show publicly how you handle the situation, and you will be able to turn the situation to your favor?
7. Push Notifications
Push notification is a feature that is seen to help successful e-commerce apps become so, Push notifications to encourage your users to perform immediate action in your app or inform your customers of important announcements. When used strategically, push notifications can help improve your sales through your app.
8. Social Media Login
A lot of apps make use of social media login instead of having them create an account with the app. This is especially true when there is a needed connection with these social media networks. Social media login is seen as a way to lessen the hassle of having to create a new account.
Aside from logging in via social media account, it will also be great if there's an easy way to share app content on one's profile.
9. Multiple Payment Options
There are many payment options, and each customer would have a preferred method of paying his purchases. In order not to lose a potential sale just because of a misalignment with their preferred mode of payment it is best to offer a wide selection of payment options.
10. Fast and Secured Checkout
Finally, the checkout process should be simple but should not compromise the customers' safety. It should not be complicated to check out one's purchases and it should also be safe to do so. You should never risk your customers' safety, as well as that of their personal and financial information.
Conclusion
E-commerce apps can serve as a great sales channel for users. But in order to maximize its potential, the features above can help make it able to deliver better sales performance. Work on the above features when developing your e-commerce app and see for yourself how these can be a game changer for sales.