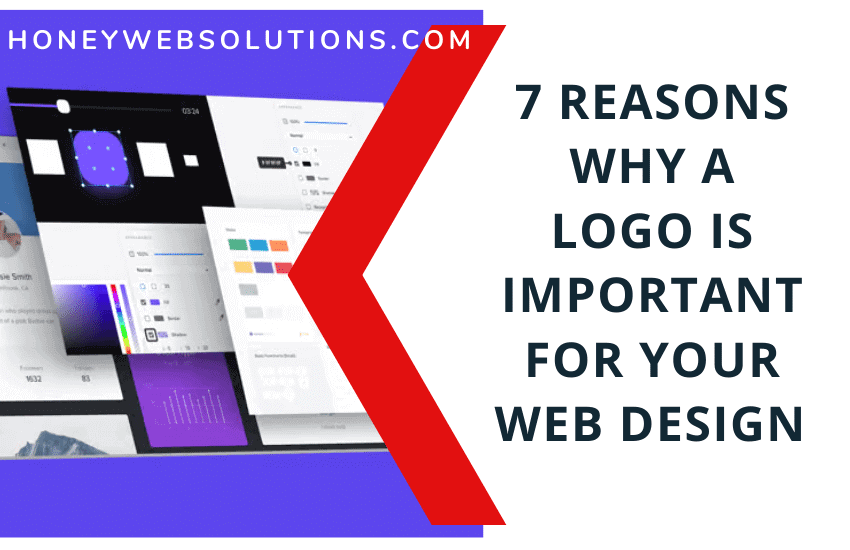 7 Reasons Why a Logo is Important for Your Web Design  
These days, if you want your business to thrive, you have to build a comprehensive online presence. Your website will be the primary point of contact between you and your customers, so you have to ensure it's both practical and polished. One essential element of web design is a logo.
All companies need a logo, which is a graphic representation of the brand. Think of a logo as a distillation of everything your brand represents – it must be captivating and appealing.
Fortunately, it's super easy to make a high-quality logo these days. There are plenty of options from trying a logo creator to make one yourself quickly and easily, to launching a logo design contest that allows you to choose from many options by different creators, or hiring a designer from freelance platforms and working closely with them to reach the desired result. Regardless of how you choose to do it, if you're not sure that a logo is necessary for your website branding, here are seven reasons why it is.
It Serves as a Brand Foundation
Branding involves multiple elements, including color schemes, personas, social interactions, and more. Your logo will serve as the foundation for all of these pieces, so it's imperative to get it right the first time. For example, the colors you use in your logo can become your brand colors, meaning you can use them on all your web pages and digital marketing materials.
Ideally, customers should be able to tell that your logo is the basis for your branding. When looking at your website, everything from your font selection to button design should stem from the logo. Otherwise, it will seem disjointed and out of place. Cohesion and consistency help establish your brand persona, so it's crucial that everything matches.
It Establishes Your Brand Persona
A brand persona is essentially a personality for your company. There are multiple kinds of personas you can utilize, and each one works for different types of businesses. So, when crafting your logo, you should keep this persona in mind to ensure it delivers the right message. Some examples of brand personas include:
Authoritative

– You want customers to rely on your brand for insightful and accurate information about your industry. Most service-based businesses can benefit from this persona since they need to be trustworthy to customers before they even make the call.

Innovative

– This brand persona illustrates your company's forward-thinking and progressive stance toward all facets of your industry. If you're a tech-based business, you want to show that your brand is always on the cutting edge.

Whimsical

– In this case, your persona illustrates that your brand likes to have fun and can give your customers a sense of wonder and delight. This persona works best for entertainment and family-friendly businesses.

Rugged

– Typically, outdoor and athletic brands want to appear as rugged and dependable as possible since their products are often put to the test while on an adventure.
Overall, your logo will serve as the foundation for your brand persona. It will also help shape your customers' perceptions of your company before they interact with you.
It Helps You Stick in Your Customer's Minds
Typically, a logo consists of your brand name and at least one or two graphical elements, such as an icon or background. When developing your logo, you want it to be as captivating as possible so customers will remember it easily. Ideally, someone should be able to recall your logo even after interacting with it for just a short period.
One purpose of a good logo is to make it easier for customers to find you. For example, perhaps someone sees an ad for your business and wants to look it up later. If they can't remember your brand name, it's impossible for them to find your website. However, if your logo delivers a clear message about what you offer, they can look you up based on some target keywords.
If you sell outdoor equipment, your logo may include outdoorsy elements and colors. You may even have a slogan to reflect your commitment to sustainability or the environment. Based on these details, a customer could potentially find your business without knowing your name.
It Makes You Stand Out From the Crowd
No matter your industry, there will be tons of competition. Making matters worse is that you're competing with both small and massive brands, so you need every competitive edge you can find.
Fortunately, high-quality logo design can help your brand stand out by capturing your audience's attention. When your logo is visually striking, it's much easier to generate buzz and get more traffic from ads and other marketing materials.
That said, you also have to consider who will find your logo the most appealing. These days, it's much better to appeal to a specific niche demographic rather than try to get everyone's attention. So, understanding your target audience will help you develop a logo that appeals to their interests.
Using our outdoor brand example, perhaps you want to illustrate that your brand is timeless and long-lasting. So, some retro or vintage elements can show customers that your products can stand up to decades of wear and tear and still work perfectly.
It Makes Your Business Look More Professional
Starting a new business requires many variables and elements to work in sync, one of which is customer perception. If you look like an amateur enterprise, customers will treat you accordingly. So, a poor Houston logo design means you may come across as unprofessional or sloppy.
Overall, your logo should look sharp and well-kept, illustrating that you know what you're doing. After all, if your logo is polished, it means you have attention to detail and can get the job done.
Finally, since branding is a standard part of modern marketing, customers expect businesses to brand everything. A logo allows you to incorporate your brand into all of your web elements, including ads, banners, landing pages, and more. This kind of cohesion makes your business look more refined and put together.
It's Easier to Promote Your Business
A captivating logo can work as an ad for your business without any other elements. Basically, if someone just sees your logo somewhere, they should be able to tell what you have to offer and decide whether to interact with your brand. Think of your logo as a sticker – if a customer just saw that and nothing else, would they want to find out more about your company?
You may also develop multiple versions of your logo to make it easier to promote your business across various web channels. For example, a basic, stripped-down version can be used for social profiles and landing pages. Then, a more complex logo (i.e., including a slogan or extra graphic elements) can serve as a centerpiece for your home page.
It Can Help Foster Brand Loyalty
These days, brand loyalty is much more common than in decades past. Before, customers always tried to find the best deal, but today, people are more willing to invest in high-quality products or services from brands they know and trust.
A compelling logo can help establish that trust before you even interact with any customers. Because it serves as the foundation for your brand persona, it's easier for people to connect with your business and understand it.
Plus, a logo can even be a sign of quality or reliability. For example, if you put your logo only on the best products possible, customers will learn that seeing the logo signifies a high-quality piece. So, they'll choose your branded materials over generic ones.
Conclusion
As you can see, developing a logo is an essential part of building a successful web presence. The more time and energy you spend on this component, the easier it is to create a comprehensive marketing strategy to help your business thrive.