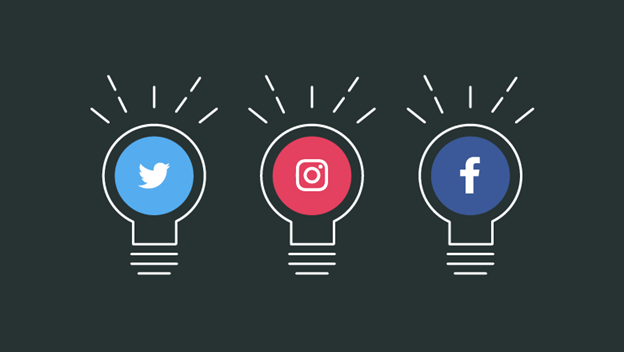 56 Social Media Statistics You Should Know in 2019
Social Media Statistics in 2019
Around the world, there are about 3 billion people using social media. A study from Skyword shows that for every second, there are 11 people using social media for the first time! At this rate, social media users are seen to grow rapidly!
With the rapid growth and influence of social media to consumers, social media marketers have doubled their social media marketing efforts. About 90% of marketers use social media to increase their brand's visibility and exposure.
According to Brandwatch, about $40 billion was spent on social media advertising in 2016. This figure doubled in 2018, as per a study by Hootsuite. In the United States, about 48% of Americans have approached a company through social media. This is why marketers shift to social media for their marketing efforts.
Here are some of the most important Social Media Statistics in 2019 you shouldn't miss.
Social Media Statistics: Facebook
Pew Research: 74% of American Facebook users visit the site at least once a day.
Statista: 43% of adults in the U.S. get their news through
Ofcom: Since 2012, Facebook users aged 65 and above has doubled to 41%.
Smart Insights: As of April 2018, Facebook has the most number of users in the world. There are 2.2 billion users on
WebSiteHostingRating: There are more women users than men. About 74% of women are Facebook users, compared to 62% of men.
World Economic Forum: The third most viewed website in the world is Facebook. Google is first and Youtube is
Statista: Facebook fan page has 213 million followers, Samsung has 159 million followers, and Cristiano Ronaldo has 122 million followers.
Jeff Bullas: Facebook users share 1.3 million pieces of content every minute!
Wordstream: About 22% of the world's population uses Facebook.
Social Media Statistics: Instagram
Ignite Visibility: Most Instagram influencers (75%) believe that Instagram is the best platform to get recognized.
Wordstream: Instagram users aged 18-29 comprise 6 out of 10 Instagram users.
Hootsuite: Did you know that hashtags amplify your content? Using hashtags in your posts increases engagement up to 12%.
AdEspresso: About 60% of users learn about new products on Instagram.
Instagram: About 50% of companies post regularly on Instagram Stories.
Brandwatch: Since 2015, Instagram has over 1 million advertisers.
Statistsa: Following Facebook, Instagram is the 2nd most common social media platform used worldwide by marketers.
Forbes: Compared to any other social platform, Instagram has the highest interaction rate.
Influencer Marketing Hub: #love, #instagood, #fashion, #photooftheday, #beautiful are the most popular hashtags on Instagram.
Social Media Statistics: YouTube
Google: YouTube outnumbers any broadcasting TV or network with its reach to adults (aged 18-49).
Statista: The number one streaming service for music videos in the world has remained YouTube.
Google: Most people prefer to watch videos online through YouTube than on TV.
Brandwatch: Over 95% of the entire internet population is catered by YouTube – which is available in 76 languages.
org: Surprisingly, even news is mostly seen by 18% of Americans on YouTube, rather than on TV.
Business of Apps: Every day, more than 1 billion hours of video are watched on YouTube.
YouTube: About 37% of YouTube users watch from their mobile device.
Digital Information World: 50% of YouTube viewers use the channel to learn new things.
Business of Apps : As of June 2017, there are 1.5 billion monthly users on YouTube.
Omnicore: About 80% of Twitter users are on mobile.
Your Escape: Similarly, 63% of Twitter users 'Tweet' using their smartphones.
Twitter: Twitter hashtags amplify Twitter reach to a boost of 16%.
Brandwatch: To date, there are 326 million Twitter users worldwide.
Twitter: Twitter reaches 40% of US teens and young adults
SMRA Global : In the US alone, there are 67 million Twitter users.
AgoraPulse: Tweets with images receive 150% more retweets.
Brandwatch: Even without logging in, about 500 million people visit Twitter.
Slash Gear: A portion of the total number of Twitter users (43%) hasn't even posted a Tweet.
Statista: People aged 25-34 years old are the main "Twitters", followed by people who belong to the 35-44 age group.
Social Media Statistics: LinkedIn
Statista: There are 100 million LinkedIn users in the US. India has 52 million and China has 44 million LinkedIn users.
Statista: Most people using LinkedIn (60%) have a household income of $100000 and above.
Ignite Visibility: LinkedIn drives over half of social traffic to B2B blogs and sites.
Hootsuite: About 79% of B2B marketers use LinkedIn to generate leads.
LinkedIn: For every second, there are two new members joining LinkedIn.
Klick: About 94% of B2B marketers use LinkedIn to share content.
Statista: Most LinkedIn users are aged 25-44 years old.
Brandwatch: Business CEOs record an average of 930 connections on LinkedIn.
Statista: About 50% of LinkedIn users have obtained a college degree.
LinkedIn: A study found that having a professional headshot on your profile will get you 14 times more views.
Social Media Statistics: Snapchat
Adweek: About 64% of social media marketers have a Snapchat account.
Omnicore: There are over 100 million Snapchat users in the United States and Canada.
Business Insider: Snapchat is especially popular among teenagers. There are about 64% of teenagers using it as a messaging tool.
Smart Insights: About 40%-60% of daily Snapchat users see a geo-filter.
Snapchat: The platform has 186 million daily active users.
99Firms: The 6th most popular app in the United States is Snapchat.
Statista: About 51% of users worldwide use Snapchat to send a photo.
Omnicore: Females use Snapchat more than males do. About 70% of Snapchat users are female.
Snapchat: About 3 billion snaps daily are created by Snapchat users worldwide. This amounts to more than 20 times a day.
About Fazreen Razeek
Fazreen Razeek from Grafdom has served the digital industry for over 5 years. He collaborates and works alongside agencies, event organizers, and suppliers to develop and execute their marketing strategies. He is extremely passionate about education technology and also writes for various local and international publications. A graduate with High Distinction from the Edith Cowan University, Perth, Australia, Fazreen holds a Bachelor's Degree with a double major in Marketing & Management.