What is digital eCommerce and how it can help you increase sales?
A paradigm change has taken place in modern e-commerce transactions. Almost all marketing operations are carried out by digitalization. The number of internet users will reach 61.9 percent of the total e-commerce buyers in 2018, according to the latest market report, and the presence of digital buyers is also likely to reach 60 percent. No e-commerce merchant will miss on leveraging of digital marketing when you have such a high stake in digital buyers.
What is Digital Marketing for Ecommerce and what are its advantages :
Digital Commerce, is part of marketing that uses one or more electronic technology to promote a brand or product.
The main benefit of digital eCommerce is that it provides several touch points for consumers. Multiple digital touchpoints improve consumer engagement and thereby boost revenue and brand recognition.
The idea of multichannel and omnichannel sale is rooted in Digital eCommerce, where multichannel enables the eCommerce retailer to connect with consumers on different shopping channels, omnichannel provides the consumer with an integrated shopping experience, where interaction takes place across various technology channels such as desktop or mobile devices, or in a brick-and – mortar store.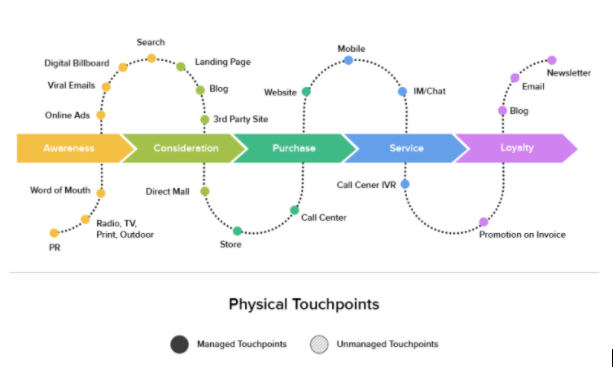 In this blog, we will explore how you can take advantage in the digital e-commerce world as an online seller.
1 – Do mass personalization with Buyer's persona :
The buyer's persona aggregates a description of visitors attracted to your shop. You can segment your visitors with the correct data once you prepare a customer persona and plan your marketing strategy accordingly.
You will have a simple specification of your prospective buyer with a consumer persona. At a deeper and more personalised stage, you will touch your audience.
The big question, however, is how to derive a buyer persona that actually operates?
Google analytics allows you to draw reports that show clients who are more likely to make a purchasing transaction, so your marketing strategies are centred on your most promising customers.
Navigating through the Google analytics data is also a difficult process and extracts the correct report, here are few easy steps to build an informative buyer persona with Google analytics.
Get an demographics summary of your buyers
In reference to the age group of the customers, count the cumulative session and e-commerce transactions.
Make use of the In-Market Segment and the Affinity Category: You can meet your future buyers who are actively searching or comparing the types of goods you sell with the aid of the In-Market Segment and the Affinity Category. You can personalise your deals and goods and resonate with their purpose by using this particular section.
You have to define the platforms that can assist you conduct custom marketing strategies in order to get the max output from the buyer persona.
2 – Prepare a consumer experience map that suits the identity of your buyer.
The consumer journey map is a prediction of the buying period for your customers. You may generate an experience model by mapping the consumer path with your buyer persona.
According to their actions, you can segment consumers, build a consumer journey map, evaluate the customer's purchasing behaviour and improve the selling experience. You can map each stage of your marketing process with regard to the purchaser's path, based on the conversational ratio of a particular buyer and traffic aggregation.
A deep analysis of the journey of your buyer helps you to
  — Identify key Customer Journey phases
  — Emphasizes platforms of technology for each stage
  — Acts as an instrument for the construction of Customer Journey Maps
  — Provides detailed clarifications of each phase
You can examine the related links between customer response with regard to the buying touch points through a customer journey map, calculate customer reactions on each customer touch point and assess the click-through rates to build a better interaction model.
3 – Perform a customer-response analysis
After carefully obtaining the customer reaction data metrics, you will have a clear picture of
 -In order to make a purchase, what channels are your clients using?
 -How effective are your current strategies for marketing?
 -What criteria assisted them in making their decision to buy?
 -What was their experience when buying the product on your website and what could be improved?
It's not easy, however, to get these metrics, there are tools that can help assess customer reaction to customer touch points and help you develop a more interactive model of customer engagement.
4 – Create a Customer rewards programme :
We're all familiar with the rewards programmes for clients that so many large companies have in place. But there's no reason a small business can't have a programme for customer rewards, too. It can be as simple as a discount on the birthday of a customer or as complex as a points system that earns different rewards, such as merchandise discounts.
5 – Give your customers an inside scoop :
Tell your customers about it if you have a promotion or sale coming up. They're going to come back and probably also bring some friends with them, raising your sales even more. And don't forget: by emailing, calling them, or posting on social media, you can give your customers the inside scoop.
In a nutshell :
It's a good thing to attract new customers. But the only way to increase your sales is not to attract new customers. Actually, that's the hard way to go about it. It can encourage repeat sales and generate more business more quickly by shifting your sales focus to enticing your current customers. Build customer loyalty and you're going to be on your way to great growth in sales.
Author bio :
Jeevan Babu is a technology enthusiast and strong believer in agile product development. He is a Senior Project Manager at Fortunesoft IT Innovations a custom Magento development services company.