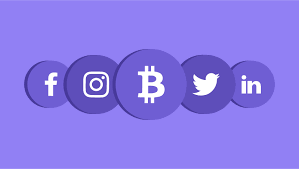 Top Social Media Platforms for Crypto Markets
Social media is one of the major driving forces in today's world. It has shaped the way we view the world, and more importantly, it has shaped the way we do business. Some believe that social media is too distracting to have any real business value. Others believe social media is a great way to engage with audiences, but many aren't sure how to leverage it for their company's best benefit. However, it can be difficult for companies to know where to spend their time with so many platforms to choose from.
Facebook
Launched in 2004 by Mark Zuckerberg, Facebook has grown to become among the world's most prominent social media networks. Since cryptocurrencies are an alternative currency system, it seems fitting that it found its place on alternative social media networks like Facebook.
The social media giant has been a popular platform for cryptocurrency news and discussion since at least 2013 when bitcoin was still in its infancy. The large user base of Facebook makes it an ideal platform for the crypto market to promote their brands, products, and services. Facebook also lifted its ban on cryptocurrency ads and ICOs, which helped improve its popularity among the crypto community.
Twitter
Twitter is a must-have platform for any crypto investor or trader. Twitter has been one of the most popular platforms for cryptocurrency enthusiasts to promote their projects and share ideas. It has over 336 million monthly active users that send 500 million tweets every day. Some exchanges have their own Twitter handles as well. Exchanges like Binance and Coinbase operate through their own Twitter handles. Twitter is a great place to find the latest news and updates about cryptocurrencies, projects, and ICOs.
Reddit
Reddit is one of the biggest and best social media platforms for crypto traders. A discussion platform, Reddit has a lot of subreddits dedicated to cryptocurrency, including the r/Bitcoin subreddit, which covers everything and anything related to Bitcoin. The platform has a lot to offer in cryptocurrency news and discussions. Users can use it to get information on the latest developments in the crypto world.
Reddit also offers an opportunity for crypto entrepreneurs to advertise their projects for free. Although it might not be as popular as Facebook, Twitter, or Instagram, many have adopted Reddit as the best social media network for crypto trading, ICOs, and discussions in general.
Steemit
Steemit is a content-sharing platform that pays users for posting content and engaging with other posts. It rewards its users with cryptocurrency (STEEM) for posting content liked by other users on its platform. If you have great content to share, then Steemit is the place to be since you will get rewarded in cryptocurrency when your post gets upvoted. The platform allows individuals, businesses, organizations to share their thoughts, ideas, and other information through blog posts or short messaging formats.
Bitcointalk
BitcoinTalk is another excellent social media platform for crypto traders. This is just like Reddit, where users can interact with each other through posts and comments but with a focus on Bitcoin and its related subjects.