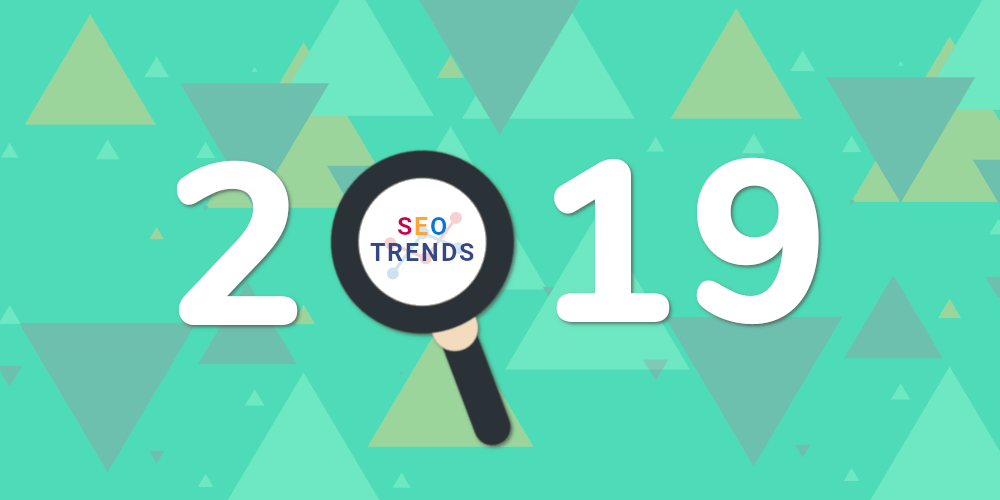 SEO Trends In 2019 That You Simply Can't Miss
SEO trends that will matter most in 2019
Google is evolving continuously, in 2019 there's already been two major core search algorithm updates. What does that mean for SEOs? It means you need to learn faster and better to keep up with the search giant's efforts to keep the quality of search experience for its users relevant and high-quality.
If you have missed the opportunity to keep a tab on Google's updates and haven't decided what SEO strategies and tactics to implement in 2019, don't worry. We have done the thinking and analysis for you and here we are with the trends that you need to follow to earn more revenue.
Understanding Audience Intent Is Still The Priority
Although we are sure that you people are smart enough to incorporate users' intent into your content ever since Google introduced RankBrain. But if you have missed optimizing your content to align with the audience, the year 2019 commands you to do so.
You need to understand that your targeted audience is expecting to find when they use a word or phrase. You need to provide them with the answer in the simplest way possible. Know whether they are looking for images, videos or content. There is no point in having the most optimized content on your website when it is targeted towards the wrong audience.
Ankit Pandey, Director of SeoEaze.com advises, "If you are enhancing the journey of the audience through your site, Google is going to reward you for sure."
Lately, Google is busy adjusting the search algorithm to accommodate the semantic intent of the user's search query. It is simply not possible to anticipate all query words your audience might use to reach you, so better pay attention to offering genuine answers to queries through your content.
Structured Data Markup Is Important Now Than Ever Before
As AI is becoming more and more integral to Google and other search engines, the structured data is becoming more relevant. We all witnessed how search results were affected when Google moved from desktop-first to mobile-first. Now, when Google shifts from mobile-first to AI-first world, structured data will be the key to remain relevant.
You have to understand the structured data, schema and search behaviours to build contextual relationships between them. After metadata, tags and information architecture, structured markup offers you the capability to optimize content in a way that allows search engines signals to understand the topical and supportive content structure.
Create Exceptional Content
In 2018, Google algorithm went on a spree to target high-quality content that had exceptional in-depth. Websites with such content soared in Google SERPs throughout the year. The trend to reward best in-depth content experiences will continue throughout 2019 as well. It's been made clear by regular updates in Google's search algorithm this year.
Now you no longer can survive on the content that keeps your blog alive. You have to work on posts that acquire links which is more sensible as one post that pays off with quality backlinks is much better than doing several posts a month that offer no payback.
On the same line, in 2019 SEOs need to focus on increasing expertise, authority and trustworthiness, abbreviated as E-A-T in Google's search quality rating guidelines. According to SeoEaze, "the search quality rating guideline is a much better resource to understand where the search giant is heading in the short term." It means it will be difficult for you to rank in Google even with authoritative content unless you achieve an authority for yourself in the domain.
Go Beyond Google Search
Many industry experts like Eli Schwartz, director of SEO and growth for SurveyMonkey, believes that the year 2019 will be when SEOs have to optimize content not only for Google but for other search engines as well.
SEO is not only about ranking in search engines but is about showing up everywhere, whenever people are searching. This means in 2019, you will have to learn to drive traffic not just for websites but for other entities as well like videos, apps and podcasts.
Brands are becoming multifaceted in the context of digital marketing, SEOs need to do the same. You have to learn how to rank apps, videos, podcasts, everything that can promote the brand your working on and drive revenue.
Invest More in Technical SEO
Websites are getting more complex every year, making technical SEO more important. In 2019 you need to focus on these technical SEO aspects:
JavaScript: With better JavaScript frameworks such as React and Vue.js, websites are getting heavy on JavaScript content which means as an SEO its time you familiarize yourself with JavaScript, at least how search engines interact with such content.
Speed: In 2019, the speed of websites continues to be an important ranking factor. You have to learn new ways to make the websites speed driven.
Progressive Web Apps (PWAs): Can your website become a keepable experience that users would like to keep on their home screens? In 2019, you need a serious answer for this query.
Machine Learning
In 2019, machine learning is expected to explode. We already see the capability that machine learning has to optimize the search results with RankBrain, but we are still to experience the true power of machine learning for SEO. You can already feel the changes ML is bringing with changes in search engines' layouts and how they are treating the intents over questions.
Machine learning is not just for Google or other search engines, but brands are also shifting towards the use of ML for developing unique content for SEO. This requires SEOs to learn how to experiment with machine learning.
In 2019, SEO is expected to see a dramatic shift towards technology with Machine Learning, Technical SEO, Structured Data and AI getting more involved in content optimization. This is why you need to learn as much as you can about these fields to be a better digital marketer than you were in 2018.