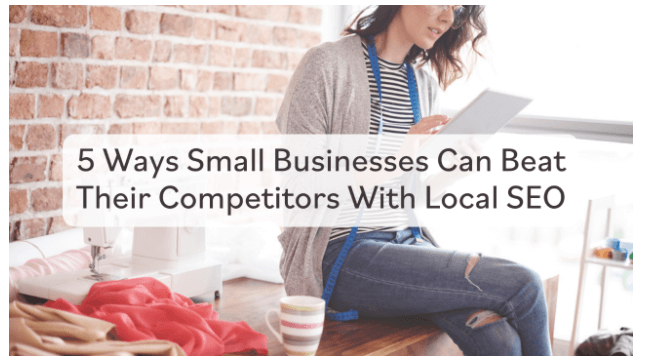 5 Ways Small Businesses Can Beat Their Competitors With Local SEO
Search engine optimization, or SEO, can help your website be more readily found online.
By letting Google know what your website is all about and the value you provide to users, search engines will be more likely to suggest your site in relevant results.
For small businesses, search engine optimization is especially important. 
SEO can help level the playing field and will play a crucial role in helping customers within your area find the solutions they need.
If you optimize your site effectively, your site will offer those solutions – and be highlighted in search engine results pages for your efforts.
That being said, small businesses need to employ different SEO tactics than large corporations do.
Not only do you need to compete with big names on a national level, but you'll also need to stand out from other local businesses that offer similar products and services.
That can be a tall order. You might not even know where to start.
The answer, in many cases, can be found in local SEO.
Local search engine optimization involves a variety of tactics that can help your brand get noticed by customers within your community.
And if you're looking for ways to outpace your nearby competitors, you'll want to check out the following five tips.
With these techniques, you can get more out of your marketing efforts, build trust with your customers, and position yourself as a local leader.
Let's take a look at just five ways small businesses can beat their competitors with local SEO.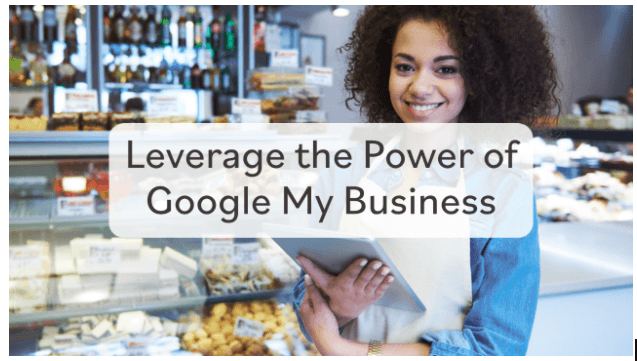 Leverage the Power of Google My Business
Google My Business (GMB) is a free platform that can give your business even more visibility in search results.
It's separate from your website, but it can support those on-site marketing efforts you're already making.
GMB is basically Google's dedicated channel for local business listings online. By taking advantage of what this platform has to offer, you can heighten your brand awareness and drive traffic to both your site and your physical business location.
Between 2017 and 2018, Google My Business organic traffic nearly doubled. In other words, consumers rely on the information they obtain from GMB and use it to great effect.
GMB allows you to list all your basic business information, including your location, your contact info, and your hours of operation. You can also include your product or service listings, relevant images, and brief updates. There's also a place on GMB for customer reviews, which we'll discuss more later on.
Once you claim your GMB profile, you should fill out every possible field and optimize accordingly with relevant local keywords. Make sure that these details are consistent with what's on your website and any other local listing directories you use. (Even small discrepancies can confuse search engines!)
Keep in mind that GMB can give you more "prime real estate" in search engine results pages. In addition to wherever your site appears in SERPs, your business may appear in the knowledge panel, located near the top of the page, or in the local map pack at the bottom of the screen. These two places can increase interest in your brand, as well as drive clicks and conversions.
At this point, many businesses are using GMB – so if you aren't using this tool, you'll have a hard time competing. But if you take full advantage of what GMB has to offer, you'll have a better shot of outpacing similar businesses in your area.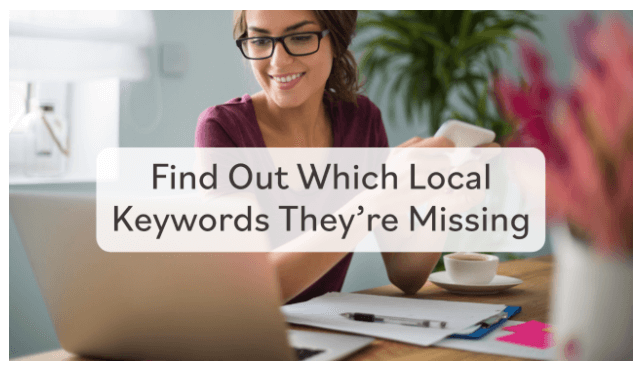 Find Out Which Local Keywords They're Missing
Keyword research is essential for all SEO strategies, but local businesses need to be thoughtful about the keywords they target.
It actually won't benefit you to target the broadest keywords that are relevant to your business. If you do, you'll be competing against large corporations with even larger budgets.
What's more, you probably won't end up connecting with your ideal audience if you go that route. Although these keywords may have a higher search volume, they may not be as relevant to your actual customers.
It's better to target keywords that are more specific and are focused on your local area, as those who use these search terms will be more aligned with buyers in your community.
But you'll still need to discover which terms your competitors are (and aren't) targeting.
You can use a tool like a webgrader to run a competitive analysis and learn valuable insights into the keywords on which your competitors currently rank. You'll also find out which terms they've missed!
Combine this information with what you've come up with during your keyword research and you'll come up with a list of search terms you can effectively target.
This can help you find the best search terms to use throughout your website, as well as the other steps you need to take to improve your current position in search results.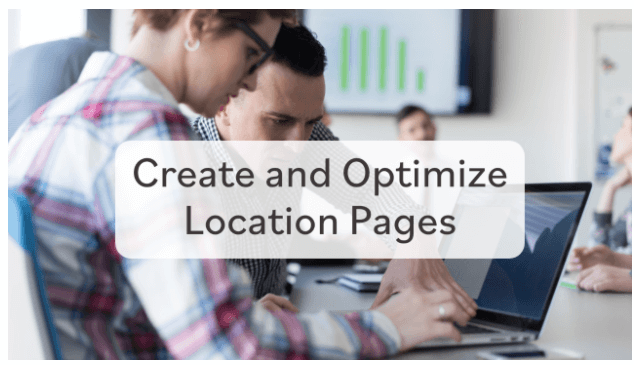 Create and Optimize Location Pages
If your business has multiple locations or you serve a number of different service areas, it's a good idea to reflect that in your website design.
It's not enough to have a single landing page that lists the areas you serve.
Instead, you should establish separate landing pages for each of these areas. This will allow you to optimize specifically for users looking for solutions within those communities.
For each of those landing pages, you can optimize the headings, title tags, meta descriptions, and content. You'll have more opportunities to rank on multiple search terms and reach customers within these different areas. Oh, and make sure you don't forget to add your company logo. It will help you drive brand consistency and make people more familiar with your brand. You can get a stunning logo in minutes using the BrandCrowd logo maker if you don't have one yet.
Of course, you'll want to perform some research to assess where your visitors are coming from and confirm that customers within your service areas are searching for these local solutions. But once you have that information in-hand, you can create these pages and their content. 
Be sure to offer easy navigation and to write far more than just a few sentences on each page! Remember: you need to provide value to web users. 
Focus On Review Management
Online reviews are the new personal recommendations. In fact, around 91% of consumers between the ages of 18 and 34 trust reviews just as much as recommendations from friends and family.
Reviews can also have big implications for your business. They can go a long way in boosting your brand reputation, but they're also a major indicator of sales success. 
Harvard Business Review found that, for every one-star review increase that a business receives on Yelp, that business experiences a 5% to 9% revenue increase. 
And because third-party platforms like GMB, Yelp, and Facebook are seen as more neutral than a brand's website, the reviews you receive on these platforms could be the determining factor for many consumers when deciding between your business and a competitor.
What's more, reviews are often considered to be a ranking factor. Small businesses can increase their brand visibility, authority, and customer loyalty by focusing on online review management.
To generate more reviews for your small business, the best thing to do is ask for them. Remind a customer during an interaction that leaving a review is a great way to support your small business. You can also follow up with a simple review reminder email a few days after they've made a purchase. 
Be sure to provide easy access to your business's profile on these review platforms. Add them  to your site and to the footer or signature of your email. You might even consider including them on signage, receipts, or business cards.
Once you begin to receive more reviews, you'll need to respond to them promptly. Aim to post a reply within 24 to 48 hours. This will give you time to craft the perfect response and strike while the iron is hot. 
Whether the feedback is positive or negative, make sure to thank the reviewer for their time and their thoughts. You should make them feel heard and appreciated. Take their feedback seriously and never respond with a defensive attitude. 
While it's hard not to take things personally, this is your chance to show off your customer service skills. Believe it or not, most consumers who look at your reviews will care more about your response to them than the fact that negative feedback might exist.
Online reviews are incredibly powerful – and the local businesses that take them seriously are more likely to thrive within their communities.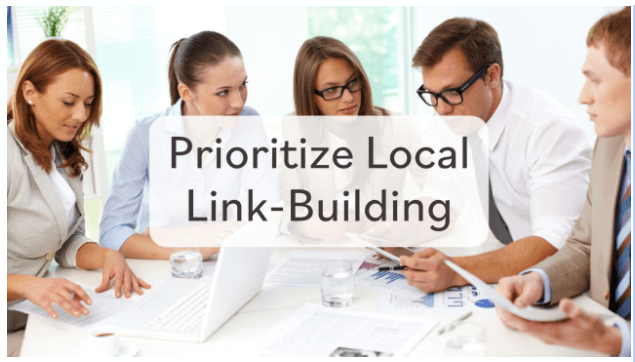 Prioritize Local Link-Building
Building high-quality backlinks to your site can help improve your domain authority and your overall perception in the eyes of Google.
While it was once acceptable to build hundreds of low-quality links from irrelevant websites, the game has changed a lot since then.
Now, you'll need to focus on obtaining backlinks from reputable sites that make sense for your brand. 
One of the best ways to acquire links is through guest posting. You can create useful and interesting content for another website and receive a link back to your site in exchange. The other website owner will get to provide the fresh content you've created to their readers, while you'll get their endorsement via a backlink.
For small businesses, local link-building is a great way to go. Instead of focusing on sites that cater to readers on a national or international scale, you'll want to gear your content towards sites that serve your own community.
The first step is to create content that aligns with both your business and the target audience of other local sites. You can then reach out to sites in your area (like those within your general niche or well-known bloggers that might partner with brands) that could publish this contributed content in exchange for a do-follow link. 
If you can show the website owner how this content will benefit their readers and how your relationship can help their own business, you'll set yourself up for success.
Local SEO Strategies Can Help Small Businesses Compete
There's no doubt that small business owners have had a rough year. If you managed to survive 2020, it's time to start thinking about how you'll thrive post-pandemic. With these local SEO strategies in mind, you can make a name for yourself within your community and establish a foundation for long-term growth.
Author Bio: Jeff Shipman is the Director of Marketing Innovation at Semify, based in Rochester, New York. At Semify, we focus on scaling, are US-based, and offer a white label SEO solution that helps digital marketing agencies achieve their dreams through on-time delivery and SEO fulfillment. Before moving to Western New York, he earned a BA in History and a MBA at St. Bonaventure University. Go Bonnies!