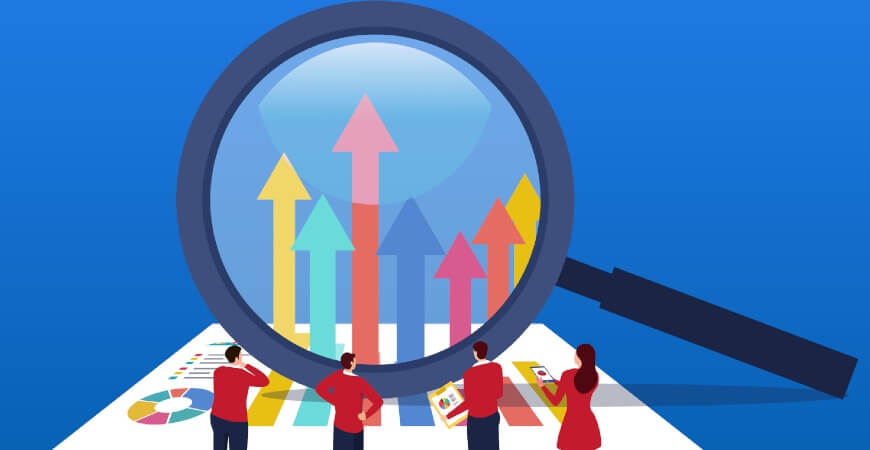 5 CRO Test Ideas for High-Impact Results
CRO is known as Conversion rate optimization, which enhances the user interaction which your site and increases the number of sales. Planning of CRO strategy helps in using data for upgrading website by which organic traffic in your website can increase significantly, thus generating more income through your website. To find new ways by which the number of visitors can increase to your website, there should be some perfect CRO strategies that need to follow. So before knowing CRO strategies, try to figure out what CRO is?
What is CRO?
Conversion rate optimization (CRO) is the process that involves steps of testing and making the adjustment with various elements in your website to get more results of maximization. Here conversion means a simple action in the sales funnel, which involves submitting new forms, an email newsletter subscription, etc.
This test mainly examines the better results in output for the conversion rate made on your website. CRO tests prominently come in the form of the A/B test. However, other than this, many ways still exist to identify the better outcome that doesn't need any traffic that the A/B method usually involves.
For any test performed, there should be backed data that need to be given for analysis, after which the test is said to be valid.
How can CRO tests be done?
Here the test is taken in the A/B method. Here the test says that take some elements of your website try to make some changes, observe the changes, finally compare with the original one. If the result finally gives an effect such that the variation result is better in performance, confirm that changes permanently.
This type of test doesn't have any foundation on the upper side; it means you can use many different testing variations without worry. These tests are mainly performed in Google Analytics Experiments or any other third-party software available in the market with a good ranking like Visual Website Optimizer, which many users prefer.
Best Five CRO ideas:
For making huge traffic, there are five CRO experiments mainly common:
A/B test page copy:
One of the most used CRO ideas is the A/B testing page copy idea. There should be a properly defined goal for making any strategy for the content. When you design content for your website, you will focus on increasing website traffic, boosting sales, and improving the quality and amount of the lead count. To reach your goal, make your landing page content easy to read.
Optimization readability of landing page is one of the best conversion techniques to make changes and optimization in your website. When running the A/B test for your website landing page, make possible variants like typeface and font size variation, properly setting the length of a paragraph, managing the space between paragraphs and different elements, and attention cues need to be given priority.
Use of negative words:
It looks surprising, but using negative words like never, worst, etc., mainly results in higher CTR than using positive words like always or best in designing headlines. A well-known example of this is list-style articles. If you follow this flipping strategy to negative numbers, getting better CTR increases significantly.
For example-
Heading like, "Best results of doing physical exercise" have a low impact than writing on running like "Worst impact of doing exercise."According to research named OutBrain, a negative cycle of content mainly yields the best result of CTR.
Eliminating unnecessary form fields:
First, we need to know how many fields can be found in your contact and lead generation forms?
Suppose you would get forms containing more than four fields, then you need to try another way of testing, like in shorter formats. If we cut down the count of domains, it would create a resistance for the visitors during their signing up.
One of the simple updates for making any contact form is that the combination of initial and last name fields finally makes a single field. To know about users' engagement in your contact forms, try to conduct A/B tests. By this, you can quickly analyze how to create more traffic by involving more visitors by getting all the information through the test.
Try to organize online tests and conduct focus tests:
It is essential to have focus groups and online tests, which would help add to the CRO strategy. They can provide feedback to visitors who visit your website purposefully about its performance, functionality, and layout.
When you conduct a focus group survey, it would be more effective if you had the same goal and structure in your mind. Always keep in mind the step of including questions concerning site navigation. It would become comfortable for the visitors to navigate easily to buy and contact.
After we get review feedback, many of the conversion specialists available can help you discover resistance in your business model by which it mainly fails to convert.
A/B test CTA buttons, text, and locations:
Again, one of the essential CRO experiments mainly tests your website's call to action response(CTAs), increasing the chances of more clicking and taking action. This idea has much revenue-generating tendency.
Some of the essential things which need to be tested with your CTAs:
Button colors.
Page locations.
Number of CTAs.
Which are better buttons or in-text CTAs.
Involved text
After CRO testing, you can easily out CTA text with one of the highest conversion rates. Hence, locate places to add CTAs and many more.
Considering one example, we add a single, strategic CTA at the top position of our pages. We would put many conversions than only 3 to have separate buttons in it. One thing can indeed be well for everyone; thus, making conversions according to the business model would be more beneficial. So, testing CTAs from time to time for optimizing your website would prove effective for conversions. And after that, you will find much of the findings by which you can use it as a key for creating more leads.
Presently ongoing CRO:
Two of the most straightforward facets of CRO are CTAs and headlines, by which we need to start working. But nowadays, there are infinite ways to optimize your process of testing and adjusting.
It would help if you kept in mind that CRO needs to be perfect ongoing characteristic of marketing strategy. Due to various unclear resistance creating points there, you need to make a proper decision because it has been being done enough of judgment.
What is a CRO strategy?
A CRO strategy is defined as mainly focusing on converting your normal visitors to paying visitors for your website. The general method of CRO strategy always remains the same even though the approach varies from company to company. Before making a strategy, it is essential to examine your audience and the various matrics. After that, you need to gather information and other data, which helps decide which needs to be tested.
Conclusion:
So before working with CRO, try to explore your favorite tricks. Your various chances of winning in which cases, and many other similar approaches. Try to more and more brainstorming in searching for ideas for CRO.  Conduct many tests online regularly to have a better advantage in business competition.