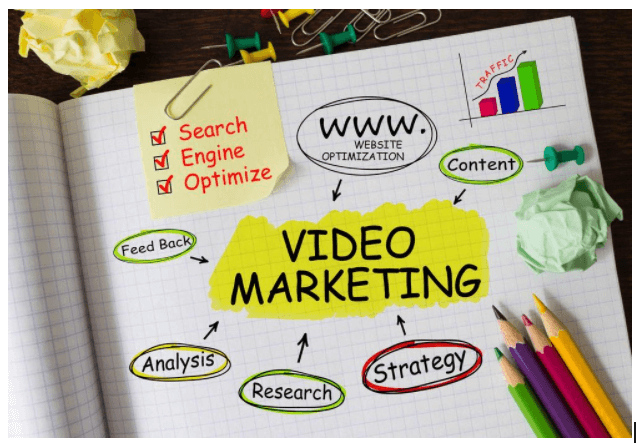 How to optimize your website using video marketing
On average, people watch online videos for 16 hours per week. Watching videos makes the most of consumers' time spent on the Internet, be it on social media content consumption or watching our favorite shows and movies. 
This level of engagement has revolutionized video marketing forever. 
With the rise of video adverts, businesses need to optimize their website to excel at video marketing and secure the top spot on the search engines.  
How to optimize your website using video marketing?
Video Title Keywords
We often think that the quality of the video matters and now how we put it up on the internet. If you want your video to reach out to people you need to put in the effort of working on every aspect of it. The video title plays a huge role in crawling up your website, each word should spike curiosity while including keywords suiting your website's genre allowing the website to rank up on the search engine. You would want to choose something that people are more likely to search for, for example-  'World's best shoes for men' instead of 'shoes for men'. 
Video Description
While writing a video description you need to be sure to write just the right amount of words and not to go overboard with it. The description should describe the video along with some keywords related to the subject of the video. In case your title doesn't get recognized by the search engines then the description of your video acts as a backup since it can load multiple keywords. You can also plug in the same words as your title within the description either at the beginning or at the end of a sentence.
Transcribing the Video
 Since the search engines cannot perfectly recognize the subject of your video you can transcribe your video to boost your SEO. You can even embed your video within a blog post to further engage audiences. 
Promo Videos
Titles, descriptions, and keywords do the trick of bringing in the viewers but your video should live up to your brand and provide value to the viewer who might have landed on your website from searching about content related to your video. Your video must contain the promised value in the title or description. Contrary to the belief having multiple videos on your website doesn't necessarily slow down your website as long as you compress your videos correctly. To compress your videos you need a video editor that makes video creation simple and easy to execute. 
Quick easy steps to optimize a video for your website 
> Once you Log In with an existing account or Sign up for a new account with Clipchamp, Click on Create a new project followed by selecting the aspect ratio of your video. 
> Drag the video to the timeline that you'd like to compress. 
> Click on Export in the top right corner. 
> Choose the optimization setting and hit Continue. 
Bonus Tips to optimize SEO  
Engaging Thumbnail
Keep your video thumbnail vibrant so that when the viewer comes across your video while scrolling through the search results, they're bound to click on it. A good thumbnail stands out amongst other search results. 
Encourage Social Sharing
To amplify the reach of your videos you should encourage social media sharing. You can plant social media buttons on your website in places that are visible and where users are most likely to click. Having the social media icons near to your video increases the chances of it being shared. 
FAQ videos
Frequently Asked Questions videos has the potential to boost your website's reach sky-rocketing through the roof. The FAQ videos usually have titles that are questions and this works as a search engine magnet because people are most likely to search questions to look for answers. If your video provides them with the solution then they'll surely keep revisiting for more. Take a look at this video- 
Keep the Length Short
The viewers need to interact with the other videos as well as with the content and product on your website, with a low attention span of viewers you need to keep your videos short. You can edit your videos short by using a video editor that has transitions that make it easier for you to shorten your video. 
When you optimize your website using video marketing SEO plays a major role. Now that you're aware, you can start optimizing your website right away.