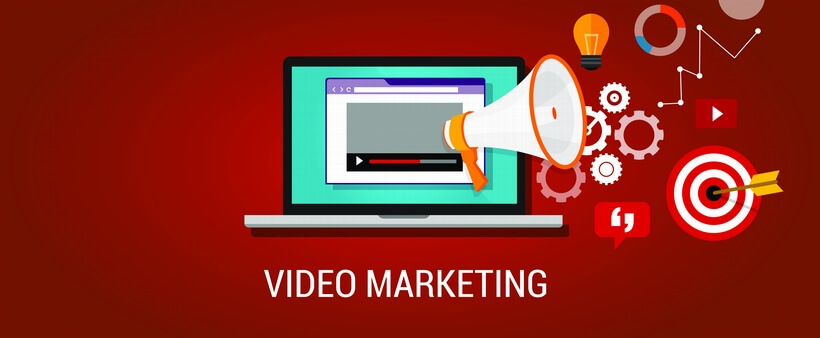 Importance of Video in online marketing for your business
Video in online marketing does the job of butter in bread!
Without video, an online marketing campaign will be tasteless and ineffective. Being efficient and convenient for the customers, video in online marketing offers marketers a highly versatile, extremely shareable, and attractive medium for reaching audiences.
Studies in this field suggest online videos are 600% more effective than direct mail and print combined.
Other statistics proving the effectiveness of video marketing include 50% of videos watched on smartphones; 75 million people, alone in the US, watch videos of all types every day and 80% of all the web consumers are actually video traffic.
There are many more facts signifying the importance of videos in online marketing for businesses. We will have a look at these below:
1. Video Content Is Highly Rewarding
Videos bring back customers to a business even after purchase or after providing testimonials. People fond of watching content instead of reading will always stick to a business indulging in video marketing.
Another important point to note here is that it's easy for the viewers to consume videos. Consuming video content does not require the viewers to put in any kind of effort. Simply press a button and start watching.
Videos amalgamated with the right kind of music and were even more entertaining. They take seconds to attract the users' attention and even keep it intact for a very long time.
2. Video in Online Marketing Brings High Returns on Investment
The main objective of any business, either online or offline, is bringing in more sales resulting in high returns on investment. And videos have a major role to play in this context.
Top-quality, informative product videos bring in higher ROIs in comparison to the other formats. That's because of the excellent quality of retaining customers. They also offer brands the ability to convey information in the most non-intrusive manner.
Interested individuals can take in videos very quickly. Video marketing speaks of some of the most practical ways of reaching out to audiences at the correct time. Marketers can go for InVideo- the online video editor that offers premium templates with the option of adding images and music.
The customizable templates are ideal for making marketing videos that spread awareness about products and services. This engages the audience on a very wide scale. However, marketers need to churn out their creative juices when making informative, attention-grabbing, and entertaining videos.
They must have their eyes on using different video styles and formats to present relevant messages to their prospective customers. Video messages should be presented in such a way that they bring in repeat customers.
3. Videos Are Shareable
Offering huge business scopes, videos come as one of the most well-known marketing tools for online businesses. Undoubtedly, videos are shareable assets as well. They are apt for creating an instant influence on the viewers.
If you want to give your products and services a playful touch, introduce them with animated and fun-filled videos. This will leave a lasting impression on the audience. Coming to the shareable aspect of videos, different social media channels like Twitter, Facebook, and Instagram have made it easy for individuals to share videos quickly on their networks and profile pages.
Viral videos are very powerful as they can reach millions of individuals within the shortest time span. But marketers need to ensure their videos have excellent content if they want to make them viral. Also, marketing videos should look professional and appear understandable too.
4. Video Is Great at Favoring Engagement
Top-quality videos made professionally allow the users to explain their messages using different resources and more emotionally and creatively. The montage, sounds, voice-overs, and images in such videos are more effective in narrating a story.
Additionally, reports have already put down that 80% of the users have a brand in their minds only after consuming its videos. This proves that videos have higher engagement, and they are good at converting prospective clients into genuine customers.
5. Businesses Can Deliver Significant Information through Videos
Videos come as one of the best communication tools for brands to deliver more information and for the viewers to retain more information. And without doubt, they are innovative and beautiful.
Internet marketers can use the opportunity of sharing informative videos through YouTube and reach a very wide audience base. They can simply create the best videos using top-quality video makers, allowing them to create and edit videos like a pro. 
Once marketers successfully create attention-grabbing brand videos, nothing can stop them from making huge money from the business.
Communication through videos is easy and result-oriented as well. As a marketer, you just need to ensure asking viewers for all kinds of feedback. This stands as one of the most effective ways of drawing in more and more customers towards your products and services.
Such communications can be made more effective by including incentives like discounts for the ones commenting on your visual content. This will automatically boost the traffic to your website.
6. Video Contributes to Search Engine Optimization
The positioning of a site on the major search engines improves naturally if the site includes videos. This works because videos grab attention and have the viewers spending more of their time on a certain web page.
The videos on web pages receiving the maximum number of views and shares naturally benefit the positioning of the specific site on the search engine pages. Such sites are 50 times more likely to appear on the first page of the search engine result pages than all other content varieties.
To Conclude
Of course, videos are important and beneficial in online marketing for businesses, but businesses must choose the right kind of video content. Making the right choice will help them reach the target audience fast and smoothly.
Simple and straightforward—provide quality information to target audiences through quality videos, and your success will rise to great heights.