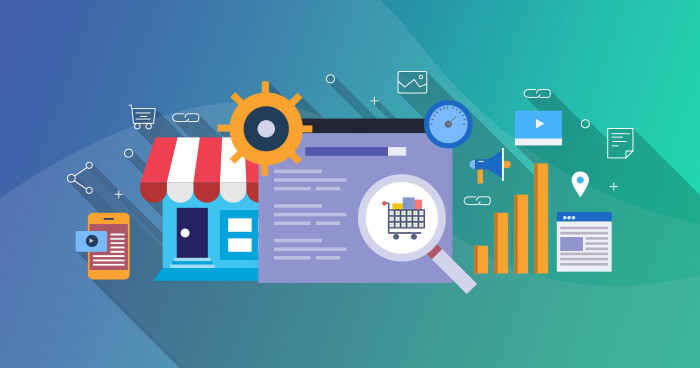 Actionable E-Commerce SEO Strategy To Rank Quickly In 2021
Search Engine Optimization is essential for every business website to ensure a strong online presence. Effective SEO strategies are a fundamental part of the success of any e-commerce store. Most online stores cannot do business because they are not marketing their websites in a useful manner.
It is estimated that e-commerce stores get 51% web traffic from organic ranking. Studies reveal that 70 – 80% of customers today ignore the websites appearing as paid ads. Therefore we can conclude that nothing matches the power of best SEO practices for getting higher ranks on Search Engine Result Pages (SERPs).
You can reach out for plenty of excellent eCommerce SEO services out there or optimize your website.
To help you out with your ecommerce website's organic ranking, we have listed the most actionable SEO E-commerce strategies that are proven to drive organic traffic and gain higher profit from online sales.
Keyword Research – the Backbone of SEO:
Keyword research forms the first step in any e-commerce SEO strategy. When you have a list of target keywords, it is easier to attract a relevant audience.
Appropriate keyword research has a crucial role in the success of every e-commerce store. It lets you display the right product in front of the right customer at the right time.
Now it's time to see how to choose the best keywords to rank your e-commerce website on the first page of search engines.
Keywords must be relevant to the actual product searches. Here are some platforms that help in relevant product keyword researches.
   1.Amazon Suggestions:
Amazon is the largest e-commerce website and the best source of long-tail keywords relevant to any product. For example, "Red Leather Handbags for Office Use." Keyword phrases have the potential for better ranking. Start by typing a keyword relevant to your product and leave the rest for Amazon. Repeat for all your products.
   2.Keyword Tool Dominator:
Keyword tool dominator is a beneficial tool that brings out keyword suggestions extracted from Amazon, eBay, and Etsy. You can find dozens of keyword suggestions on this platform, including the keyword phrases within seconds.
   3.SEMRush:
SEM Rush has a very different approach to finding keyword suggestions. It allows you to analyze the keywords that your competitors use for ranking on search engines. There is an option of "organic research" in the sidebar. Repeat this process for all your competitors to build a comprehensive list of all ranking keywords.
Ecommerce Website Architecture:
Ecommerce websites, huge or small, depending on their website architecture for better ranking and traffic. Websites based on Content Management Systems (CMS) don't have to worry about architecture.
The top e-commerce websites, including Shopify, WooCommerce, and Magento, are based on optimized stacks that promise excellent online performance.
Optimizing website's Structure:
The structure of an e-commerce website should allow the links to flow from the landing page to product page in a very smooth way.
Most UX/ UI developers follow the '3-click-rule', enabling the users to navigate back to the homepage in just three clicks and not more than that. For example;
Homepage > Category > Sub Category > Product
Adding Breadcrumbs:
Adding breadcrumbs is yet another way of optimizing a website's architecture. Google bots utilize the breadcrumb trail to get acquainted with the website's hierarchy. In this way, it also helps your visitors in understanding their current position on your website. Both SEO experts and web designers can effectively use the breadcrumb trail to improve User experience (UX) of your website.
Breadcrumbs are of different types;
Location-based breadcrumbs
History-based breadcrumbs
Attribute-based breadcrumbs
Internal Linking Structure:
Adding internal links to all product pages and interlinking them is essential for even distribution of link juice.
Focus on On-Page SEO for Ecommerce Website:
You can easily find plenty of excellent e-commerce SEO services out there that will perform On-page SEO for your website. On-page SEO will include the content and code optimization for every page on your website. You can accomplish it by using the following steps.
Find the most appropriate keywords and add them to your main page, product, and category pages.
In today's mobile-savvy world, customers prefer asking questions for invoices. Therefore the content must have a conversational tone.
Work on improving your page speed. In today's fast-paced world, only speedy websites can successfully impress customers.
Write useful and impressive e-commerce product descriptions.
Google's rich snippets are another easy way to rank on the first page of Google search. This is done by implementing the schema markup on your page. You can use Google's Structured Data Markup Helper tool for this purpose.
Other SEO Strategies for Ecommerce Websites:
The off-page SEO for e-commerce stores will include strategies such as partnerships, affiliate programs, and sponsorships. There are plenty of excellent e-commerce SEO services out there that offer reliable Off-Page SEO strategies for E-commerce websites.
   1.Link Building and Announcements:
Citations, web 2.0 links, blog comments, and Q/A websites are effective ways of link building with your promotional offers.
   2.Partnerships:
Seek partnerships with affiliate websites in your industry. They help in increasing organic sales in exchange for a small percentage of profits.
   3.Sponsorships:
Sponsor your offers on various blogs to boost your sales. Blogs with higher DA have their specific requirements, which you have to fulfill.
   4.Blogger Outreach:
Reach out to bloggers from your industry that are promoting your competitor's products. You can also request guest posts and backlinks from their websites.
The Final Verdict:
I hope you have now figured out how you can make your e-commerce store rank on Google and generate a lot of sales and revenue. If you feel that this process requires too much of your time or effort, you can take help from plenty of excellent Ecommerce SEO services out there who provide effective SEO that will help your website rank on Google, Yahoo, and Bing.
Author Bio
Steve Carter: Digital marketer who has been associated with Brainvire for many years. He holds expertise in eCommerce SEO services. Steve, in his free time, enjoy writing in depth articles on the trends in the digital world.