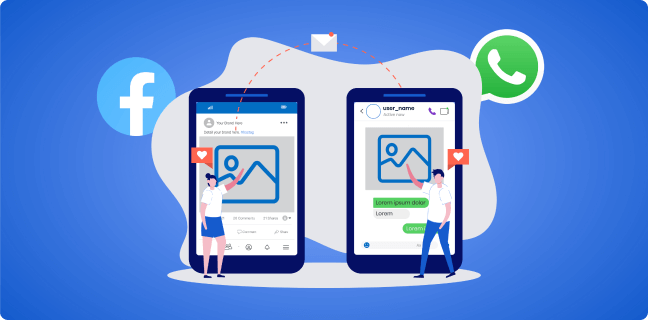 How to create WhatsApp Ads for Business
Advertising has been revolutionizing the current market in which it is developed and for businesses it must be included together with value strategies to achieve the objectives that are projected to be met, for this reason we have identified a neuralgic area of ​​how to create WhatsApp Ads for businesses .
The importance of this lies in the fact that with a correct implementation of the resources, the target audience can be reached more easily, serving as support for the offer of services and products that we have in the market.
Meta Ads, in particular, has become a really powerful online advertising platform mainly due to two factors: the well-known Facebook pixel that allows remarketing and its great capacity for segmentation. In addition, the possibility of controlling the investment at the moment, without the need for it to be high, has led even small companies to take full advantage of its advantages.
But, today we write about how to create WhatsApp Ads for businesses, a new way to bring the brand closer to the millions of users who use this social network every day. Here we will see the advantages that this type of advertising brings you, and also how you can carry out a marketing campaign on WhatsApp.
What is WhatsApp Marketing?
WhatsApp Marketing collects all the marketing and advertising strategies that any company implements in this social network. As with other spaces such as Facebook, Instagram or even Google Ads, now you can also insert advertising within WhatsApp.
There is already advertising in WhatsApp Business states, through which you can include the information you want about your company. They work like Instagram stories, that is, they remain active for 24 hours and you can post as many as you want.
Why is WhatsApp Business important?
WhatsApp is the most popular mobile messaging application in the world. WhatsApp users are also not shy about taking advantage of the app's messaging features. Every day, they send 100 billion messages and spend an average of 38 minutes chatting through the app.
So how can your business (or your agency clients) take advantage of WhatsApp's massive and highly engaged user base? WhatsApp Business makes interactions with customers easier by offering tools to automate, organize, and quickly respond to messages. It is designed and works similarly to WhatsApp Messenger. You can use it to do everything you usually do, like send messages and photos.
Features currently offered by this app include:
Company Profile to display important information such as address, email, and website.
Labels to organize your chats and messages in order to find them easily.
Messaging tools to respond quickly to your customers.
To start with the tour we need to explain that the central idea of ​​this blog is that you learn the correct and strategic ways to create WhatsApp Ads for businesses, improving the relationship you have with your brand, your audience and the actions you have been implementing or what you think implement for your next release. Making your potential customers interested even during the post of your campaign.
With Click to WhatsApp Ads, you can add a Send Message button to your Facebook or Instagram ads to open a conversation in the WhatsApp Business app. 
In this way, customers can click the button to contact your company through the social platform.
Before starting 
  Download the WhatsApp Business app to create a business account or set up integration with the WhatsApp Business API.
  Connect your WhatsApp account to your Facebook page and become the administrator of the page.
#1: Configura WhatsApp Business
After you've downloaded the app, enter and verify your business phone number.
If you use WhatsApp personally, you need to keep in mind that you will not be able to use the same phone number for individual and business accounts. Instead, you need a separate phone number for WhatsApp Business.
Are you already using your personal WhatsApp account to communicate with the client? You can migrate your account to WhatsApp Business to keep your conversations and continue using the same phone number.
After verifying the phone number, add all the basic information about the company. Type in the name and use the dropdown menu to choose the most relevant category for your business.
Create click ads to WhatsApp
To create ads click WhatsApp in Ads Manager:
  Go to the ad creation tool in Ads Manager.
  Choose the target.
Ads with the objectives "Traffic", "Conversions on the website" or "Messages"
 Note: Optimization based on conversations for the message objective is not available in certain countries in the European Union, Japan, and South Korea.
  Choose your campaign budget and click Next .
  Under Ad type , select Click to send message .
In the Messaging apps section , select WhatsApp .
Select your audience, locations, budget, and schedule, and click Next.
Select your ad format and finish setup.
  Click + Create to create that process. When you're done, click Save and Finish.
Click Publish to post the ad.
Ads with the objectives "Reach", "Brand Awareness", "Engagement" or "Video Views"
Choose your campaign budget and click Next .
Select your audience, locations, budget, and schedule, and click Next .
  Under Links , click Add Website URL .
  Add the URL of your business website.
Under Call to action , select Send WhatsApp message .
  From the dropdown menu, select a page that has your WhatsApp number associated with it.
  Click Publish to post the ad.
WhatsApp Business, an alternative for Ads within WhatsApp 
This is all you can do with the WhatsApp Business tool in your company:
  You can include your physical address along with a map from Google Maps in case you have a venue that you want to highlight.
  It also allows you to add your business or customer service hours.
  In addition, in the application settings you can include the different forms of contact that you offer to your customers. This is very interesting to be able to direct certain queries or even some purchases to the appropriate channel.
  You can create autoresponders, both to welcome new users and to answer frequently asked questions.
But, the best: When you are absent and cannot attend to your clients' questions…
  The application allows you to send messages to all your contacts, and with its analysis tool you can analyze shared messages.
And, of course, you can use the sending of messages to your contacts to carry out advertising and marketing campaigns. The application even allows you to segment your contacts into different groups.
Here we stop for you to start implementing NOW!
Now that you know how to create WhatsApp Ads for business, we hope to see the strategies you implement projected, succeeding quickly in the consulting world.
If you are not part of our academy, you can acquire this same course independently at the following link: More Ads . Here you will learn to dominate the world of online advertising and gain immediate visibility thanks to these incredible platforms.
  Your academy listens to you! For each of our channels we offer you a warm welcome so that you can implement the strategies that have worked for us.