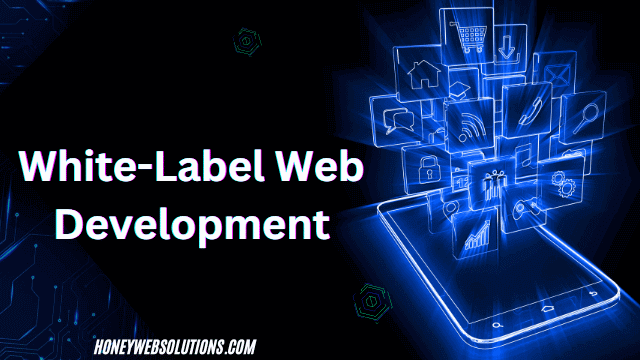 Understanding White-Label Web Development: The Benefits for Content Marketing Agencies
As a content marketing agency, one of the key objectives is to create engaging content that resonates with the target audience of your clients and drives business growth. However, without a well-designed website, all your hard work goes to waste. This is where having a reliable web development partner comes in handy. In the past, the traditional route of web development would require hiring an in-house team which can be costly and time-consuming. Thanks to the benefits of white-label web development, content marketing agencies can now outsource their web development needs without breaking the bank. 
In this blog post, we'll explore some of the top benefits of white-label web development for content marketing agencies.
What Is White-Label Web Development?
White label web development services are the process of outsourcing web development work to a third-party vendor who will design and develop the web application/website that includes all the branding elements of your agency as if you've personally developed it. In simpler words, you're essentially hiring an external agency or developer to make a website that you can brand as your own for your clients. Most times, these white-label web development providers work as an extension of your agency and provide you with the benefit of an additional team working on projects without adding to your own agency headcount.
Benefits of White-Label Web Development for Content Marketing Agencies
Let's explore some of the top advantages of white-label web development for content marketing agencies.
Cost Savings
One of the biggest advantages of white-label web development is that it saves content marketing agencies the cost of hiring an in-house development team. A white-label development partner can create necessary pages from scratch or redesign existing ones for your clients. This allows the content agency to focus on its core business of content marketing without worrying about the additional costs of hiring and training a web development team. You can be sure that the content that your agency created will be added to your client's website in a proper way, too.
Custom Website Solutions for Any Type of Content
Different types of content require different website solutions. For instance, a blog post page will require a different set of features compared to eCommerce website pages. It is hard to predict what type of content your clients will need in a future project and what type of development work will be required to make the content look great on your client's website.
With a white-label web development partner, you can customize each website solution to meet the unique needs of each client. This not only enhances user experience but also ensures that the client's website is effectively aligned with their business goals.
Access to Expertise
White-label web development partners are experts in their field. They have experience working with different types of programming languages and content management systems. Consequently, they can provide valuable insights that you may not have considered otherwise and find the best solutions for getting the desired outcome. This means that you have access to a wealth of knowledge and expertise that can help you better serve your clients, follow the chosen SEO strategy, and grow your business.
Increased Efficiency and Productivity
When you work with a white-label developer, you can focus on creating content while they work on the website code. This creates a more efficient workflow where each team member is working on their respective areas of expertise. This not only saves time but also ensures that both the content and the website are of the highest quality.
Scalability
As a content marketing agency, your goal is to grow your business and take on more clients. With a white-label web development partner, you have the flexibility to scale up or down based on your business needs. Whether you need to develop a single website page or dozens of them for your clients' effective content marketing, a white-label developer can adjust to meet your needs without compromising on quality.
Best Practices for Quality Delivery in White Label Web Development
Now, let's look at the top tips on how you can use white-label website development for your agency.
Selecting the Right Partner
Choosing the right white-label web development partner is crucial as it can make or break the project's success. You need to find a vendor that aligns with your agency's goals, vision, and values. Conduct thorough research, read reviews, and compare prices before finalizing on a developer. The right partner will help you scale your web development capabilities easily.
Quality Assurance and Testing
Make sure that your white-label development partner delivers quality work by asking for samples and references of their past projects. Always be vigilant with quality assurance and testing. Ensure that the developer follows the agreed-upon project standards and writes clear test cases to avoid the need for emergency bug fixes. Clear testing standards help to align web development projects with your agency's reputation, making the final version error-free for clients.
Document Expectations and Communication
Communication is key in any project, but especially in white-label web development.  Ensure that you and your white-label development partner have clearly established expectations about the project. Define timelines, goals, and milestones to avoid any confusion. To ensure effective communication throughout the web development project, try to use a communication tool that is accessible and efficient, such as project management software tools, chat platforms, or emails. Regular communication with the development agency ensures that everyone is up to date on the project's progress and will also help to prevent any surprises or misunderstandings.
Safeguarding Intellectual Property (IP)
Often in white-label web development, the developer has complete access to your client's information and data, which can include sensitive intellectual property. Ensure that you sign an NDA (Non-Disclosure Agreement) to protect the project, including designs, codes, documents, or any proprietary information that can compromise your client's business if stolen or misused.
Conclusion
As you can see, white-label web development can bring tremendous benefits to content marketing agencies. From cost savings to increased productivity and access to expertise, there are many reasons why outsourcing your web development needs to a white-label partner can be a game-changer for your business. Implementing best practices, such as working with an experienced agency, setting clear expectations, establishing good communication, ensuring quality control, and protecting intellectual property, are crucial for ensuring quality delivery in the white-label web development process.
Whether you're looking to scale up your operations, enhance your clients' website experiences, or stay ahead of the competition, partnering with a white-label development team can help you achieve your goals while staying within your budget.