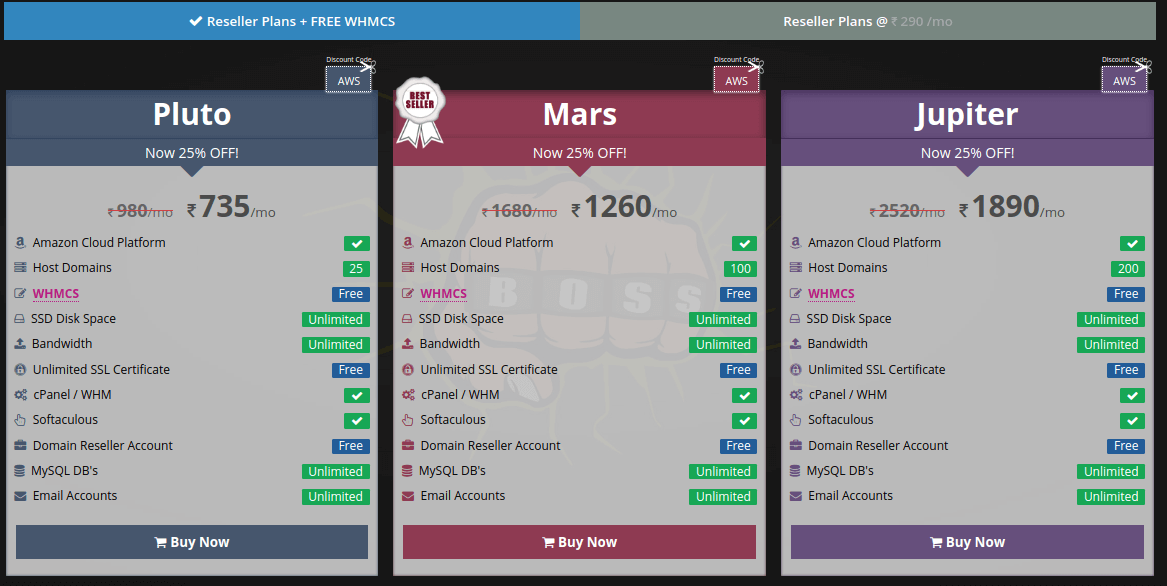 Reseller Website Hosting
Why Select Reseller Web Hosting?
Reseller hosting is booming the web hosting and web design industry because demand for websites has increased within the last few years. This has given the opportunity to the web developers and designers to enter into the web hosting industry by starting their own web hosting business. After this, you might have a question where you will get best reseller hosting and which provider is best? Then answer is MilesWeb, where you will get unlimited benefits in their reseller hosting plan and they will help you to get established online successfully.
What is reseller hosting?
Let's take your example, If you are a designer or developer then you have to buy a reseller hosting plan from one of the reputed web hosting providers that is MilesWeb and you can sell your services confidently to the clients. In short, you are starting your own web hosting company with a reseller hosting plan. In this type of hosting solution, you get shared environment where you can develop multiple shared accounts under one master account.
India's best Unlimited Reseller
Call yourself a Boss, because you are going to be boss, right? Our aims to provide excellent value for money with their unlimited Linux reseller hosting in India, US and UK. You will get many benefits from the MilesWeb such as free WHMCS, white label reselling, free domain reseller account, payment gateway, free migration and custom branding. Being an unlimited reseller user, you can construct your plans, set the pricing and sell it to end user. Additionally, you can earn the best profit from reseller hosting plan. They provide two types of plans under reseller hosting one is Reseller hosting and second is Reseller hosting + Free WHMCS.
Reseller hosting + Free WHMCS
Linux Reseller Hosting
 From the above screenshots, you can buy any plan to start your web hosting business. To know more, you can connect their support team as they are available 24*7*365 days to serve you. They offer various sources of connecting that are chat, email and phone. They also offer Windows Reseller hosting to know more, check Miles Web Windows reseller plan.
Features of  Unlimited Reseller hosting:
1) Free WHMCS: You will get free WHMCS in reseller hosting + Free WHMCS plan. This tool will help you to enhance your business at an initial stage.
2) 100% White Labeled: Their system is fully white labeled that helps you to brand your own cPanel, custom DNS, setup server on any location, etc. You can add your logo and brand name and sell their web hosting services with your brand name.
3) Free domain reseller A/C: You can sell over 400 extensions and TLDs with MilesWeb reseller hosting plan. However, setup is free of cost.
4) Free payment gateway: You get many payment options that will keep your customers happy while making the payment. MilesWeb payment gateway supports options like credit card, debit card, net banking and more. Icing on the cake is that they don't charge additional for the setup process.
5) SSD powered hosting: Your website speed will get enhanced because of their latest SSD drives.
6) Free migration:  Are you a existing reseller customer and not satisfied with the service of existing provider? Then check MilesWeb Reseller plan, where you will get a free migration feature.
7) Free website builder: In your reseller plan, you get 1 click installer feature that allows you to install CMS's like WordPress, Joomla, Magento and other.
Three main priorities of MilesWeb
24/7/365 support: Their in-house support team consists of experts who have decades of experience in the hosting industry. You can reach their helpdesk anytime from anywhere.
30 Day Money Back: You can try their service for a specific period of time and if you feel you are getting worth for what you are paying then you can ask for refund.
95% uptime: You will get the maximum uptime of 99.95% because of their data centers that are equipped with multi-tier redundant power systems.
How much profit you can make from  reseller hosting?
If you are opting for a reseller hosting plan, then you can assume that you will get the profit. The only thing that matters is working pattern means profit relies upon the number of hosting accounts you are aiming to sell.  Let's take an example of Smart plan of MilesWeb. If you buy the Smart plan for 1 year, total cost you would be paying is of Rs.4000 approx. Suppose you have 20 clients, then from 100 GB of disk space, you are offering 5 GB for each client and you are selling that hosting service at Rs. 2000. So, you are earning a profit of Rs. 40,000.
Conclusion:
Yeah! Before I asked you to call yourself a boss and now after reading this article it is 100% guaranteed that you are a boss. If not, then the MilesWeb Reseller plan will do it for you. Liked the article? Do share in your social networks.