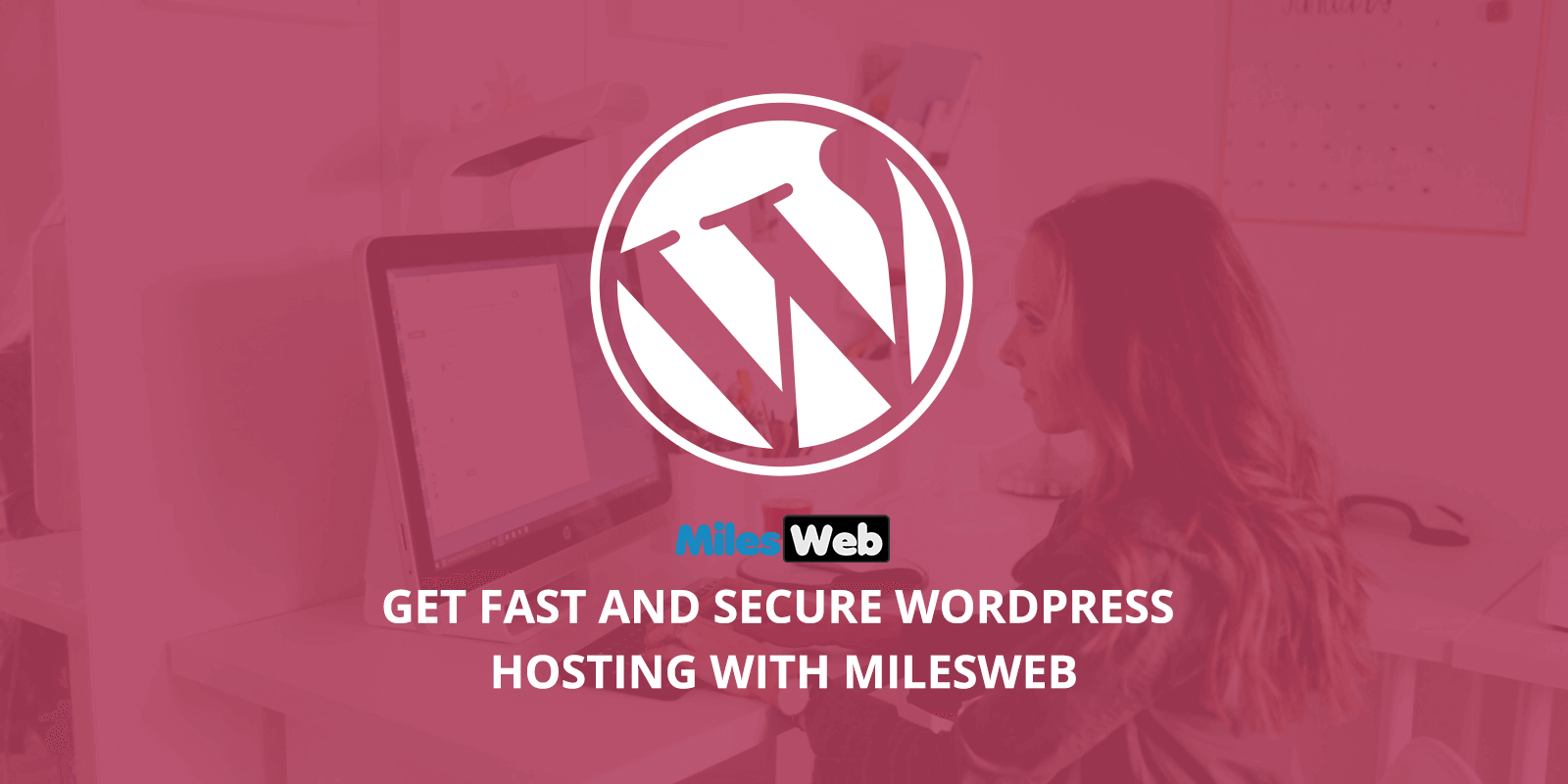 Get Fast and Secure WordPress Hosting With MilesWeb
Picking the appropriate WordPress hosting provider is one of the toughest jobs. You not only need to consider every aspect such as pricing, reviews, and performance but also you need to analyze whether it fulfills the complete requirement of your website.
In other words, look for the best WordPress hosting provider that is reliable and affordable. Because if you go with the wrong host you may end up having a tortoise-like website that will affect your reputation in front of visitors, as well as your website rankings, may get affected.
And the good news is- we have a recommendation based on customer reviews and evaluation of the features and services they offer. MilesWeb is the best provider for cheap WordPress hosting India that is fast, secure and inexpensive. They have a dedicated support team that works 24/7 for their customers to solve their queries.
About MilesWeb
MilesWeb is mostly known for its cheap WordPress hosting, 30 days money back guarantee and 99.95% uptime. Besides this, MilesWeb has hosted more than 2 million websites worldwide and the count is multiplying gradually.
Apart from WordPress hosting, MilesWeb also offers a number of other services. Shared hosting, unlimited hosting, dedicated server, VPS hosting, cloud hosting are some other best website hosting plans India provided by MilesWeb.
Jetpack partnership with MilesWeb helps MilesWeb customers to avail Jetpack Premium or Professional features free of cost with their WordPress hosting plans. MilesWeb is the first Indian company to partner with Jetpack. Jetpack is one of the WordPress plugins that helps in full customization of your WordPress website.
Moreover, MilesWeb is also the silver sponsor of the popular WordPress community in India-WordCamp. It is a conference held in different cities of India where core developers, WP users come together and share their ideas about the WordPress platform. MilesWeb never misses a chance to be a part of WordCamp. They participate in every event organized by WordCamp in India.
MilesWeb basic WordPress hosting plan starts as low as Rs.69 per month. Let's have a detailed overview of these plans:
MilesWeb WordPress Hosting Plans
You can select server location for your WordPress website where you want it to be hosted. Their servers are available for India and US locations. The prices differ as per the location you select. It is recommended you choose the server location depending upon the target audience of your visitors.
WordPress hosting + Jetpack free plans
MilesWeb offers 3 ranges of plans that have Jetpack free features included in the- Ace, Heart, and Diamond. The monthly prices of these plans are Rs.69, Rs.210, Rs.490 respectively. The Ace, Heart and Diamond plans currently have a 50% discount on them and to avail this offer, you can use coupon code 'WP50'.
WordPress Hosting + Jetpack Premium/Professional
The Jack, Queen and King plan of MilesWeb include Jetpack Premium/ Professional features. The monthly price of the Jack plan is Rs. 616, Queen-784 and King Rs.1400.
The Jack, Queen and King plan currently have a 20% discount on them and to avail this offer, you can use coupon code 'BLOG20'.
MilesWeb WordPress Hosting Plan Features:
The features included with MilesWeb WordPress hosting are as below:
Free domain for Lifetime
Fast SSD storage
Free SSL certificate
Automatic WordPress updates
WordPress pre-configured
Fast Provisioning
Secure Email
Fast Provisioning
Jetpack features
What makes MilesWeb Fast & Secure?
With the above-mentioned prices, you can figure out that MilesWeb plans are not much expensive as compared to any WordPress hosting provider in India. Let us now take a glimpse of the factors that makes MilesWeb WordPress hosting fast & secure.
MilesWeb hosting servers are integrated with SSD drives. Because of this, website performance is much faster and better. This helps to boost up the page load speed and helps to get 200% better performance as compared to spinning drives. Not only this, MilesWeb servers are built on Intel Xeon processors that have the following configuration.
RAM-64GB,
Processor- Dual Deca & Dual Octa
Disk Storage- SSD with Hardware RAID 10
Besides this, MilesWeb also has CDN, GZIP/Brotli Compression & Cloudflare Railgun
technology.
The Cloudflare helps to speed up the webpages that are non-cached whereas Railgun makes sure that the connection between the web server and the Cloudflare CDN is extremely fast.
To improve the delivery time of your website (whether big or small) GZip/Brotli compression is used. It speeds up the WordPress website vigorously by compressing the amount of data sent from the server to the browser.
The CDN stores the cached version of your website in multiple geographical locations resulting in faster load time.
Thus, all the above aspects are included with MilesWeb WordPress hosting to give you electric fast hosting experience.
All websites that are hosted under MilesWeb WordPress hosting are secured with LetsEncyrpt SSL.  An SSL is a security protocol that encrypts all the data communication between the web browser and the server.
The file transfer protocol provided by MilesWeb is much secure as they use SFTP instead of FTP. An SFTP is a secured version of FTP that transfers data over Secure Shell (SSH).
Your emails are completely secure as MilesWeb hosting plan takes care of your incoming emails by adding spam filtering & spam protection.
MilesWeb's secure WordPress hosting solution uses all the above possible technologies to keep your WordPress website completely secure.
Final Thoughts
So, if you are starting up your new venture, and want to make it a success you can go with our recommendation that is MilesWeb. MilesWeb is a great host to choose if your startup depends on WordPress. Whether you have just started with a personal blog, hobby site or an eCommerce website MilesWeb has WordPress plans for all.
Altogether the features mentioned above and excellent customer service from MilesWeb makes them the front-runner for super stable and high performing WordPress hosting.
MilesWeb also gives an opportunity to their customers to make some extra money with the help of affiliate program. Anyone can join the Affiliate program, it's absolutely free. Once you join their affiliate program you will be provided with a range of banners that you can place on your website. Additionally, you will get Rs.1000 as a sign-up bonus once you join their affiliate program.