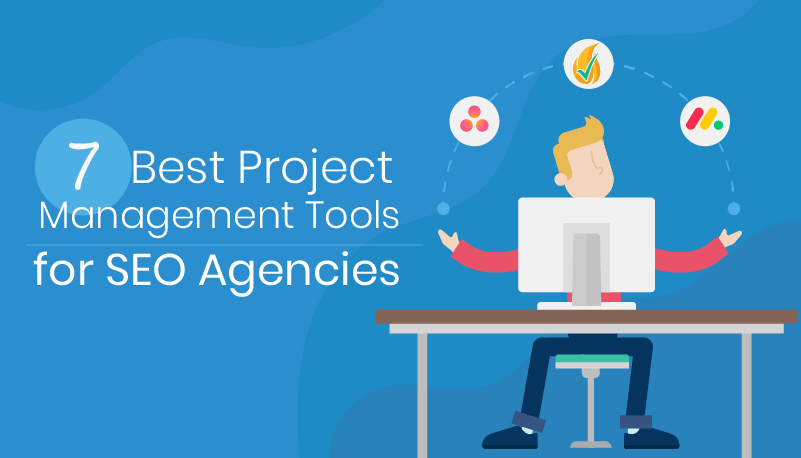 The Most Effective Project Management Tools Used by SEO Agencies
In order to be competitive in the market, SEO agencies need to be efficient. As the number of your clients, internal team members and external collaborators start growing, you'll find it impossible to meet your business goals the old way, using email alone.
However, with so many great SEO project management tools available that can help you allocate your resources effectively and achieve your goals on time, it's hard to tell which one is the best for managing your SEO campaigns. We're presenting you a list of the seven most efficient ones so you can try them out and narrow down your options.
Basecamp
Basecamp is one of the oldest and most popular platforms for project management that is widely used by SEO agencies for managing their work.
The platform enables team members to collaborate on projects, organize tasks and communicate with each other. It's well-known for its more freeform structure that helps its users tailor the system so that it meets their own requirements. Basecamp can be used for organizing team members, delegating tasks and keeping track of their progress. It has a beneficial auto check-in feature, which keeps managers and team leaders informed of daily accomplishments, as well as a message board where you can post announcements and updates.
You can try Basecamp for free during a 30-day trial, while the monthly price for businesses is $99 and yearly $1000 flat, regardless of the team size.
According to the Search Engine Journal's Survey, Trello is the most popular project management tool for SEO purposes, as it is used by 41% of SEO experts. 
Trello is a kanban tool, it is very flexible and easy to use. Its main advantage is the visual representation of the workflow. Its interface is reminiscent of a bulletin board that represents a project, where you use cards to assign certain tasks to each one of your team members.  You can also use it to share attachments and set deadlines. Using Trello, you can have instant insight into the progress of a project and determine who is responsible for which tasks and what still needs to be done.
Trello offers a free version with a basic set of features available. However, features such as private and public board control, unlimited file attachments, file encryption, two-factor authentification, etc. are available with business or enterprise versions, with a monthly price of $9,99 and $20,83.
Read more: Best Digital Marketing Agency in Hyderabad
If you're looking for a great SEO project management tool that is as visually appealing as Trello and comes with great power features, Taskworld could be your tool of choice. It combines visual task management, project planning and team member messaging into one robust application.  
Using Taskworld, you can seamlessly assign and monitor work with visual boards, visualize its progress and identify potential problems. You can also use it to track time spent on each task and easily manage your files. Taskworld also lets you see who of your team members are online so that you can chat with them. It also provides real-time reports and feedback, so that you can always stay on top of the game.
You can see Taskworld and Trello features compared here, and opt for a 15-day free trial before switching to the Professional or Enterprise mode for $10,99 per month when billed annually.
Free of charge for up to 15 persons, Asana is a preferred tool used by 22% of SEO professionals. Asana is able to manage SEO projects at its finest.
You can split up a project into specific tasks and assign resources, crate calendars and dashboards, set reminders, track milestones and goals,  and many more. With Portfolios, you can monitor your SEO projects in real-time, making sure your activities are always running smoothly.
Asana integrates with third-party tools such as GoogleDrive or DropBox so that your team members can have a seamless experience.
Teamworks is one of the most comprehensive project management tools which lets you handle, settle and organize all your SEO tasks. It's more flexible than some other project management tools, allowing for a variety of teams with any number of users as well as multiple users working on the same task. 
Another great feature is Workload that gives you an instant overview of your team's capacity so that you can make informed resourcing decisions, assign and reassign tasks. 
If your team is small and you're just getting started with project management, you can try the Free Forever version, which supports a maximum of five users with 100 MB of space. For more advanced use, consider the Pro plan for $11,25 monthly or Enterprise for $18,75.
Monday keeps all your SEO tasks organized in one platform. You can easily plan, organize and keep track of your tasks in one visual, collaborative space.
The tool is simple and intuitive to set up and use, and you can customize it to fit the needs of your workflow. You can design every workflow differently and adapt them to the needs of your employees or your project.
It comes with Kanban view, 20 column types and embedded forms. You can try it out using a free trial version and then choose between Basic plan which costs $39, Standard for $49 and Pro for $79 per month.
Another useful solution for project management purposes is G-Suite, provided by Google. 
While G-Suite doesn't really have the software built with the purpose of project management, the tools it offers make the collaboration of your team members easy and straightforward. You can make multiple, shared project calendars to manage events or appointments and notify your team members when they're about to start. You can easily turn these events into meetings using video conference option or decide to share your screen with others so that you review your work together. You and your SEO team members will also be able to collaborate in real-time, using documents, spreadsheets or slides, see each-others' edits, ask questions in comments or communicate using a built-in chat. When using G-Suite, all of your files are safely stored on the Google Cloud and can be accessed anytime and anyplace you need them.
You can try it out for free for 14 days or opt to pay $6 per user per month for Simple, $12 for Business, and $25 for the Enterprise option.
The choice of the best project management tool for your SEO agency will largely depend on the size of your team, the number of clients you have and your team's needs. Go for an easy-to-use solution your team members will love to use and get ready for some fantastic results.
AUTHOR BIO
Jacob Wilson is a business consultant, and an organizational psychologist, based in Brisbane. Passionate about marketing, social networks, and business in general. In his spare time, he writes a lot about new business strategies and digital marketing for Bizzmark blog.