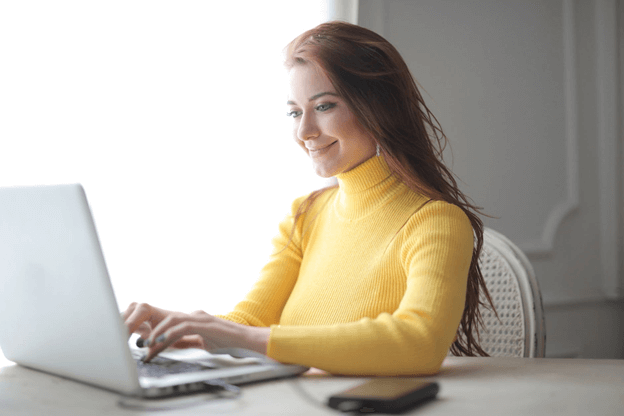 5 Ideas to Wildly Increase Your Buyer Engagement and Online Sales
Boosting your customer engagement helps skyrocket your online sales and revenues. After all, consumers are more likely to explore and buy when they're heavily immersed in your brand, products, values, and content.
That is why you should establish and maximize your marketing channels and strategies to increase your engagement with existing and prospective customers. Doing this helps increase your sales both in the short and long run.
So, how can you do that? Check out these five actionable ideas:
1. Personalize your marketing emails.
One ecommerce marketing strategy that continues to give profitable investment returns is email marketing. It can yield $42 for each dollar spent on your campaign.
However, it's not enough that you deliver just any kind of promotional email into your customers' inbox — you have to personalize them. 
You should ensure that your messages are highly relevant to your buyers' interests with your brand. Doing this stimulates their engagement and quickly entices them toward your offers.
You can personalize your marketing emails in several ways:
Segment your mailing list.

Categorize your recipients by their demographics, customer journey, site activity, and other factors.

Send behavior triggers.

Automate and deliver communications that respond to specific customer actions on your website. Examples include cart abandonment emails, thank-you messages after checkout, etc.
Email customer milestones.

Greet your shoppers on their birthdays and customership anniversaries with your brand, and offer exclusive benefits.
Email personalization is a memorable way to reach out to customers, foster your relationship with them, and motivate them to keep patronizing your brand and products.
2. Boost your social reach and engagement.
Social media marketing is also crucial in increasing your online sales and buyer interaction. You can do it in three ways.
The first is by publishing a diverse set of high-quality, engaging content. This can be:
Photos of your new product releases

Images of quotes, sale and discount announcements, interaction-driving images (quiz questions, invitation to comment, etc.)

Videos that introduce and demonstrate your product features 

Live events

Stories, and many more.
These content types visually engage your followers and draw them toward your promotional messages and offers. 
Plan the social content materials you will publish with top-notch content marketing platforms. With their automation and other features, you can organize your creation and publication processes, including campaigns. The tools can also help track and ensure your posts drive consumers to explore and transact on your site.
Influencers are another powerful instrument to boost your customer interactions with your products. These online celebrities can feature and recommend your goods and persuade followers to buy — whether explicitly or indirectly.
The third method is buying social accounts of influencers or people with a massive following — particularly on Instagram. This is unconventional but equally effective in skyrocketing your brand visibility and competitive advantage.
You can use these high-quality Instagram accounts to instantly engage, reach, and convince more customers to buy — especially with your sponsored posts.
Buy Instagram accounts from safe marketplaces such as Social Tradia. It evaluates and qualifies sellers and keeps transactions and involved persons anonymous. Social Tradia even has a clear-cut, straightforward process for the business dealing. These steps help preserve your security better than negotiating on platforms with less accountability.
3. Wow your customers with your site design.
According to statistics, 93% of shoppers consider site appearance when deciding whether to buy the store's products or not. More than half of customers even abandon a site for disliking the overall aesthetics.
This is why creating an attractive virtual storefront is vital to raising your revenue. It gives positive first impressions and convinces buyers to explore your shelves and complete their checkout.
Design a stunning website with these tips:
Match your site aesthetics with your business (that is, your brand, products, and niche). To ease this task, get ready-made, appropriate, and visually pleasing layouts. For instance,

use luxury WordPress themes

if you're selling posh items.

Create an organized design, whether it's creative or minimalist. Also, put plenty of negative space, especially around calls-to-actions. This emphasizes significant elements, makes the site neat-looking, and prevents you from overwhelming your customers. 

Pick the right colors. Align your site design's dominant and secondary hues with your brand colors to help customers identify your business.
4. Publish jaw-dropping product photos and videos.
To attract customers and maximize your sales, showcase your products through breathtaking photos and videos. This tactic highlights the attractiveness of your merchandise and lures buyers to get the item.
For jaw-dropping product visuals, take them in high resolution and from different angles. Think of what attributes you would like to feature or what your customers want to see. 
Bonobos shows a perfect example: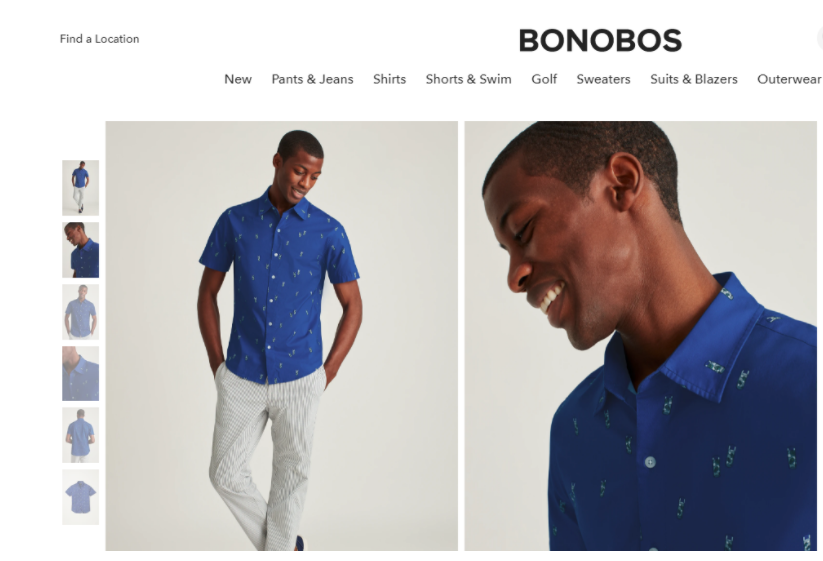 Bonobos shows the shirt in full, portrait view and half-body shots. It also lets you zoom in to see the item close-up. This emphasizes the fabric and stitch details to show customers its product quality.
Other tips for taking impressive visuals are:
Filming under proper lighting (preferably natural light)

Using tripods to shoot stably

Feature simple props that make your main subject stand out

Visually put your products in context.
Showcase all these photos neatly on their respective product pages, along with their descriptions and even customer reviews (optional). Choose organized layouts, whether they're minimalist, creative, or something in between. Easy-to-customize ecommerce platforms often offer templated layouts you can use or modify to fit your branding and page preferences.
Also, when publishing your product photos collectively in your gallery, integrate quick-view features into your thumbnails. This lets customers hover over the items and see snapshots before being enticed to check them out individually. 
5. Organize your on-site product data.
Product taxonomy, or categorizing your store hierarchy, is crucial in engaging buyer-intent shoppers. It helps them quickly find what they're looking for and eventually proceed to checkout.
Implement product taxonomy through menus that display logical product classifications. Make your organization relevant and sensible to your customers by reflecting their shopping patterns. 
Additionally, to ensure your category tree follows a clear product hierarchy, sort your goods from general to specific. 
For example, "Shirts" is your parent menu, and the child or sub-categories are "Long Sleeves," "T-shirts," etc.
An analogy for that is your brick-and-mortar retail store. The shop is your website, the aisles are the parent menus, and the product shelves are the child categories.
When naming your menus, keep them simple and directly relevant to your products. Use 1 or 2 words only and avoid duplicating.
Next, display your categories neatly on your website. You can do this through the conventional horizontal alignment at the top. 
Grids are also a neat way to exhibit your menus. Here's how Millk used a grid layout with appropriate white spaces around the texts: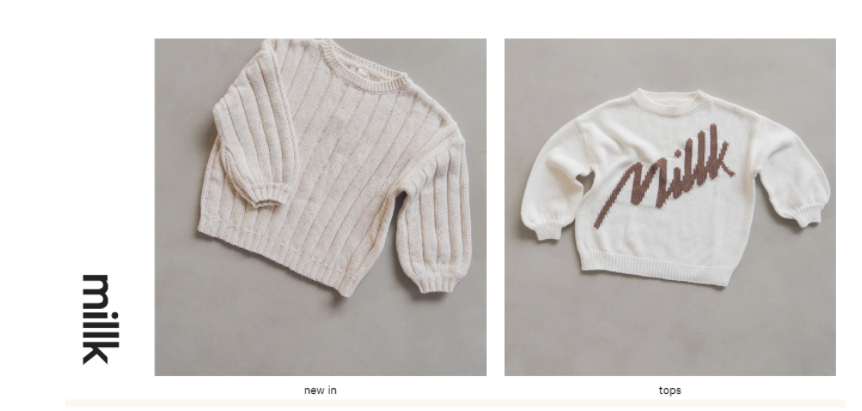 6. Create an interactive app for your store.
Developing your store's own mobile app allows you to engage your mobile customers more closely and actively. They're not always on their laptops, so providing one handy place for their shopping activities with your brand can grow your sales and interactions fast.
Additionally, with a growing number of mobile shoppers (more than 5 billion now), you get truckloads of profitable customer engagement opportunities to maximize.
However, building an app alone does not instantly skyrocket your performance. You have to ensure it provides an excellent, customer-centric shopping experience. 
Do that with these tips:
Create simple, smooth interfaces and navigational paths

Offer quick search processes

Streamline your checkout

Showcase high-resolution product photos

Personalize your promotional offers

Add wishlists

Accept diverse payment methods, etc.
Once your app's all set and running, you can also begin using personal customer information to further enhance your promotional campaigns. These data can include their abandoned carts, items in their wishlists, and shopping activities, among others.
Keep in mind, though, that just as you should secure personal information obtained from your site, you need to protect your app data (and code).
To keep these customer details private and continually usable for your store, duplicate them. For instance, if you created your app on Microsoft Azure DevOps, run daily automated Azure DevOps backup activities.
This ensures that your code and data are always safe from cybercriminals. Plus, should your app get hacked, you can quickly bounce back instead of shutting down your business.
Set to increase your buyer engagement and online sales.
Boosting customer engagement skyrockets your online sales, especially in the long term. Invest appropriately in engaging your shoppers through these and other actionable ideas. Although seeing the results from these tips isn't always immediate, keep on investing time and effort. In time, you'll reach your desired business outcomes; you'll also get better chances of sustaining your online store.