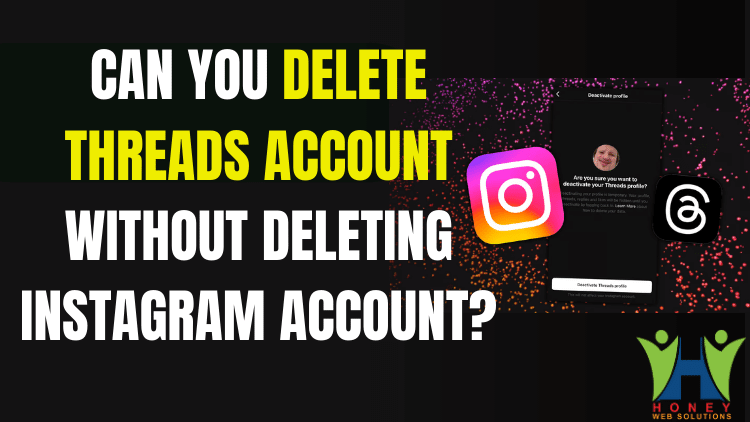 How To Delete Threads Account Without Deleting The Instagram Account?
A new app called Threads has been introduced by Meta, which is linked with Instagram recently. Meta's new discovery has amazed people. The thread has gained massive popularity among people within a few weeks. But, as threads and Instagram are interlinked, an individual can not delete his threads account. If he or she wants to do so, then they have to delete their Instagram account too!
If you have started using Threads, you must have come across the news that deleting the Threads account will delete your Instagram account too. However, Meta is apparently looking into this problem and trying to resolve it as soon as possible. Instagram comes with many updates regularly; one of them is threads that are being used by many people.
If you are done using threads and want to quit this app, but you don't want to bid farewell to Instagram, then we have some options that will help you to get rid of threads.
Can You Delete Your Threads Account?
Instagram has provided a new app to its users. It has introduced threads which are similar to Twitter. But what if some users now don't want threads to account? That is, do they want to delete it? The only option to permanently delete your thread account will delete your Instagram account too, and trying to separate them is like separating Butter from corn. Taking it simply, it means that it's impossible to delete your threads account without deleting your Instagram account. The option of deleting threads account has not been added by Meta until now. But there are some short-term solutions to your problem which we will be describing in this article.
Manually Delete All Your Content.
Threads has gained tremendous popularity within a few weeks of its release, and its use is rapidly growing daily. The only problem faced by users of threads is that they need help to individually delete their threads accounts. That is, deleting threads will delete their Instagram account too.
If you don't want to end up deleting your Instagram account along with threads, then the first option is manually deleting your content. 
If you are a private person and don't want your post and content to be visible to everyone else, in that case, you can manually delete everything you have shared as a post from the options available in the three-dot menu in the corner. You must also remove all the personal information you have written in your bio and your followers from your followers list.
Make Your Profile Private.
Doing things manually can be really a tiresome task. An easier way would be to make your profile private. By this method, you can easily remove all of your followers, or you can just keep a few friends that are close to you.
Making your profile private gives you security. To make your profile private, you need to follow the given below steps-
Go to the profile section and tap the menu button.

Click on privacy>Private profile and then tap on OK.
Deactivate Your Profile To Say Goodbye To Threads 
Although threads have gained massive popularity within some weeks, the only drawback this app is facing is that users are not able to delete their threads account without deleting their Instagram account. However, you can deactivate your threads profile; in this way, the presence of threads won't be felt, but it will be there.
If you are not in the mood to stay at threads at all, then you can also deactivate your account. By deactivating your account, your content will be deleted, but it will still be on the meta server. Your content won't be any longer available publicly. Also, your account wouldn't appear when someone searches for you, and you won't be tagged in conversations.
By deactivating your account, you can also reactivate it anytime you want. You have to log in to your account. 
When the time comes, threads give you the option to delete your profile without deleting your Instagram account; then, you can come back to deal with this the way you want.
Deactivating your account is simple. Follow these steps to deactivate your threads account-
Step 1- Open the threads app installed on your phone.
Step 2- Go to the profile area from the toolbar available at the bottom corner.
Step 3- Then at the top right corner, 2 stack lines would be visible, click on those two stack lines to go to settings.
Step 4- From the settings menu, click on account.
Step 5- Then click on the option "Deactivate profile" in the account section.
Step 6- After this, tap the" Deactivate threads profile" option to confirm that you must deactivate your threads account.
Step 7- After doing this, your thread account will be deactivated. It is present, but its presence wouldn't be felt. You can reactivate it anytime if you want the Twitter feeling from Instagram, or if you can delete it permanently, then you can do the same.
What Happens After Deleting Threads Account?
Meta's invention thread has proved to be a blockbuster within a few hours of its public announcement. Within 7 hours of its official public access, 10 million people signed up for threads. Mr. Beast, a famous YouTube artist, made history by achieving 1 million followers on threads.
If you also want to use threads, you have to download them from the Google play store and log in using your Instagram credentials. But what if, in the present or future, you no longer feel the need for threads and want to delete them? Deleting threads is impossible now, as no feature has been enforced for deleting threads until now. You can delete your threads account, but along with it, your Instagram account will get deleted too. This happens because both threads and Instagram are interlinked together, which has resulted in their inseparable bond.
Conclusion
Threads, a new feature and more like an app, is being enjoyed by many people across the globe. It was introduced by Meta recently and was made public on July 5, 2023. But a drawback that was seen in using the Threads app was that people were not able to delete the Threads account without deleting their Instagram account. If they are done with using Threads and want to delete their Threads account, they can do so by deleting their Instagram account.
This was seen as a problem, but there are some short-term solutions for this problem. You can deactivate your threads profile, manually delete your data, or make your account private from the profile section.