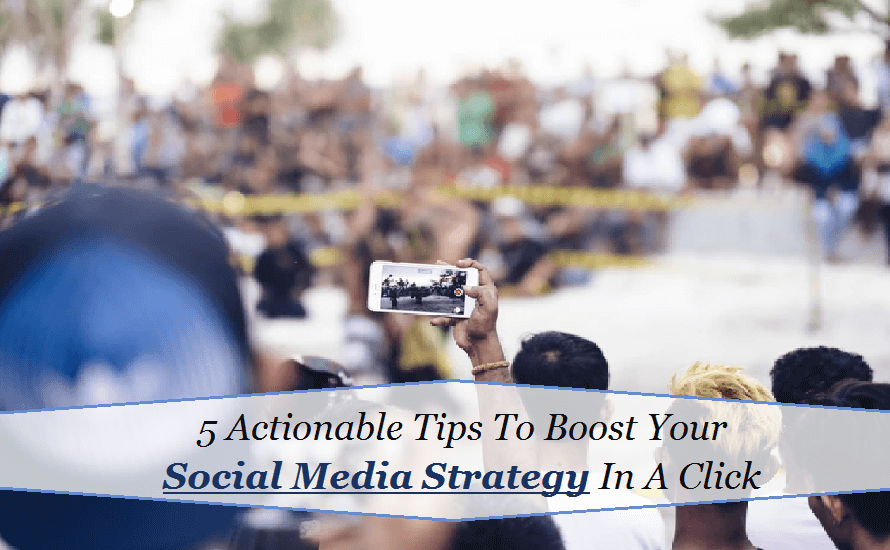 5 Actionable Tips To Boost Your Social Media Strategy In A Click
5 Best Actionable Tips To Boost Your Social Media Strategy In A Click
Social media strategy is important for understanding how to use social media to interact with the audience, and which tactics work efficiently. These strategies are beneficial for increasing brand awareness, increase exposure to get more traffic, maximize leads, reduce marketing cost, develop loyal fans, and boost ROI.
Here're 5 tips that can improve social media strategy quickly.
Understand The Significance Of Micro-Influencers
If you ever engage in the area of online marketing, you may have probably heard of the buzz word influencer. The power of micro-influencers is increasing rapidly, and would never ever go out of the trends anywhere. As per the report, 36% of consumers said that they would go with the product that is recommended by popular celebrity or influencer, while 61% of users said that they would like options that're shared or suggested by their friends. So, engage with recognized and trustworthy micro-influencers, who have strong long-lasting relations with their fans. This provides a chance to create a loud buzz among their followers.
Initiate Your Social Media Campaign By Teaching Customers
The preferences of online marketers and customers are highly different from each other. This statement is not given randomly, but it is proved with the recent research conducted in 2018. According to this study, users generally access the social media of any brand to discover the exclusive range of products and services offered, gather vital information about a company, and search about the latest discounts or deals. So, it clearly indicates that online marketers should inform their customers with something, they're actually looking for.
To better align with content preferences of online customers, check your social media post with the proven statistics as given below –
72% of people look for sales or offers on posts
About 60% prefers a social post that gives a description of new products or services.
23% of online visitors access brand's social media to know about a company, and 46% to check the activities of an enterprise.
56% of consumers like and share entertaining and engaging posts.
While creating a post, ensure that its content is understandable for targeted customers. For example, if you aim to reach the Spanish audience, then Accurate Spanish Translation Services would be the only solution. Translators convey the information considering local dialects, vocabulary, grammar, and all linguistic differences to let the targeted audience understand it clearly and completely.
Users Love Videos
It is not a surprising fact that video has become an important aspect of everyday life. From traditional TV ads in the 1960s to modern day video social networking sites such as YouTube, Facebook Live, etc, the video has always been the ideal medium to reach an extended level of the audience. According to survey, online videos are about 600% more effective than other marketing methods.
Here are some statistics that tell you why investing in video creation and utilization is best to rule in today's social media world.
82% of visitors watch video on Twitter.
Using video content increases revenue by 49% extra.
Videos on Facebook drives 33% more user engagement.
500+ million hours of videos are watched by users on popular media YouTube on a daily basis.
Landing page conversions boost by over 80% using video content.
In comparison to combination of text and image content, video on social channels bring 1200% more shares.
Online traffic from Google's search result page increases 157% more through videos.
Don't ignore social videos because, by 2019, 80% of all web traffic will come from online video traffic. Create a short, informational, and engaging video that makes people watch more, and share it with others.
Don't Forget Customer Service
The growth and popularity of social media have given consumers, a power to share their experience of using a product or service with others. With this right of customers, it becomes important for companies to include customer service in their social media strategy. Therefore, look for and respond to the comments, reviews, complaints, and concerns raised by users.
Social Engagement & Sharing
Social media is much about user engagement and sharing content on multiple sections of the internet. As per analytical reports, it is found that making simple posts with no informational content results in low audience reach, and the decline in online visitors engagement. In 2018, Facebook declared that they would update their post ranking algorithms. Include searchable and useful content that users are truly looking for such as entertaining brand details, promotions/deals/discounts, storytelling information, company's offerings, motivating content, and etc. Broadcast 1-2 posts each day using images, videos, and personal signatures (emojis, GIFs) along with keeping an authentic voice for maximized visits and shares.
Conclusion
All of the tips listed above are beneficial to increase social media strategy, reach more audience, and improve users' social experience. By working on these tactics, you can turn your relationship with the audience into clicks, and potential customers. So, get started right now.