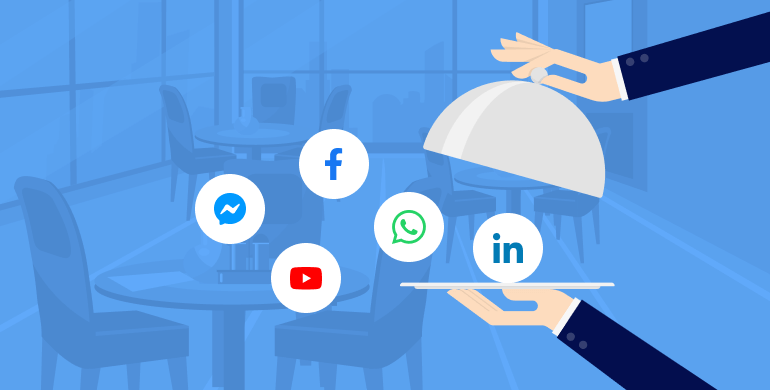 5 social media tips for your restaurant promotions
If you own a restaurant, you probably already know how important it is to have a suitable promotion strategy in place. Sure, you can serve up good food and conjure up some nice drinks, but is that enough for people to flock to your restaurant? 
Unfortunately, the answer is no. In today's competitive market, if you want your eatery to get noticed more than others, you need more than just your average offline promotion techniques. You need a fabulous social media strategy in place too. 
Why is social media important for a restaurant? Well, everyone who's anyone is on at least one social media platform these days, so it allows you to reach out to potential customers directly. Not to mention how affordable it is. You don't have to be a huge restaurant chain to be able to afford a good social media strategy. All you need is a few online tools and some great content. 
Here are some tips on how to market your restaurant on social media. 
1.Post mouthwatering food pictures on Instagram
As a restaurant, the most important weapon you have in your arsenal is the food you serve. Famous restaurants all around the world are known and sought after for their best dishes. But how are their dishes so popular across various audiences even when people haven't even tried them yet?
Because they post about their food on Instagram, of course. Taking a fabulous shot of your food and offering it to your social media audience is the next best alternative to actually serving them the dish. People love food photographs. So make sure yours is good enough to make their mouths water. 
Take some aesthetic clicks of your most presentable dishes and post them on your official Instagram page. A shot of your parmesan-garnished alfredo pasta, your iced signature cocktail all decked out in a special glass, or your beautifully plated appetizer platter would work wonders for your Instagram feed. They will make people more excited to try out your food, and will add a lot of flavor to your social media promotion strategy. You may also generate hashtags to get more attention to the wall posts. 
2.Create exciting posters for your special offers
As a restaurant, you probably have a bunch of offers and special promotions going on at all times. Whether it's a happy hour promotion, a Super Bowl offer on your appetizers, or a buffet dinner announcement, you can market it well through social media by creating some amazing graphics online. 
Create your own eye-catching restaurant flyers through online design tools like PosterMyWall and promote them on Facebook and Instagram for the world to see. To create the perfect graphic, add your brand name to the top of the poster, include another header announcing your best offer, add in some extra details as well as your location and contact information, and finish it off with a tastebud-tingling food picture. 
Boost your offers on Facebook and Instagram and specify your audience according to location to get everyone near you to see your offers. 
3.Take food action shots for TikTok
Everyone loves a still shot of their favorite food. But you know what's even better? An action shot of your favorite food. Who doesn't love that quintessential cheese pull on their favorite pizza pie, or the condensation dripping from an iced glass of their go-to bar's signature beer. 
Take advantage of your customers' love for action shots and fill your official TikTok with fun clips of food for them to like and share. You can add an extra touch to this by taking action shots of your customers digging into their dishes and post them on TikTok to make your account more interactive and engaging for other customers. 
4.Repost user generated content 
User generated content is one of the best ways to get more traction as a restaurant. It's basically free endorsement for your eatery. It's authentic, fun, and a lot more engaging for customers than most other forms of promotion. 
Take advantage of any and all forms of user generated content on Facebook, Twitter, and Instagram and repost them while acknowledging the owner of the post. This could be posts of customers posting pictures of themselves or their food while dining at your restaurant. Or you could encourage people to post content by running some fun contests for them to take part in. encourage customers to take aesthetic shots of the food they order and you can shortlist a few to repost on your Instagram or Twitter. Offer fun incentives for participation like a 15% discount or a free dessert. 
This will encourage customers to tag your restaurant in more posts, because it gives off the impression that you care about customer experience. 
5.Use your social media bios to drive email sign ups
Email campaigns are a great way to keep your customers up to date with all your specials and offers. But it's often hard to get customers to actually give up their contact information and sign up for regular emails. 
Use your Twitter and Instagram bio to point people toward your email campaign signup sheet. Of course, they won't do it for free. To get their attention, you can offer a free incentive. Offer a free meal, a 15% discount, or a series of special offers meant specifically for email subscribers. Once you have their email, you'll have yourself a list of regular customers who you can market to very conveniently. 
Final thoughts 
Marketing a restaurant can be tough, especially with all the competition around in the industry. That's why it's important for you to hop onto the social media bandwagon and mark your place in your customers' feeds. 
Use these social media strategies and marketing tools for entrepreneurs to create hype for your restaurant and have customers flocking in in no time.