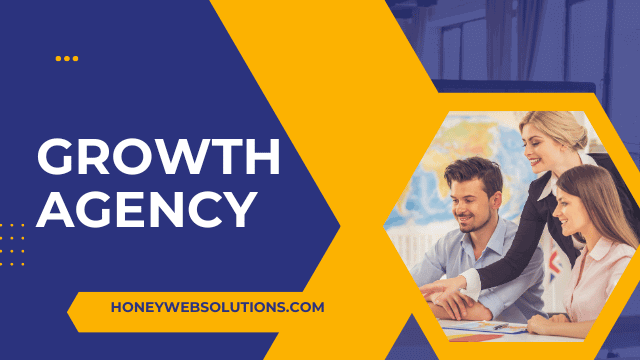 Why Every Business Should Use a Growth Agency
Are you looking for a reliable way to grow your business? If so, consider hiring a growth agency. A growth agency is a specialized marketing firm that helps companies to boost their digital presence and reach more customers. With a growth agency's expertise and experience, you can generate more leads, increase customer loyalty, and drive more sales. In this blog post, we'll discuss why every business should use a growth agency and the benefits they bring.
What is a growth agency?
A growth agency is a specialized marketing firm that focuses on helping businesses grow. Growth agencies are an excellent resource for small businesses that want to maximize their potential and achieve their goals more quickly. They provide various services, from data-driven market research and analysis to create advertising campaigns. They offer tailored strategies to help businesses achieve their growth goals. Growth agencies can provide strategic guidance to help businesses optimize their marketing and sales efforts, increase customer acquisition and retention, and expand their customer base. By leveraging cutting-edge technologies and innovative tactics, they can identify new opportunities and develop comprehensive plans to reach desired outcomes.
What services do growth agencies offer?
Agencies such as Stryde ecommerce growth agency offer a wide range of services to help businesses achieve their goals. These services vary from agency to agency but typically include the following:
Digital marketing: This includes search engine optimization (SEO), pay-per-click (PPC) campaigns, content marketing, social media marketing, email marketing, and more.

Advertising: This involves creating and running ads on various platforms.

Strategy: Growth agencies specialize in developing comprehensive business strategies, which involve research, goal setting, campaign planning, and more.

Branding: This includes everything from logo design to website design to copywriting to establishing a company's voice and mission statement.

Analytics: Growth agencies can help businesses measure the success of their campaigns with data-driven analytics tools.

Creative: This includes creating visuals like infographics, videos, and other graphic designs to enhance a brand's message.

Technology: Growth agencies can advise on what technologies businesses can utilize to make their operations more efficient.
Growth agencies can provide all these services and more to help businesses reach their marketing goals. By working closely with an experienced growth agency, businesses can get the guidance they need to reach new heights.
How can a growth agency help your business?
Growth agencies provide the knowledge, resources, and expertise to implement strategies and tactics to achieve your business objectives effectively. They have the tools and skills to maximize visibility and reach the right target audiences. By having an experienced team of professionals working on your marketing efforts, you can be sure that your efforts are in good hands. 
Growth agencies can help you develop a well-thought-out marketing plan tailored to your business's goals. With their expertise and resources, they can create campaigns that will attract customers, generate leads, and build loyalty. They understand the importance of creating content that resonates with potential customers. They also use data and analytics to measure success and make changes as needed for future campaigns. 
Growth agencies can also help with improving conversions. They can review your website and make adjustments to ensure it is user-friendly and optimized for search engines. This helps ensure that you attract exemplary visitors who will be more likely to take action or purchase a product or service. A growth agency provides valuable insights and advice to help your business grow. By leveraging their expertise, resources, and industry knowledge, they can help you reach your marketing goals cost-effectively and timely.
What are the benefits of using a growth agency?
Using a growth agency can be a great asset to your business's marketing efforts, as it allows you to access specialized expertise and knowledge without needing in-house personnel. Growth agencies can offer many benefits, including:
A Comprehensive Strategy: Growth agencies provide an all-encompassing marketing approach, utilizing data-driven insights to tailor a comprehensive strategy that will best meet your specific needs.

Specialized Expertise: With years of experience in the industry, growth agencies can provide valuable insight into how best to market your product or service. They can also suggest innovative solutions to help you reach your desired target market and maximize your return on investment.

Cost Savings: Hiring a growth agency is often much less expensive than hiring a full-time employee, as you only pay for the services you need and can avoid the added costs of training and salary.

Accessibility: Growth agencies are usually available 24/7 and can offer fast project turnaround times. This makes it much easier to stay on top of your marketing efforts and make real-time adjustments.
How do you choose a growth agency?
When selecting a growth agency, there are a few key factors to consider. First, you should look at the agency's portfolio of work and evaluate the results they've achieved for past clients. It's also important to assess their expertise in the area of marketing that's most relevant to your business. You should also review their pricing structure and ensure that their services fit your budget.
When selecting a growth agency, it's important to find a team that you trust, has demonstrated success with past clients, and can help your business achieve its goals. In addition to assessing the agency's qualifications and track record, getting a feel for the team behind the brand is essential. You must have a good working relationship with the agency, so you should take the time to meet with their team members, review their processes, and ask questions. You can take your business to new heights with the right growth agency!
Using a growth agency is an effective way to take your business to the next level. A growth agency can provide valuable services and insights that can help you increase sales, reach new customers, and grow your business in ways you never thought possible. Choosing the right growth agency can be intimidating, but it can have tremendous benefits for your business when done correctly. Carefully research the various growth agencies available to you and select one with the experience and capabilities to provide the best results for your business. With a growth agency, you can realize your business's fullest potential.