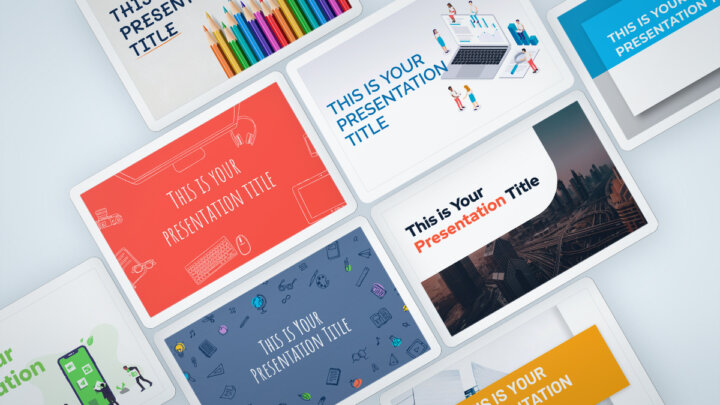 Simple PowerPoint Templates: How To Choose The Best Option?
The desire to find an unhackneyed template for a presentation is a frequent occurrence because everyone is already tired of the basic sets from PowerPoint. However, there are situations when some bright and flashy options are not suitable, and you need to find something as discreet as possible.
Of course, you can search for some free items on the Internet, but their quality, originality of design, and usability will be a big question mark. On the other hand, if you look at one of the specialized marketplaces like MasterBundles, you can always find incredibly attractive templates for every taste — even if you want a simple and moderate bundle!
In the article, experts will make a short review of the best simple templates from this marketplace, using them as an example of successful design. In addition, the team will definitely write about how to choose a ready-made set.
What Is A Simple Template?
So, what can be called a simple pattern? This is a pre-made presentation style consisting of a certain number of slides, whose design is quite discreet, and customization and adding your own materials is easy. As a rule, the category of similar PowerPoint themes includes bundles that are characterized by:
prevailing monochrome (no more than 2-3 primary colors in the design);
simple and easy-to-read fonts like Roboto, Open Sans, Montserrat, Noto Sans, and so on;
spacious arrangement of elements on slides without strong layering;
text blocks take up no more than 30% of the space on the slides;
blocks with images and texts are usually without frames.
However, these are just basic features. Some templates are created without considering them, but their design is incredibly stylish and simple.
How To Choose a Simple PowerPoint Template?
Before purchasing a premium template, no matter how attractive it may be at first sight, be sure to check the following points:
the number of slides should be enough for your purposes (30-50 is the minimum number);
the design of most slides should be different, otherwise, there is no point in purchasing 30+ pages of the same decor in different colors;
the template should provide for the possibility of customization, including changing the color scheme to original shades that are not included in the basic palette;
the presence of convenient infographic elements (graphs, diagrams, flowcharts), icons, and linear objects;
sufficient space to display visual objects — video and photo materials.
As a rule, the largest selection of simple templates that are suitable for various purposes and are available at a nice price can be found on specialized marketplaces.
Seven Awesome PowerPoint Templates
By saying "simple template", many people think of an unattractive white-background-black-type design. First, even simple black objects on a white background can look very stylish. Secondly, restraint is not necessarily unattractiveness. To prove that simplicity goes well with trendiness, the MasterBundles team chose seven chic simple ppt templates — check them right now!
Model Lookbook Presentation Template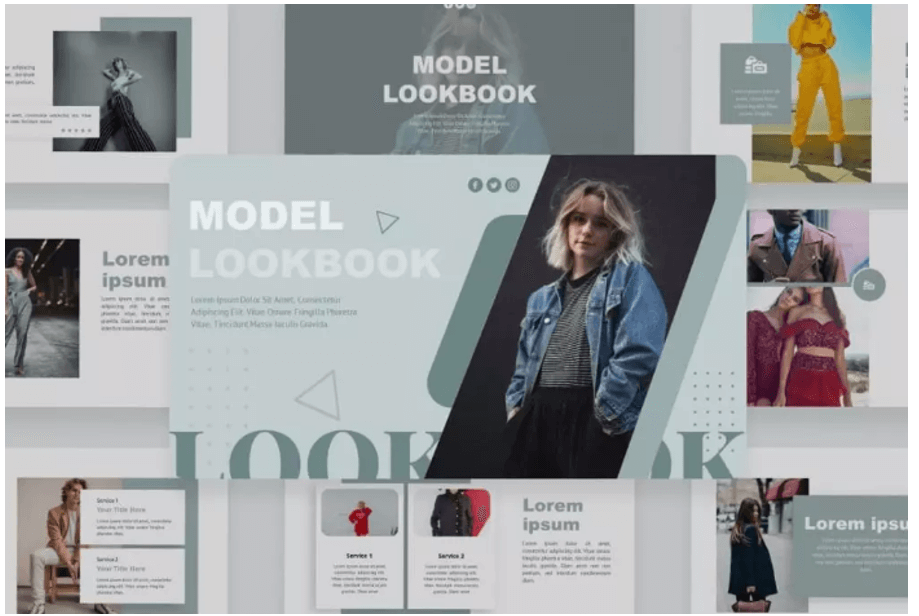 The available palette of this template allows you to choose among five options, providing both cold and warm themes. The slides are quite "spacious", there is no layering of information, and there is also enough space for displaying photo materials.
EZRA Business Minimal Template
This is a chic simple template for those who have to focus on the visual, not the text. In addition, there are a lot of interesting infographics here, so there will be no problems with displaying statistical data.
Elsie Powerpoint Presentation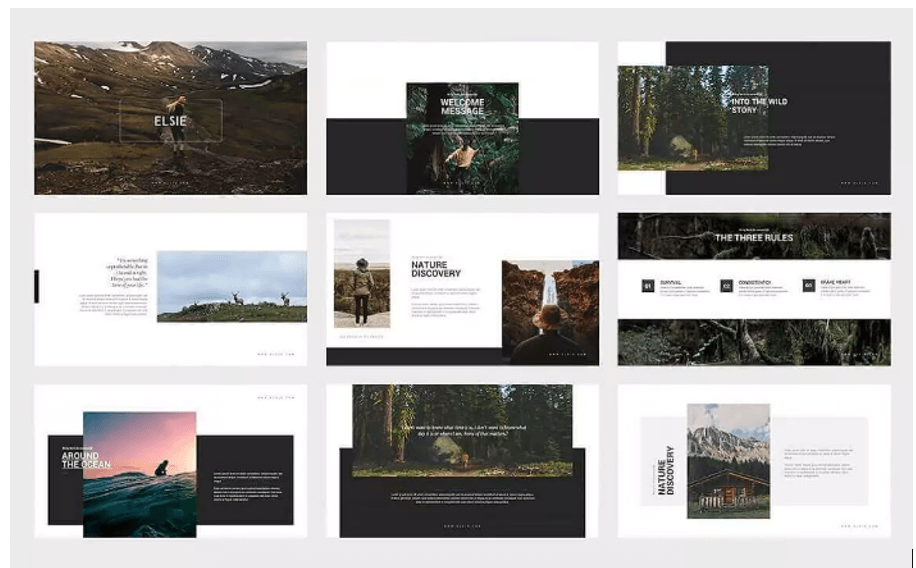 This is one of those presentations that may not be done in all the basic rules, but can still be considered simple! The white background and dark blocks for text or photos give a huge contrast, and there is still a lot of empty space on the slides.
Clean Cool Style Pitch Deck Template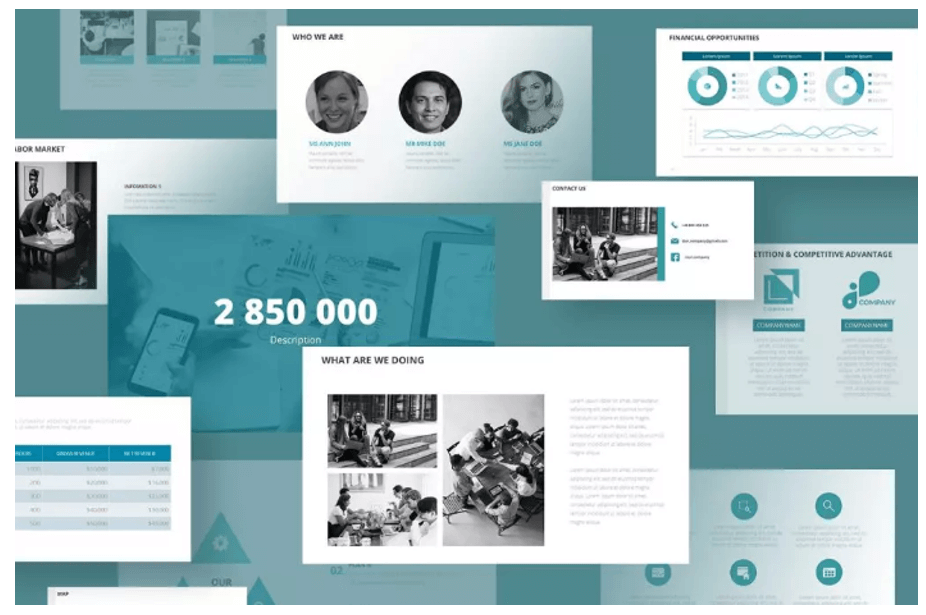 This is one of the classic simple patterns. The color scheme contains white, black, and pleasant aquamarine. Of course, there are only 21 slides in the kit, but thanks to their diverse design, we can talk about ease of use.
Kahala – Coffee Powerpoint Template
In this template, the emphasis is on the combination of orange and brown with a white background. And even though the set is made with a focus on the culinary industry, you can always change the images to those that are relevant to your theme!
Best Science Template
This template is not minimalistic, but it remains simple – both in design and in use. The combination of white, bright turquoise, and dark turquoise makes it fresh and attractive despite its restraint.
Darko Pitch Deck Creative Presentation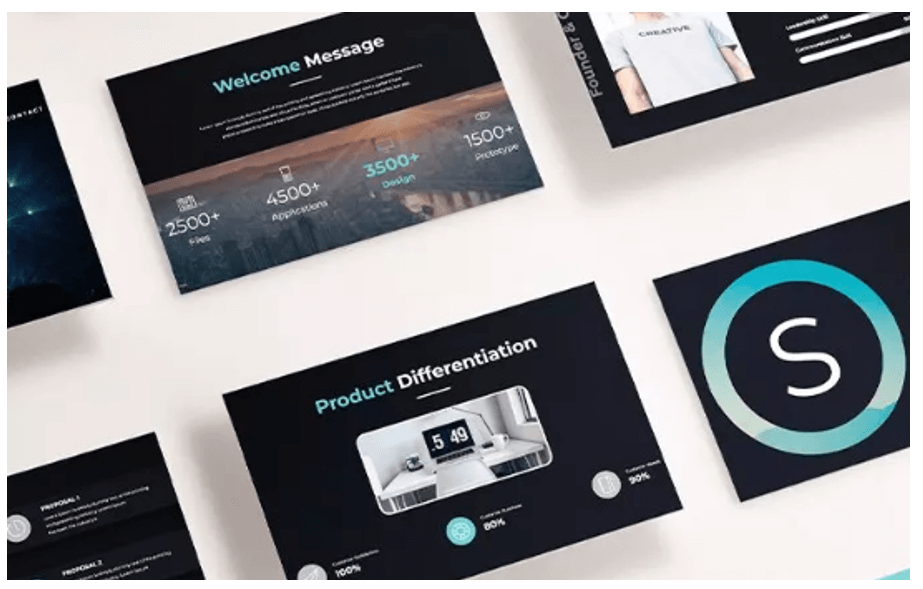 Minimalism on a black background also looks very stylish! This simple template contains 40+ ready-to-use slides with easy customization, as well as a +1300 shape icon library.