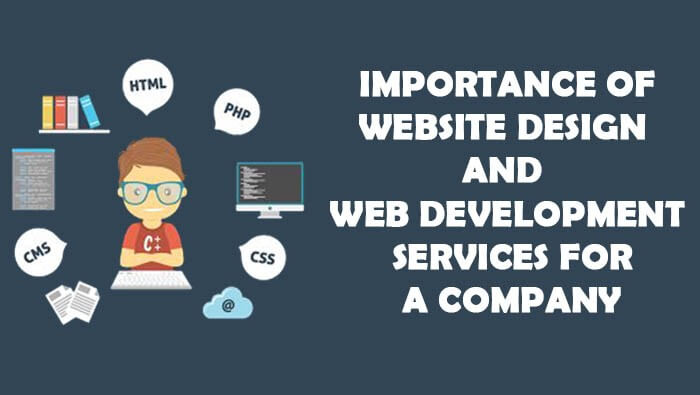 IMPORTANCE OF WEB DESIGN AND DEVELOPMENT
The tech wave of the new era has digitalized everything. Gone are the days of classic phone books and manual calculations. All these tasks are now a few keys away, and you don't even have to worry about compartmentalizing them. No one can ignore the fact that as a result of this advancement, our everyday tasks are completed rapidly and efficiently.
This growth, in terms of technology, has made a remarkable breakthrough in businesses as well. The manual work and documentation have now adopted the idea of digitalization and everything is accessible through the internet. Large scale corporations and businesses have all acknowledged the power and ease, that web designing and development has granted them. They aim to indulge it more in their systems and make as much use of it as possible.
Where large scale industries and corporations use fancy and more interactive interfaces, the smaller groups are not far behind. Every startup considers its web accessibility as a necessity for its brand to reach the consumer. Along with social media, this increases the chances of success and offers a more feasible marketing strategy when compared with the old school, conventional marketing methods. Online and local distributors have also gained significant demand in the market. They entertain and help with the process of web hosting and domain registration. It is easy to come across a good web hosting discounts and reliable hosts to set up your network. Hence, many people run their business conveniently by channelizing their consumers through their website.
If you are also looking favorably upon the idea of starting a business, and are uncertain about the contribution of web design and development, here are some major reasons that might help with that decision.
Accessibility to your desired destination has always been a challenge, irrespective of the medium. Generally, it is difficult for you to reach everyone and at any time without taking help from the technologies. Having an online platform helps you get the word across without hassle. It isn't time-consuming when someone wants to inquire about your work since web databases store details and information in an organized manner. This way, you get to present strong marketing points to draw in an audience, and then carry on describing the nature of your work.
Read more: How to rebrand your website and impress your audience
Reading or listening to a lot of information is boring and often woo listeners off your presentation. It is very important to strategize your approach and streamline your ideas. People often find this challenging if they don't have innate expertise in communication. But fret not, since web-based networks allow you to make an impactful presentation, with the products that you want to establish the foundation of your brand in the front row. You can also add pages to your website that includes the intricate, less interesting parts, but at least they won't be in the way of your unconcerned customers. 
The next most challenging task of any business is to be interactive. It is impossible to have a team big enough to provide individual attention to every customer for small, blooming businesses. Web designs can help provide user-friendly interfaces with interactive graphical effects and animations which make the user feel entertained. This way, the relevant information that you want to get to your clients reaches them even if you have don't a large response team.
Read more: Tips for Choosing a Web Designer for Your Business Web Site
BILLING, APPOINTMENTS, ADVISORY
Usually, the goal of any startup isn't its presentation or marketing, but profit-making ideas. If you offer services that require confrontation, the next step in this chain would be appointments and advisory. Advising on matters and reviewing work can also be done online, however, most people like to know the faces of people they are working with at least once. An online network can help with managing your appointment slots during office hours without hiring an assistant to take care of it. Also, if the exchange is solely online, then web servers help link hosts to receive and make online payments. It ensures a smooth workflow with minimal effort and investments.
AUTOMATED/MANUAL RESPONSES
Many websites offer services and products which leave customers with questions regarding specific details. Leaving contact numbers and email addresses is also a classic way to handle the situation, however, people show more interest in real-time responses. Also, not everyone is always in the mood or place to talk on a subject. Therefore, having a small response team or a series of automated responses linked to your webpage can help get more potential customers.
Businesses of any nature flourish in their marketing and promotion. To achieve this, people use brochures, pamphlets, and other print media services. It used to consume a lot of paper that ultimately went to waste. Web design and development services have allowed to cut down on this aspect of businesses using digital media. It may not be a reason benefitting your business, but it does help the environment, and therefore, is a motivating factor to incline towards hosting a website.
SUMMARY:
In a nutshell, web design and development have enabled many people to set up their income sources. Similarly, it has also allowed a larger group to avail services from every corner of the world using online platforms. Hence, making it a significant arena that is worthy of your investment of time as well as money.