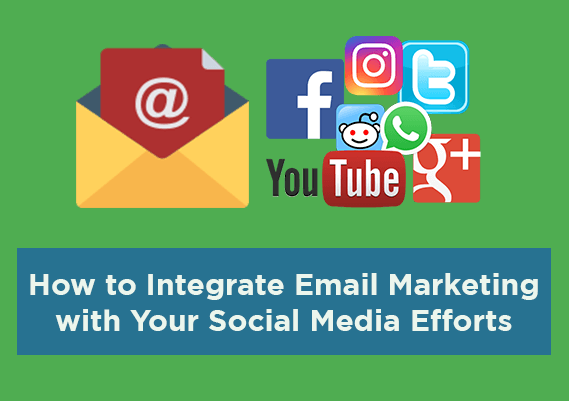 How to Integrate Email Marketing with Your Social Media Efforts
Email and social media can be used as individual strategies for your business. Learning to apply both will help you reap even more benefits.
That's why, as a marketer, you don't want to measure how effective social media marketing is as compared to email marketing. Instead, you must learn how to incorporate your brand's social media strategy with email strategies.
Think about it ‒ email marketing will always remain an essential tool when it comes to nurturing leads and gaining customers. But if you want to reinvent your existing marketing plan, you should consider integrating social media with it as well.
So let's get started, shall we?
1. Include Social Profiles in Your Emails
Email marketing boosts engagement on social media by continually reminding your subscribers that your brand has an active social community.
Think about fun and engaging ways how you can engage subscribers. Try to be interactive on email and explain the benefits of social media to your brand.
For instance, you can run a contest with a product of your choice if your subscribers follow you on Facebook or Instagram. These tactics not only boost your engagement on social media but also gives your followers value, making them feel more connected with your brand.
Focus your promotion efforts in one or two networks first (instead of three of four.) That way, it's easier for your followers to take action, like following your brand on social media for further updates.
2. Use Social Media to Grow Your Email List
One of the goals of many brands is to build a loyal social media following. Keep in mind, however, that it shouldn't be the only channel that you must depend on. For you to gain more value for your brand on social media, you need to convert that large following into email subscribers.
Here how you can do it:
Craft social media posts that remind your followers to sign up for your email list: Why not offer an attractive incentive to new email subscribers? Grow your business with email marketing. If you're holding a sale, then let your followers know that you'll spill all the details if they sign up on your email list. Make your email sign-up easy to complete.
Host a massive giveaway:
Every marketer knows how difficult it is for fans on Facebook and Instagram to sign up to a newsletter. So, why not create an attractive offer that they can't refuse such as a gift basket, free course or any high-value offer?
Build a landing page on your site with the details of the promotion, as well as the email opt-in form. To gain traction, promote this on all your social media channels in a given timeline of four to six weeks.
Create value with gated content or discounts:
Emails are vital for your business, so you have to offer your followers with something valuable in return. If you're an eCommerce store, give away discounts on a customer's first purchase. Meanwhile, if you're a B2B, presenting gated content to your subscribers is a more attractive option. Here's a guide to getting noticed to your customer's inbox to help you more with your campaign.
3. Upload Your Subscriber's List to Your Social Networks
Perhaps, one of the best ways to incorporate your email and social media marketing strategies is to upload your subscriber list across different social media channels.
You can use the subscriber lists you've uploaded to build a customer list in different ways ‒ run promoted social media campaigns to your target audience, and follow your subscribers on social media.
Uploading subscriber lists will help you listen more to your email subscribers. What interests them? What are they sharing? If you put in the effort of knowing your subscribers a little bit better, you'll be able to create excellent emails and craft better social media posts.
4. Retarget Active Email Subscribers through Social Media
If you have a multi-channel marketing strategy, you have to match the intent of your prospects with targeted ads.
Utilize the information about the subscribers who've clicked through your emails and then, retarget them through ads on social media. That way, you can better reach out to potential customers. Your strategy is much more cost-effective as well.
5. Cross Promote Your Content
When building an extensive marketing campaign, share content between channels. You can use the same material adapted for each medium, to make your brand message more consistent and recognizable.
You also need to learn how to use your content across emails and social media effectively. For instance, if you came up with a great content material that you know will benefit your audience, you can apply both email and social media to get your prospects' attention.
If you've created long-form content, craft teasers to attract subscribers and followers to your lead page, doing so will drive traffic in crucial places, and helping you meet your goals.
Remember to utilize more than one channel. Adding mobile marketing to the mix is also a great idea. Sending online SMS is pretty straightforward and usually brings good ROI.
Social algorithms are continually changing these days, and you'll never know when a follower will see your post.
Wrapping It Up
The digital marketing landscape is constantly evolving, and marketers are finding more ways how to integrate social media with email. Both social media and email marketing have essential elements in creating a holistic marketing strategy.
So, make the most of it by taking the necessary steps to ensure that your email and social media strategy is working harmoniously with one another. While there are obvious benefits in using each one, learning to integrate both in your marketing strategy creates a more seamless experience.
Author Bio:
Erin Feldman is an e-commerce business owner somewhere in California. Her past experience as a writer started when she was in college and her career, apart from covering technology, also includes, active lifestyle and social media.