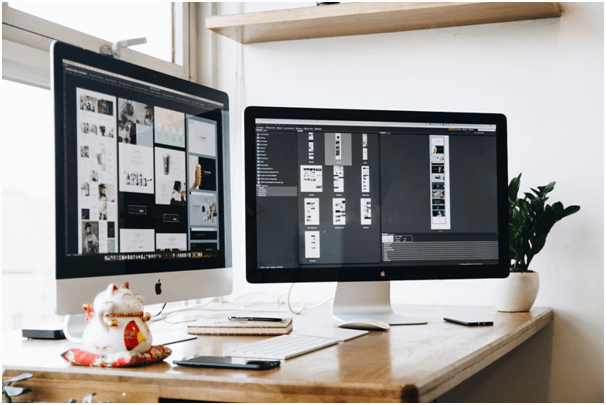 Design 101: Ladder up the Game
Usually, there are a lot of things to be taken into consideration when it comes to the promotion and presence of your online business. It isn't all about making a simple webpage anymore, nowadays online marketers and entrepreneurs are much more interested in the conversion of numbers and traffic generated from the visitors.
The quality and wholesomeness experience of a website also leaves a significant impression on potential customers to last, as studies suggest that 88 percent of consumer pre-research their buys online before making a purchase either online or in-store. Unless the visitor experiences his time worthy on a portal, he will browse through to the next stop to fulfill his shopping agenda.
Here are some of the reasons why you need an excellent website to ladder up to the game
The Importance of Website Design
There are tons of factors that contribute to an active online presence. At the same time, there are numerous ways to analyze the overall position of any website as well. But before we move further, let's first focus on one of the primary factors that help in building your online identity — the design of your website. What importance does it hold?
Keep in mind that the design of any website can either make or break your business or the idea you are trying to deliver. Creating a website which offers an attractive user interface helps in a much better conversion rate, which automatically leads to even better revenue and business.  
Navigation is essential, especially if your site has many sections. It comprises of a menu or an appropriately labelled navigation bar that displays a detailed list of various web pages. When the navigation of a website is well developed, visitors can easily understand and explore the site. It doesn't necessarily have to have some state-of-the-art typefaces. Get yourself straightforward navigation that is compelling enough for the visitors to come back. 
Visual Elements and Content 
Visual elements and content include what you opt for as the typographic details and fonts. These aspects of web design are essential and must go hand in hand to serve the actual purpose, which is to target the audience. In some scenarios, readers usually pay more attention when the message is concise and to the point and something relatable to them. Further, it is suggested to follow content rules by Melinda bak, and understand that why going overboard sometimes doesn't do any good to your website. Some webpages with more than required content not only looks messy, but it also affects the conversion rates. Web pages with the visually cluttered look are challenging to understand and in reading, resulting minimum visitor turn out. 
It is your brand that sets you apart from others, especially your competitors, and it can help you start with unique artwork. If your company or business has a logo, then it should be put on all print materials for a more significant impact on the users and also for the sake of consistency.
The brand should be able to get recognized by its target audience in every possible medium, for example. Often the minor changes in your visual communication and brand can lead to a confusing situation which can affect the relationship with your customers, and they would think that something is wrong somewhere with the business.  
Websites must be instilled with a classic layout so that they can look more attractive and appealing to the customers to develop their interest in the website. The page needs to be attractive enough to lure people's eyes because the fact of the matter is; looks do matter. Therefore, the development of a website and design is a necessary element that should be taken seriously by every business and website owners.
Useful SEO and organization
Just the way we like reading a book, it is equally comfortable to go through webpages from left to right and top to bottom. An application called Virtuosi, used in web designing is known to give you the same experience as we get while reading a book. Since people usually begin reading from the left side of the page, web designers very intelligently make the most out of that space by putting essential information there. Apart from the organization of the page layout, making use of the apparent sections for the website's exclusive details can also contribute to the search engine optimization significantly. It usually happens when some business-related keywords in the HTML text format are incorporated. When giant search engines such as Bing, Google, and Yahoo make way into your webpage, it instantly ends up in higher web search placement, leaving your page to be in a more searchable and visible position. 
Provide relevant Information
If you are in a business that has to deal with a never-ending FAQ session or where there is a constant need of demonstration, a well- developed and a well-managed website can be the best tool to deal with such things. In some situations, just providing the right piece of information brings you closer to a successful sale deal. 
A good website has great potential, which can help you generate leads for your business, whether online or offline.  By making use of tempting offers and free giveaways, you can boost the lead generation. How many customers do you think will end up purchasing your product or service after their interaction with the ad you placed?  Probably a handful, but the idea is to have them in your marketing funnel. A business's website is the best tool that helps in accomplishing some useful points— making it easy for you to automate your entire marketing strategy. Not only it drives efficiency, but it also helps in increasing productivity.
Whether you have an online business or a brick and mortar store, whether you deal in selling a service or a product, having an excellent website is one of the best things you can offer your business. Remember, a good website serves you round the clock. 
In this tech-savvy digital time and age, most companies and businesses have already come up with their respective webpages, not only to get more accessible for their users and potential customers but also to represent them in the best way. With proper website design, companies and business owners are in a better position to introduce a welcoming and user-friendly online environment that allows customers to make the most out of the already available information.  Also, when you own a well-managed webpage, people automatically start relying on and in return, you get to enjoy a profitable and thriving business.