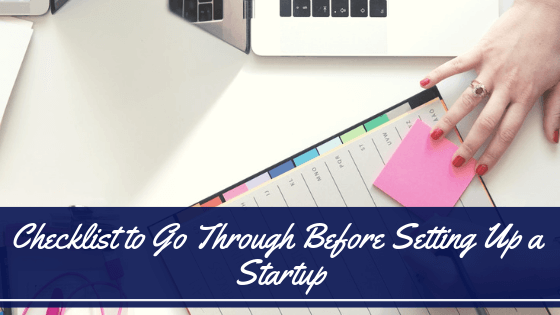 Checklist to Go Through Before Setting Up a Startup
Great to hear that you are going to start a new business. Congrats buddy! A good step taken. But once you get over from the excitement, it is a time to break down the process to set up the things.
You have numbers of overwhelmed tasks in your to-do list. But you don't need to worry, for you I have broken down those overwhelmed tasks into smaller to do tasks. In this article, you will find the list of some must-have primary tasks that are very important for your startup. 
Read more Interesting Articles: Digital Marketing Is Powerful, Impactful And Effective
Determine feasibility
To be honest, you are thinking of startup because you want to earn handsome money. Isn't it? Therefore, it is important to figure out if your idea has enough potential to attract customers or not. Or your customers will pay you enough to make a profit? Get to know reach of the products or services you are going to offer.
Read more Interesting Articles: What are the Hot Digital Marketing Trends in 2019?
Know capital
A startup generally demands a huge investment. You have to set a new team, invest money on resources and a lot more. Therefore, get an idea on how much capital you have, what are your expenses and how much you are planning to save. Knowing in hand capital and expenses are very important to sustain when you are new. Keep a good record of all the transactions.
Give your business a name
You need a name that will stick in your targeted audience mind. You can take help of Google to get ideas, there are many online tools that suggests corporate names according to services or products you offer. Make sure the name is unique or not taken by someone already.
Read more Interesting Articles: 5 Advanced SEO Tips That Work Like Magic
Create an eye-catching logo
The logo represents the business. Create a logo that is not only amazing but also explains what your business is all about. You can design your own logo using online tools. While designing logo, take special care of the colours. The selection of the right colours is important to build brand identity.
Read more Interesting Articles:  How Social Media Helps in Business Marketing?
Choose a perfect location
Prefer a location which is well-connected with transport. You can buy your own business place or go with the rent option according to your budget. But make sure you will get everything nearby.
Set up a website
This is the Internet era. Everything has gone online. Businesses are connecting with millions of customers via the Internet. Set up your business website and add relevant content to it. There are many platforms where you can build your business website. Select the one which works best for your business niche. Seek help from a web developer or this. Add those social media platforms where most of your targeted audience are hanging out.
Add analytics
Once you built the website the next point is to add analytics to it. It will help you in knowing your targeted audience, the location where most of our users are located, their age, sex, interests and a lot more. Knowing your audience will help in understanding areas where marketing team has to focus more. You can optimize your marketing strategies in a better way for the maximum output using analytics.
Read more Interesting Articles: The Logo Design Mistakes that will kill your business in front of your eyes
Check out the Internet connectivity
Don't allow your Internet connectivity to hamper your job especially when the world has gone digital. Make sure you have the best Internet connection. It is the best medium to connect with clients and customers. It is the backbone of online businesses. The 21st-century entrepreneurs understand the importance of high-speed Internet for business development.
Order business cards
As a startup owner, you have to meet a lot of people to improve networking. So, order plenty of business cards. It is an amazing way to stay connected with people of similar interests.
Focus on quality hiring
Employees are the backbone of any company. It is very important to hire quality candidates. You can post opening jobs on several job portal sites. You can also share the job description and opening on social media. For example, there are many groups on Facebook where you can post your job openings.
Assign responsibilities
Once you hire the quality candidates, now it is a time to assign responsibilities and tasks. Before assigning the tasks, know the potential and knowledge of each and every employee. Assign tasks according to the calibre of every employee for more productivity.
Refine your marketing pitch
What are your plans to acquire new clients? Marketing pitch plays a vital role in conversion. So, come up with the most convincing sales pitch. You can also do A/B testings to know what kind of pitch works great for you.
The checklist may be longer than this but organizing what you need at the initial level is must. Go through the checklist mentioned in the article before you launch your product. I hope it will help you in setting up your startup and lead it to success. Leave your doubts or feedbacks in the comment section.