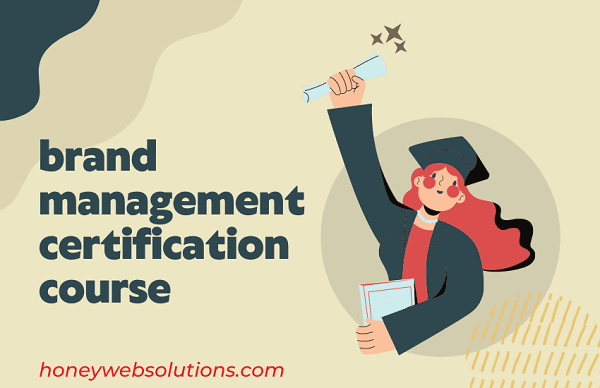 What is the most trusted brand management certification course in India?
A brand is more than just a product or a service; it is the essence of your company. 
A brand is much more than a tangible asset; it is a holistic representation of a company's core values, the love and labor of those who created it, and the experiences of the customers and clients it serves. In simple terms, a brand is your company's face, and a successful brand strategy entails developing strategies to humanize your brand so that it appeals to the hearts of people who are connected to it in various ways, which can translate to increased sales and business expansion. 
With this Professional Brand Strategy Course, you can get a head start on your journey toward effective brand management and strategy by establishing a solid foundation in branding best practices. Figure out how to establish and manage brands with a focus on the customer in order to drive revenues and organic growth.
Building a successful brand strategy is in and of itself an artistic endeavor because it tells us a story and not just any story, but a story that caters to the consumer interest that, if clicked, can spread like wildfire and, if not, can be doused before it even begins. 
How to start a successful brand management journey?
As we all know, "A journey of a thousand miles begins with a single step." To begin a successful career in brand management, it is important you have a strong foundational knowledge of marketing strategies and brand management principles. This can be attained through proper educational qualifications, certifications, and programs. A bachelor's degree in marketing, advertising, business, or a related field is preferred. However, to identify and build a successful brand campaign that resonates with customers' minds, you need to work on a ground level and gain knowledge from peers and mentors. This can only come through experience.
In today's business world, companies are searching for talented and innovative brand strategists, managers, and digital marketers who can assist them in realizing their vision for their brand. Although brand strategy courses were relatively uncommon, in today's social media era, there are numerous brand management courses available full-time, part-time, in institutions, and even online. So, if you believe you have what it takes to begin your brand management and strategy journey, then enrolling in a brand strategy course will provide you with a strong foundation in branding practices that will assist you in making a successful journey.
What is brand management?
Companies and marketers have embraced the concept of brand management as a means of forging an emotional connection between their customers and the products they sell. A mental picture of the product or brand can be cultivated in the mind of the consumer through the process of brand management. Not only does this form the cornerstone for recruiting new customers, but it also provides the foundation for strengthening brand loyalty among existing users. Brand management is essential for any company because it enables businesses to assess the effectiveness of their products or services, which in turn enables them to grow and develop in line with shifting market conditions.
The notion of brand management is concerned with two different types: direct (also known as tangible) and indirect (Intangible). Both the tangible and intangible properties of the product can contribute to the upkeep of the brand image, which is an essential part of brand management.
Direct brand management encompasses all of the tangible facets of an overall product, including the pricing, packaging, stock-keeping unit (SKU), product offering, and brand-related components of the core product. Indirect brand management focuses on more ephemeral characteristics, such as USP, positioning, benefits, value, perception, and so on. All of these responsibilities fall under the purview of the brand manager.
The failure of a brand to adapt to the shifting preferences and requirements of its target market can ultimately result in the brand's extinction. Increasing sales and cultivating loyal customers are two benefits that can come from having effective overall brand management. The establishment of a company's products and brand is facilitated by brand management, an essential component of any successful marketing plan.
Why is brand management important?
 "Your brand is the single most important investment you can make in your business." This quote from Steve Jobs pretty much sums up what a strong brand strategy does for the success of your company.
There are many benefits to managing a brand, some of which are elaborated in the following paragraphs:
The management of brands helps to establish an emotional connection between consumers and their purchases.

Successful management of the brand contributes to the expansion of the business by encouraging customers to develop brand loyalty and promote the company's goods and services. The continued loyalty of customers is another factor that helps businesses thrive.

Taking input, especially critical and significant criticism, helps businesses improve based on the insights of their customers.

Brand management enables businesses to better adjust their tactics to changing conditions by taking into account the wants and demands of their clientele.

A brand can expand and better compete with other brands with the use of tools such as the brand development index (BDI).
Some of the most successful firms in the world have used brand management in order to successfully elevate their brand to the forefront of their target audience's minds. Think about the dominant brands on the international stage, such as Nike, Mercedes, Pepsi, Coca-Cola, Microsoft, and so on. All of these businesses are good instances of how organizations can successfully conduct their operations by incorporating brand management into every step of their workflow. These businesses all make goods and render services of a very high standard and enjoy a solid reputation in their respective industries (core product, brand image).
When the items are ready, these corporations promote brand awareness among customers through a variety of media channels, such as television commercials, social media, online advertising, print advertisements, and so on. The larger corporations provide excellent after-sale customer care and are open to receiving constructive criticism, both of which contribute to the development of their respective brands.