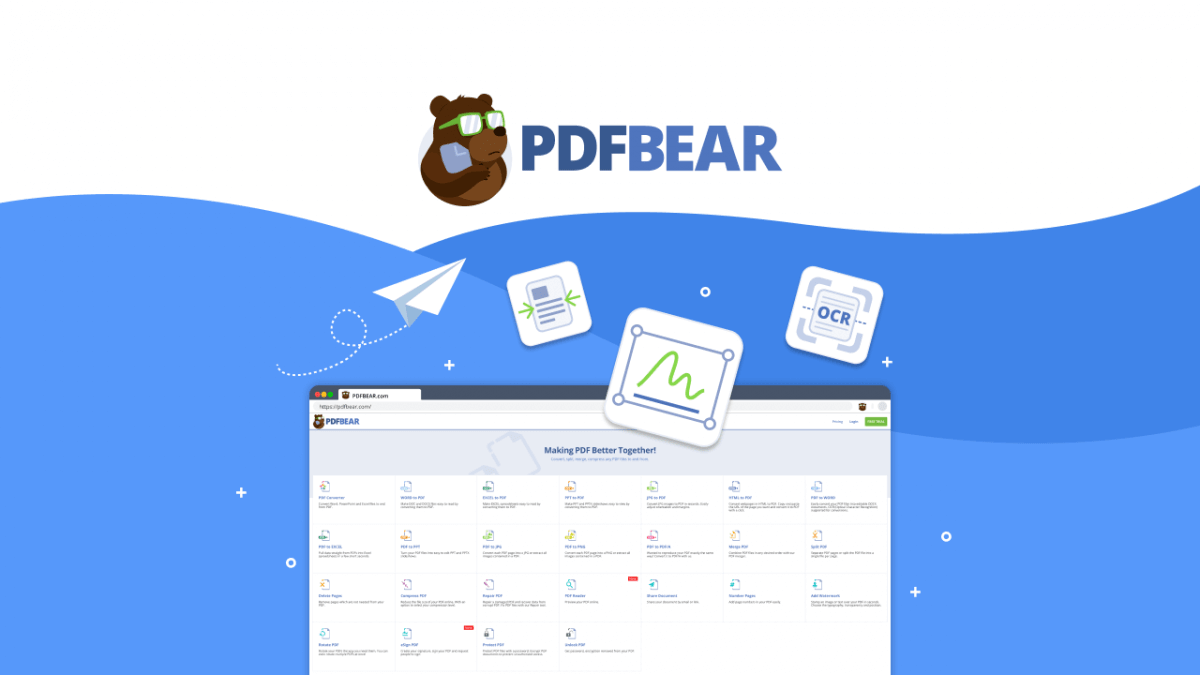 Applying Light Edits To Your PDFs Using PDFBear
When we talk about PDF needs, what are the things that come to your mind? Is it a PDF converter? A PDF compressor? PDF editor? All these can only be obtained by purchasing the Adobe programs which require installation. What if you encounter PDF problems and you are currently driving? Or at school?
Unlike the older days, we do not have to do everything step by step manually. In this modernized era, we can maximize our online tools to cater to most of our computer and electronic file problems! Finding the right one is not easy, provided that there are many factors to consider, such as safety, efficacy, and convenience. Which one should you go for?
A Web-Based Platform For Your PDF Needs
What you need is a web-based platform to handle all your PDF needs. Most professionals highly recommend PDFBear because of its safety, privacy, and fast-working instruments. What about for basic and light modifications only? What if you only want to add page numbers to PDF? Well, PDFBear is a complete all-in-one package that can handle all these dilemmas!
PDFBear's PDF converter is the best pick for making drastic content changes as you can transform your PDF to its most editable format. It also has one of the best PDF compressors to reduce PDF file size without damaging your file quality. PDFBear has more functions to offer for better file organizing, such as PDF split, merge, and rotate.
Talk about the completeness, PDFBear also has more security features to password-protect and unlock your PDFs! One of the common dilemmas for PDF users is acquiring a damaged or corrupted one. WIth PDFBear, that is not a problem and can be solved within less than a minute! PDFBear also has the repair PDF function to recover corrupted PDFs.
Applying Light Edits To Your PDFs
PDFBear provides all the standard and necessary light PDF editing tools, such as adding page numbers, adding watermarks, and adding e-signatures. This online instrument is ideal for corporate professionals who run on a fast-paced and need a free and fast-working platform for PDF management. See the details below on how to apply these light PDF edits.
Adding Page Numbers
Increasing productivity comes in handy when you have a more organized desktop. Yes, electronic files also need proper organizing and arrangement. When you have a PDF with multiple pages, it is necessary to number your pages to ensure more efficient page management. This action helps you segregate your pages accordingly.
Using PDFBear is pretty straightforward and time-saving. In your most preferred web browser, go to the PDFBear home page and choose "Number pages." Upload your PDF and select your most preferred positioning for your page numbers. Apply your changes and save your newly edited PDF. You can also copy-paste the file URL to send your PDFs online faster.
Watermarking Your PDFs
Provided that the current digital era has made everything accessible to everyone, many have abused this advantage. Some tend to share content or information without the consent of the file owner. How can we get rid of this problem and secure our PDF's exclusivity? You can simply add watermarks to your PDFs and safeguard them from ungrateful users!
You can choose whether to add an image or text watermark, depending on your wants and preferences. You can drag and drop your PDF to the PDFBear dropbox and start making the necessary modifications. Save it after the editing or use its URL. Having your PDFs inked with these personalized watermarks can enhance the privacy and exclusivity of your documents!
Using The E-Signature
Yes, it is totally understandable that not all people are capable of drawing accurately through a computer mouse or laptop touchpad. However, PDFBear's e-signature can be the exception. It provides a smooth and clean surface for drawing your e-signature. This also works on your mobile devices, wherein you can draw anything quickly and effortlessly.
In the view and edit section of PDFBear, choose the e-sign PDF option and upload your PDF. You can start to draw your e-signature and add it to your PDF. You can also add initials or signer instead, depending on your needs. After applying these changes, click the "sign PDF now" button and download your freshly edited PDF file!
Takeaway
Whether you need to perform light or heavy PDF editing, PDFBear offers all the tools you need. You need not worry about file safety and security as PDFBear is also well-known for its effective security system and keeps all unwanted users off the grid.