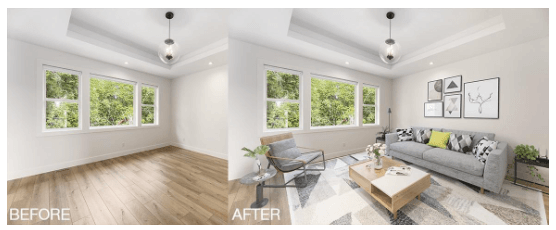 A Closer Look Into the Benefits of Virtual Staging
If you're thinking about staging your home yourself, consider virtual staging. This type of staging is often created with the use of a graphic editor. Real estate brokers, interior designers, and photographers love this method of staging homes for sale. Here are some reasons why it can be a great option for your real estate needs. Here are the pros and cons. And if you're interested in using this method of staging, keep reading or you can visit this website!
Cost of Virtual Staging
If you're thinking of staging your home but are worried about the cost, consider using a virtual staging service. Thiss can improve any home, from an outdated avocado green couch to a dated purple carpet. Services can swap out furniture, repaint walls, and give your home a complete makeover. While the cost is high, the results will be worth it. But before you spend your hard-earned cash on a service, think about how much it would cost to do the job yourself.
Apartments are usually much smaller than homes, so you might find it easier to stage a studio apartment yourself. However, larger homes may require additional services. Apartment staging can range from around $600 to $1,900. You should keep in mind that the cost of staging will increase if you choose to stage the home yourself. The number of bedrooms also increases the cost. For this reason, you should consider all of these factors before hiring a service.
It is not as expensive as physical staging, but it will save you time and money. Most companies will charge you between $225 and $325 per room. This price is less than 10% of the cost of traditional staging. You may want to choose this option if your home is vacant, has outdated furniture, or is rented to tenants. If so, it may be your best bet. It will increase the likelihood of a fast sale and will ensure a higher selling price.
Ethics
While virtual staging has some obvious benefits over traditional staging, critics have argued that it can be deceptive or misleading. The question of ethics surrounding it is based on consumer expectations and the concept of truth in advertising. Here are some examples of it that are unethical. As a homebuyer, it is important to be aware of what your Realtor is doing. For example, an agent may use photo editing to fix a peeling paint job or dilapidated flooring. This is considered unethical because it violates the guideline of truth in advertising.
Virtual staging is often done by companies offering to change paint colors and update kitchens. In fact, some companies go so far as to erase stains and carpet spots on homes. In order to keep potential buyers informed, companies should be upfront about the condition of their staging. An electric blue kitchen might not be the best looking, but the agent should not paint it a different color to improve its appearance. Otherwise, they are misleading the consumer and could even be charged with a breach of professional standards.
Virtual staging can also eliminate any distasteful items from the house. It helps prospective buyers visualize living in the home. They can also hide personal items from view. These are all advantages to sellers, since they can save time and money. If you are in a sellers' market, consider hiring a virtual stager to help you present your home to buyers. 
Apps
A real estate photographer can use hi-end software and skilled digital artists to create a virtual stage of a home. The results can look very realistic. Consumer mobile apps do not have the resources to create these same images, and they are not designed for this purpose. The difference between a real estate photographer's photos and a virtual stage is subtle. The real estate photographer uses hi-end software and skilled digital artists, while the consumer app does not.
One such app is VisualStager. VisualStager allows even a complete techno-nobody to easily stage a photo. All you need to do is select the furniture and drag it onto the photo. Then, you can export the finished photo to various social media platforms. Another option is Spotless Agency, which offers customized staging. This software allows users to customize the look of their photos and export them instantly.
A virtual staging program begins with pictures of the home, and then stages rooms by adding appropriate furniture and accessories. Some apps even let users redecorate the rooms using different furnishings and decor items. The added touch of personalization helps buyers picture themselves living in the home and is a great way to increase their interest in viewing it. The apps also help sellers to market their properties. If you're looking for a home that isn't available in your neighborhood, consider a virtual staging service.
Companies that offer virtual staging
You can select a company that offers virtual staging services by researching the quality of their work. The final outcome of the process depends on the quality of your images. Real estate images should be crisp, clear and carefully composed. To find the right company, you should examine their website and look for the quality of their work. Check whether the furnishings and accents are well designed and fit the room theme. You should also choose a company that provides a hands-free outsourcing model.
If your home looks dated, virtual staging can help you sell it. It shows a variety of decor styles within the same property, which can help draw attention away from dated features. The process also allows you to make minor changes, such as rearranging furniture or improving landscaping.
If you'd rather save money, you can also try DIY virtual staging apps. Some of these apps allow you to create floor plans and decorate rooms yourself, upload photos and manually add staging furniture. Some of these apps include Virtual Stager, iStaging, and Cedar Architect. A DIY app can save you a lot of money, but the cost is a factor. You should also keep in mind that these apps are available only for Mac desktops.
Bella Staging is a virtual staging company that has all five-star reviews. Customers praise their realistic images and quick turnaround time. The company can even make 3D layouts so that you can visualize your future home.