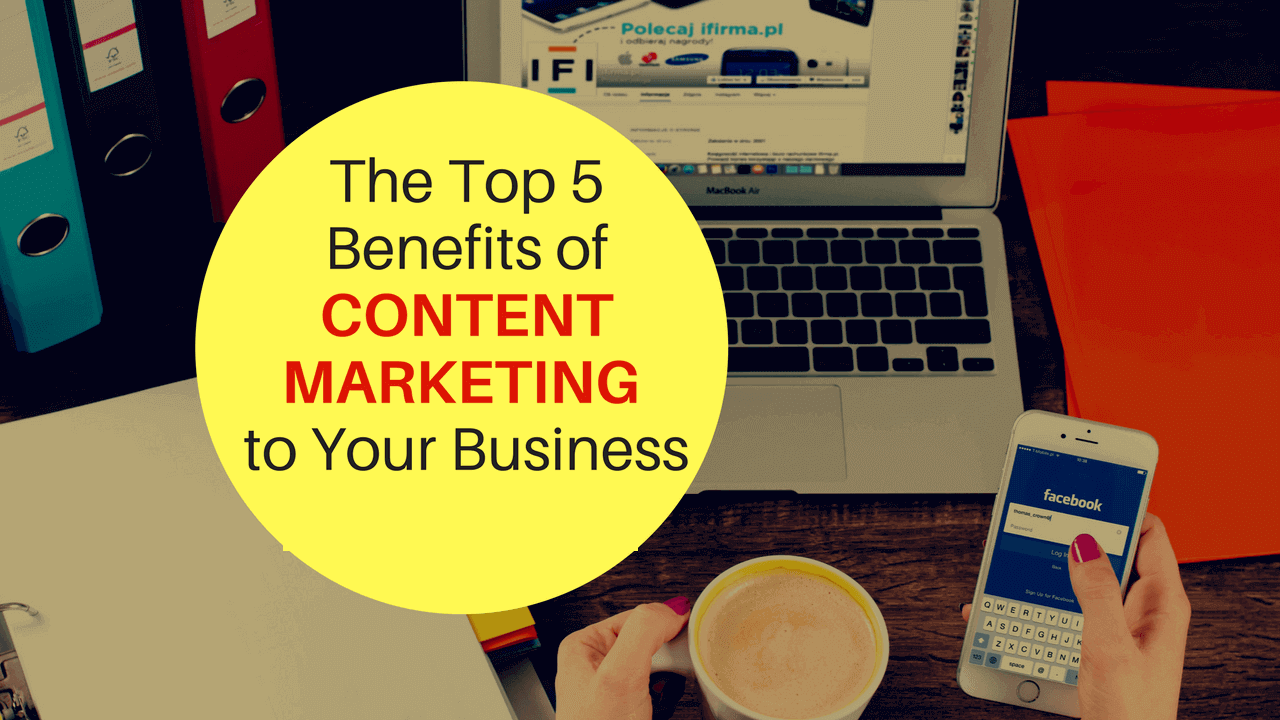 The 5 Proven Benefits of Content Marketing for Your Business
Eight in ten internet users prefer articles to advertisements. Seven out of ten internet users state content marketing brings them closer to brands and products/services. Six out of ten users maintain that good content helps them make better-informed decisions. Are you getting the picture? These days, the type of product or service you're selling doesn't matter. In today's digital world, businesses selling everything from Xfinity internet plans to fidget spinners need content marketing. If your business doesn't have a content marketing strategy, you're probably missing out on a number of benefits. Worse still, you may be losing business without being aware of it.
Benefits Of Content Marketing
In the Digital Age, the most effective method your business can use to reach audiences is content marketing. Whether you want to reach out to existing customers or prospects, content marketing is your best bet. You're probably skeptical about what effective content marketing can accomplish for your business. Here are 5 of the most pertinent benefits to businesses from content marketing:
Building Credibility
Developing Brand Identity
Increase Organic Traffic
Measurable Performance
Generating Leads
Let's dive right into them.
Building Credibility
If consumers don't trust your business, they will most probably not buy your product or service. One of the chief benefits of a content marketing strategy is that it builds trust in your audience. Through the creation and publishing of good quality content, you can improve your perceived credibility. Consistently coming up with high quality, cohesive content goes a long way towards how you are perceived by the audience. If you keep generating such content, you begin to appear as an expert or authority in your field or industry. The more trust you build, the more your perceived expertise increase. Being an expert in a specific field is one image businesses would certainly like to cultivate.
Developing Brand Identity
The power that an established brand holds can never be underestimated. Such brands can significantly influence public buying decisions. This is a matter of fact. But what if your brand is just starting out? You will probably not have an established brand image or identity to supplement your presence. In such cases, businesses can benefit greatly through effective content marketing. The content you publish should be centered around creating your brand's unique identity. There are a number of ways to do this, from viral content to blog posts. Regardless of the medium you use, the tone should be uniform. A unique tone for your business is more likely to make a lasting impression and stand out from the competition.
Increase Organic Traffic
Major search engines like Google have changed businesses, and the way they do business. Research shows that more than 95% of consumers make use of search engines before purchases. They usually look for products or services through a local search before making the buying decision. Astonishingly, 80% of consumers also research the product through the same search engines before making a decision. The name of the game with search engines is relevance. They try to show users the most relevant results to their search queries. This is where content marketing is a potent tool. Relevant, engaging and original content goes a long way to making your business show up on search engines. This will significantly increase the organic traffic on your website or web page.
Measurable Performance
Many people make the mistake of considering content marketing as a one-time thing. In reality, your content marketing strategy is in the process of continuous improvement. You need to be constantly adjusting and adapting your strategy to changing trends. Many free tools let you gain access to comprehensive metrics about your content. This lets you identify which aspects of your content strategy are working and which aren't. This makes the performance of your content marketing strategy fairly simple to measure. Over time, through constant improvements to your strategy, your online operations will improve considerably. This means more leads and more conversions.
Generating Leads
The ultimate objective of any marketing strategy is to generate leads. A content marketing strategy is no different. Attracting new prospects and customers is essential to your business's survival and growth. Content marketing acts as an effective way to interest people who may not yet be interested in buying your product. Content should ideally be the medium through which these people discover your business. Content should also be engaging enough to interest them. Once they are interested, you continue to give them content that will ultimately lead to conversions. Good content also makes your business more visible to people already on the lookout for similar products or services.
A good content strategy is a huge contributor to a business' online success. No matter if you're retailing Xfinity Triple Play services or running an eatery, your content strategy should be just as effective. With constant refinements to your content marketing strategy, you can make your business' overall online strategy more effective. Don't be among the 44% of businesses that don't even have a website!