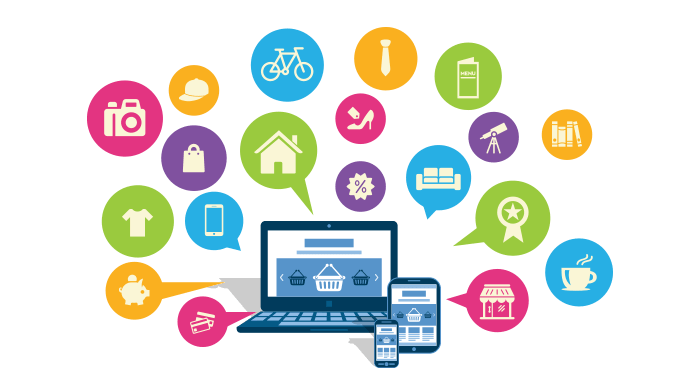 10 Tips To Boost your E-commerce Marketing Sales in 2019
Who doesn't want their e-commerce store to thrive and attract as many customers as possible? However, it might not be as easy as it sounds, because attracting a wide number of visitors to your e-commerce store is not a promise of higher sales.
E-commerce stores use promotional tactics to lure potential customers into visiting the online store and make a purchase. This ideal situation is not difficult to achieve if your e-commerce store is marketed at the right time to the right people. If you know your potential consumers will love the new range of winter collection, simply showing them an ad of your leather jacket range won't be enough. Your online leather jacket store should be marketing a discount on the new arrivals or some sort of offer.
Promotional tactics and marketing of the products of an e-commerce store, work together to bring a large number of visitors to the site who then convert to actual buyers. You just have to choose the right tactic or strategy to convert your visitors to buyers.
Read More: Top sites every Android User should know
Let's have a look at What are the 10 Tips That Can Boost your E-commerce Marketing Sales in 2019
1. Content marketing:
Have your products described to your potential customers. People love to read about the products online to get a feel of it. Start a blog about your e-commerce store and have your product descriptions, reviews, or tutorials posted over there.
Such content marketing keeps people engaged and hooked on about what's next. Blogging can also provide you with the opportunity to build a network with other partners by inviting them for guest blogging and vice versa. It enhances your visibility to the consumers.
2. Mobile optimization of your e-commerce store:
By the year 2021, it is expected that more than half of the online sales will be made by mobile devices. The previous years have already witnessed an exponential growth in online e-commerce sales mostly done through mobile devices, according to Statista.
These facts can make or break your online sales as they are an indicator of a change that all e-commerce businesses should embrace. Optimizing your site for mobiles should be the top priority. It also implies having an interactive design that is easy and seamless to navigate through. You can also have your professional logo design incorporated into the mobile app or site so that consumers can relate to it more.
3. Utilize personalized data:
What could be better than having your product marketed to the right set of the target audience who actually need the products and purchase them? Technology, today, provides marketers with a wide range of user information – from their preferences to shopping history, they know everything.
Using such a set of personalized data is extremely useful in boosting your sales. You can know what your consumers want in the middle of the night or what they would prefer at the start of a new season.
4. Email reminders and subscription:
Email might sound a little old school to many, but it's not. Email subscriptions provide an effective way to remind your consumers about the range of products that might appeal to them, based on their shopping history.
Moreover, it is highly likely that consumers do not go about checking your store's app or website daily for promotions or offers. Thus, email reminders can help to inform them about current or upcoming offers.
5. Upselling your products:
Upselling is a tactic used by many of the marketers. If you have a distinctive quality in any of your products and want to sell it on a higher price, make it prominent and visible to your consumers.
However, upselling might go wrong if your updated price is higher than the anchor price a consumer has in his mind. Remember to keep your updated product related to the original one and not exceed the price a lot.
6. Market your customer testimonials for building trust:
People trust the opinions and feedback of other customers when making an online purchase. They search through feedback about how satisfied your previous customers have been. Marketing your customers' testimonials help extend a relationship of trust with the new customers.
Use this tactic to build trust with your potential customer base. Show them the testimonials of your products along with customers' names and pictures. It enhances the level of trust and leads to more conversions.
7. Embrace reviews positively and gracefully:
Another very essential aspect of luring customers and making them purchase something is to show that you care about your consumers. The most effective way to do so is to market your relationship with your previous consumers.
What you have to do is to embrace your product reviews very positively and gracefully. Lend an attentive ear to your customers if they have any complains and tend to them as soon as possible. It enhances your image and projects your excellent customer service.
8. Battle shopping cart abandonment:
Shopping cart abandonment leads to serious financial losses by the e-commerce stores every year. If you want to up your sales, you need to battle this hard. First of all, setup an email reminder to keep your consumers posted about their carts on your e-commerce store. This way, they'll have a reminder popping in front of them to clear away things they want and purchase the rest.
Secondly, what you can do is to make the checkout process as hassle-free and simple as possible. The fewer distractions there are during the check-out process, the more swift purchases will be.
9. Offer a range of payment options:
Do not confine your buyers to only one or two payment options. Increase the range of your target audience by incorporating various payment options. For example, if you only offer credit card payment, you might be losing a whole lot of consumers who trust cash on delivery more than the card payment, or who simply do not have a credit card!
10.  Free giveaways and offers:
Customers love to receive free things or packages along with their orders. It increases the chances of them returning to make a purchase again from you. Offer discounts and giveaways upon suggesting to a friend or family member. Or get them to buy a product upon which they get a discount coupon for buying the next item on a discounted rate.
Conclusion:
The e-commerce market is turning out to be more promising than ever. Gone are the days when consumers did not use to trust the online sites and their products and did not want to shop online. E-commerce has come a long way in establishing trust among the people. From a hairpin to gardening tools, all the things can be ordered from the comfort of your home these days.
Hence, for e-commerce businesses, the industry is getting saturation day by day, which is why it is essential to come up with new tactics or strategies to augment online sales.
Author Bio:
About Michelle Joe: Michelle Joe is a blogger by choice. She loves to discover the world around her. She likes to share her discoveries, experiences, and express herself through her blogs.