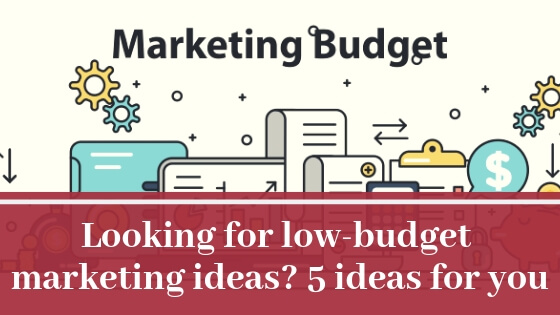 Looking for low-budget marketing ideas
Looking for low-budget marketing ideas? 5 ideas for you
The main key to a successful business is its marketing. This means you need to break the clutter and connect business with the audience. But, when it comes to a small business, budget is the main problem. So, finding a cost-effective way to make your business grow is the only way out. Every business undoubtedly uses a very major portion of resources for marketing. A small business, on the other hand, doesn't have the same amount of resources and budget to hire those resources. Using the existing budget in the best planned and effective way can get your business growing. This requires small but very effective low-budget ideas. The good news is that in this article you will get to know about some of these low-budget marketing ideas that you can try for your business.
Starting conversations in relevant Facebook groups
Social media has become one of the best platforms to directly get in touch with your audience. Connecting on a Facebook group with your target audience seems like a nice idea. Since Facebook has a various diversified number of groups, you need to choose only the most relevant ones for your company. Getting into conversation with people and exchanging information about a specific topic is surely the most powerful way to drive traffic. Joining groups that are relevant to your niche and answering questions by providing information can make a significant difference.
Add images to your content
Any content is incomplete without an image. It helps the content to convey the message more easily and precisely. Also, content inclusive of an image is remembered by people for a longer time span. Thus, make your content image-centric so that your audience gets a long lasting impression of it. If you think adding the image to your content can take a lot of time and efforts,  you might like to take help of a free designing tool for creating social media content.
Split test the ads
For advertising, you might need to have a budget. But with the use of split test on your ads, you can optimize every campaign that you are working upon to get maximum leads as possible from these ad budget. Try experimenting with two nearly similar ads at the same time.
Work on a direct customer outreach campaign
Sometimes it's a good practice to directly connect with the customers as it is one of the best ways to communicate. This is very cost-effective too. You should never overlook the potential of direct customer outreach. It's one of the best high-value marketing technique for a business or a brand. All you need to do is identify your potential audience and reach them by engaging in a conversation and solving any doubt that they might come across.
A valuable resource on Quora
Quora is that corner of the internet that answers different questions of people. It is not only the best platform for marketing but for research as well. It helps to figure out any problem that your customers might be facing. Quora is a platform that you can use to resolve these problems for them. Before diving into it, identify your audience on Quora and the threads that they are most likely to use the most.
These low-budget marketing ideas can make a significant change in generating some valuable leads for your business. So, use them wisely and try to experiment with different ideas to know which combination works the best for you. I hope this article helped you to come across some valuable low-budget marketing ideas that you can use. In case of any doubt, feel free to contact us through the comments section below.