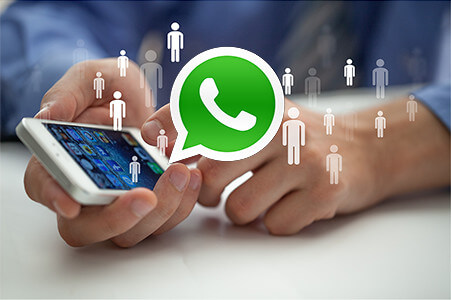 How Brands are using WhatsApp for Marketing
In today's scenario, it is much more essential for each and every business to use some of the innovative marketing tools to promote their product or services. Marketing through Whatsapp is one of the direct marketing tools that let you connect with your customers and promote your brand effectively. Competing with Twitter, Facebook, and LinkedIn, Whatsapp has a huge number of traffic and is the widely used Instant messaging platform in the market as of now. It even allows the users to share unlimited text, videos, audio messages for free with the help of a mobile app. An essential thing about the Whatsapp is that you can directly send the messages to the user's smartphone if you have their Whatsapp phone number with ease.
Previously, Bulk email marketing is one of the effective strategies of marketing most digital marketing companies in India follow. Moreover, its major limitation is that some emails may directly go into the spam box of the customer. Furthermore, bulk SMS advertising is having some of the limitations as compared to Whatsapp, which allows you to send high-quality resolution images, audio, video, contact files, and location map.
Some of the different ways through which brands are using Whatsapp for marketing
1. Make an engaging brand persona
The first approach to the usage of the Whatsapp for promoting your business is to customize and create an attractive brand persona. Since you even intend to use Whatsapp as a tool to reach out to your customers, they should be able to pick out your brand quickly. You could even create an engaging brand persona that represents your brand with its Whatsapp number. People don't like to chat with unknown enterprise names.
2. Offer good value to build a phone database
You cannot push messages to users which you do not any longer have a mutual association with. You also have to get a request from the customers to become their contact before you send them messages. To achieve that, make sure to design an appealing promotion to get users to share their number with you. Once you add them on Whatsapp, send them the offer/promo code which they can then redeem and begin their affiliation with you.
Whatsapp lets you run promotions with the voice notes, videos, visuals, call to action graphics or website links which is related to the business or new product launches, coupons, brochures or helpful contents that are non-sales material.
3. Deliver speedy customer service
You should be properly resourced to handle queries of the customer. Initiate quick response to your costumers once they have tried to reach you. Ensure a dedicated person is available to get back to the customer depending on the traffic and to make sure his performance is measured as well.
For Instance, the Reliance brand, which offers with some of the luxury brands in India, provide its customers with the choice of remaining engages with the brand with the help of Whatsapp marketing software. Customers overtook it up, finding out about the promotions, some of the new launches and getting brand information like the videos and pictures. In a few instances, the rate of conversion of consumers who had been on the brand Whatsapp list was as high as around 90%.
4. Market survey and feedback
Whatsapp makes you want so much easy to draw customer for their valuable feedback after even completing the deal. Moreover, you will even get a direct response from your customers, which will improve transparency. Besides that, group discussions with suppliers, employees, customers can be possible on time. Such type of activities generates a bunch of feedback and suggestions. With the feedback you collected, you can even respond to their demands and endorse the products and services you render. By developing some of the entertaining and creative questionnaires, you can even interact with your customers.
Conclusion
Whatsapp marketing software has the potential to benefit any business. Moreover, it works well for the businesses that have an international customer base. So, if you have a client based out of across the globe, then you could potentially grow that niche by interacting with them efficiently with the help of Whatsapp marketing software.
Author Bio– Sawailal Jangid is Digital Marketing Executive and Content Analyst at sotwaresuggest. He do researches and analyzes software to educate and advice to the business managers to streamline their business. In spare time he loves to do sports activities.