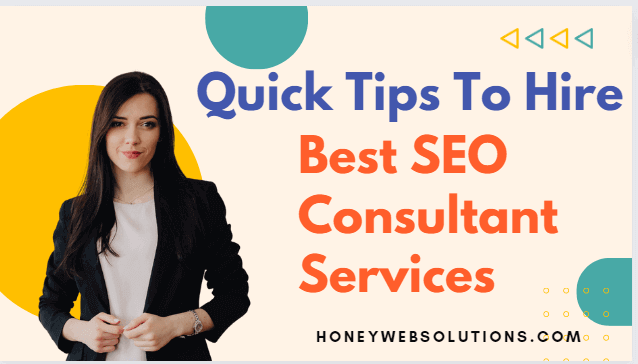 Quick Tips To Hire The Best SEO Consultant Services!
In this digital era, an immense amount of content is available everywhere. Getting the attention of clients is the biggest challenge for any business. About 68% of people reach any website through search engines. This percentage reveals the significance of search engine optimization. No matter how best your content is or how regularly you maintain your business website. If your business website is not mobile-friendly, search-optimized, and easily loadable, it will get lost in thousands of similar sites. 
Now that we know the need for SEO consultant services let us find out the benefits of hiring an SEO consultant for the growth of your website. Search engines work on algorithms. These algorithms keep changing with time and trends. 
An excellent SEO consultant knows the science behind these complex algorithms. He keeps himself updated with the changes so that he can help you get the best results. Simply put, an SEO consultant makes the road for visitors to reach your website easily. They are well-versed and better-equipped professionals. They follow a well-planned and tailored approach to your business requirements. SEO consultant services are generally budget-friendly. And the experts ensure you get the maximum out of what you spend. 
These qualified professionals are well-versed in the following strategies:
Speeding up the website

Competitor research

Follow the excellent keyword strategy  

Website audits

Content optimization

Technical and local SEO

On-page and off-page optimization
After learning how an SEO consultant helps bloom your website, it's time to find out how to hire the best! Before appointing an SEO consultant for your business, here are some points to consider.
Hire An Experienced and Passionate SEO Specialist
A proficient SEO consultant is well aware of the change in the algorithms. And can effortlessly adapt to the changes in the trends of these algorithms. Take note of these tips to hire the best SEO person.
1.Find out the tools they are using
An SEO consultant uses a campaign of different tools that directly affect the success of your business. Before hiring an SEO consultant, know about the tools they would use. And how they will affect the growth of your business!
2.Specify your goals to you and your SEO consultant
Every business has its set of goals and a definite group audience to target. You must specify what you want and make sure the consultant has the potential to meet them. 
3.Must be an excellent communicator!
Being the best effective communicator is a must for a professional SEO consultant as he has to share the reports of progress as well as clearly state what he wants from the team of copywriters and content writers. 
4.How often do they provide the reports?
An analysis report shows how well your website is doing and how much you have improved. Before hiring an expert, investigate how often they will provide you with these valuable documents.
Book a Call Today!
Pearl Lemon provides professional SEO consultant services worldwide and can help you get the best out of your website! You can collaborate with the company and book a discovery call via the official website today.