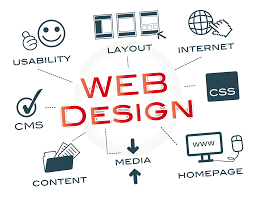 what is web designing?
Web designer is an architect who designs the website outlook i.e. layout, which includes all the visible elements of a website.  For example when we plan to construct a house, engineer prepares a plan in the similar manner when we plan to build a website we need to have a proper design enclosing all the requirements.
How to design a website?
The first step is we should consider what we aim at, i.e. what's the nature of business and the aspects that a person should see when they click on your website, this is applicable when a person is designing on his own, when we are dealing with clients we are ought to take the list of specifications, below are the examples:
-Background should be a video.
-All the social media ICONS should be listed in the right corner.
-Should be a responsive page.
-Should have a contact form.
-Need to take the details that should be made available for the visitors.
Apart from the above mentioned things it also includes color choice, how the information should be organized in a structured manner, navigation, fonts, images, logo designs, graphics, design.,
Tools used in web designing?
In-order to incorporate all the requirements, certain tools are used to get the output, below are some of the tools:
Firefox Developer
Photoshop
panic Coda
Dreamweaver
Required Skillet:
-When speaking about technical knowledge they should have knowledge in HTML, CSS, Visual design,etc..,
-Should know SEO
-Good graphic designers with good creative thinking.
-Should be updated with the latest technologies.
Why web designing should be user friendly?
The achievement of a designer lies in creating user friendly design , thereby creating a positive impact and driving users to our site, it happens only when we optimize the below parameters, lets get into detail:
Navigation: The layout, menu options and other labels available should be designed by considering users prospective, i.e. how they search. This is the major part because when user is searching something it should be easy for them to identify.
Compatibility: The webpage design should be in such a manner that it should perform symmetrically in all operating systems, browsers.
Interactive multimedia: It includes animated videos, images, etc.., In general visuals create a good impact and which can grab peoples' attention. So, we need to create the best videos with good message.
Communication Channel: By adding comment boxes, contact forms we should increase the users engagement, this supports in building relationship thereby we reach more people and head towards conversions.
Technology: It's always a good sign of using updated technologies, that aids in the addition of the best features in designing.
If we follow the above parameters we can create a best design and grab the users attention.